Who Is Simu Liu's Girlfriend Allison Hsu?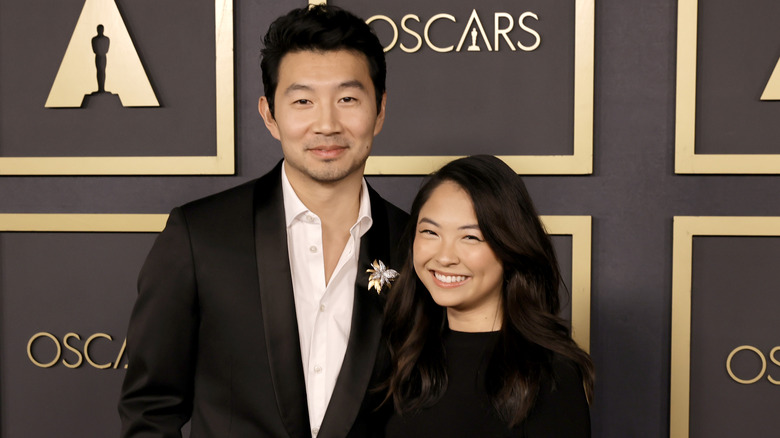 Kevin Winter/Getty Images
Simu Liu's Ken may have played less of a romantic role in "Barbie," but when it comes to his love life IRL, it's pretty clear to all that he's smitten with girlfriend, Allison Hsu. So, just what do we know about the actor's leading lady? 
December 3, 2022 marked the day hearts broke across the globe: Liu had taken Hsu as his date to the premiere of "Violent Night." If a red carpet debut wasn't couple-y enough, the pair also both arrived in holiday sweaters and cuddled up for photos. In response to an Instagram post Hsu had shared on the night, countless fans wrote in to comment their despair, with one summing things up in a decidedly seasonal way. "Lot of people getting heartbreak for Christmas I guess," they wrote. In the months since that first red carpet appearance, Hsu has accompanied Liu to a number of other events. And, they've continued to be super affectionate in front of the cameras. 
It's worth noting that Liu wasn't the first one to make the relationship publicly official, though. Over a week before he shared the red carpet pic to his Instagram, Hsu had posted an image of them together, with the "Shang-Chi" actor's arm slung around her. Though not quite as replete with heartbroken sentiments, her comments section was also fairly abuzz. And, as some may have noticed, a number of the comments came from verified accounts. So, that begs the question ... just who is Liu's very well-connected girlfriend? 
She's a force in the music business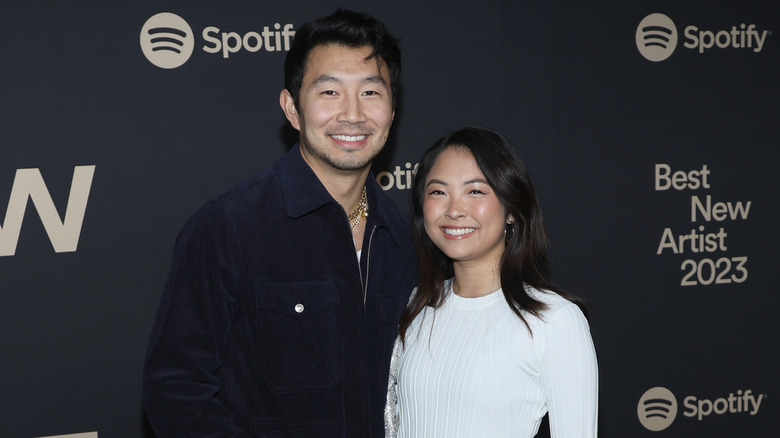 Steven Simione/Getty Images
Simu Liu isn't the only one in showbiz in this relationship. Though perhaps not a public figure in the same way, Allison Hsu is in the marketing side of the music business ... and she has some very impressive accolades to her name. 
Per Forbes, Hsu is Interscope Records' digital marketing director. If that name rings a bell, no, you're not still just in shock over Liu being in a relationship. Interscope counts a number of A-listers as clients — and Hsu herself works with Billie Eilish and Lady Gaga, among others. Hsu isn't just working alongside the big names, though. In fact, it's safe to say she's a rockstar all her own in her field. In 2022, Forbes listed her as one of their "30 Under 30" in the music business. To put that into perspective, the same list included Jack Harlow, Olivia Rodrigo and Willow Smith. 
As for Liu, it seems Hsu's drive is exactly what brought them together. As he told People two weeks after their red carpet debut, "She's a bad***, she's a fighter, and she's very, very passionate about all things in life, her work, her job, and her other things. And that's a language that I speak very well." Talk about a power couple! 
... but she and Simu are intentional about their scheduling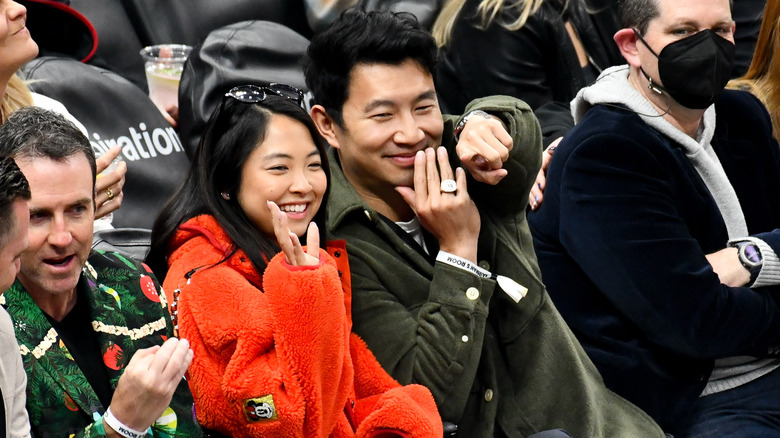 Allen Berezovsky/Getty Images
Speaking of power couples, it's no secret that many a Hollywood relationship has come to an early end thanks to scheduling difficulties. However, in the case of Simu Liu and Allison Hsu, it certainly seems as though they're doing everything they can to avoid that fate. 
In an interview with People, Liu himself pointed out that juggling a relationship with a busy career wasn't always easy. "It's just hard for anybody who travels a lot to fight for time together and make sure you're taking enough time to be present with each other and to kind of block out everything that everybody wants and to just kind of be, to have a moment that's just ours," he told the outlet. However, he shared that they'd found a way to make it work amidst all the traveling he'd be doing for "Barbie" promotion. "We have a couple trips planned," he told the outlet. The actor didn't share any details as to where those trips would be. That said, Hsu did share a picture of her and Liu at the Toronto premiere to her Instagram. And, given that Liu spent much of his childhood in the neighboring Mississauga, there's a chance they spent time with his family while there. 
Here's hoping these two powerhouses go the distance!