The Kim Kardashian And Chris Paul Cheating Rumors Explained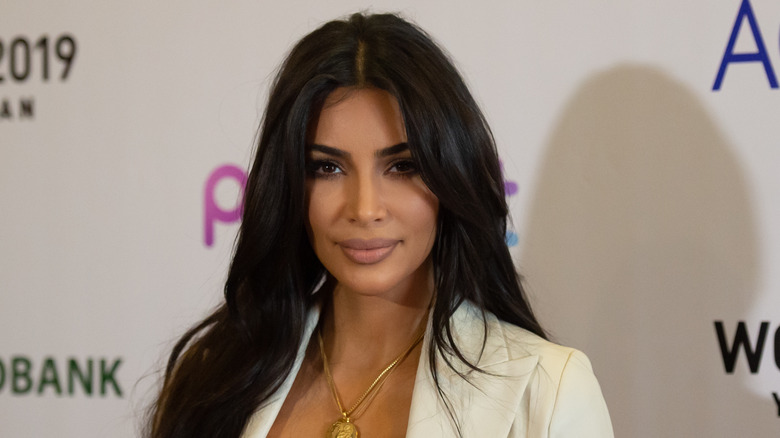 Asatur Yesayants/Shutterstock
Kim Kardashian is currently single (that we know of) after splitting from her ex-husband Kanye "Ye" West, but during their marriage, rumors swirled that she'd had various affairs. West himself claimed that Kardashian had allegedly cheated on him with one of his rivals, Canadian rapper Drake. "[Kanye] was the one that started a rumor that said I was hooking up with Drake, having an affair. Our whole marriage he accused me of that publicly," the SKIMS mogul confessed to her mom in a 2023 episode of "The Kardashians" (via E! News). Drake seemingly played up the rumors — probably in a dig at West — by alluding to Kardashian in certain song lyrics, according to InTouch. In 2018, fans connected the "Kiki" of "In My Feelings" to the reality star, as Kiki is one of her nicknames. There was also Drake's collaboration with Travis Scott, "SICKO MODE," which some thought implied he'd spent time at Kardashian's home in Calabasas.
Rumors aside, Kardashian denied she and Drake were ever intimate, let alone at any point during her marriage. "Never happened. End of story," she tweeted. But Drake isn't the only person with whom West has accused her of having an affair. In 2022 (after the split), West posted a series of since-deleted messages alleging that Kardashian had cheated on him with NBA player Chris Paul, as noted by Vibe. West has a history of making outlandish, outrageous, and often offensive social media claims, so is there any truth to his statement?
Kim Kardashian and Chris Paul were never dating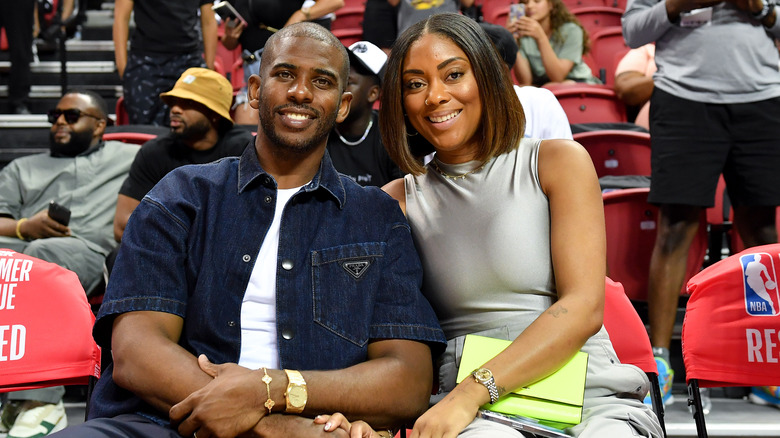 Allen Berezovsky/Getty Images
Before Kanye "Ye" West was suspended from Twitter due to his antisemitic remarks in 2022, he shared an explosive tweet about his ex-wife, Kim Kardashian, and Golden State Warriors point guard, Chris Paul. "Let's break one last window before we get outta here. I caught this guy with Kim. Good night," he wrote, uploading an image of Paul. Kardashian's team wasted no time debunking the rumor, with a source telling TMZ that it was a lie and that West was trying to drag her down with him. "[Kanye] has a history of falsely accusing her of also having affairs with Meek Mill, Drake, and countless others. Kanye has for years deflected his own awful behavior, infidelities and obsession with porn and sex addiction to abuse and slut shame Kim," the statement continued.
According to People, Paul is happily married to his high school sweetheart Jada, and the pair share two children together. West's claim, therefore, doesn't appear to hold much merit. However, Twitter spotted (what appeared to be) Paul leaning in to talk to Kardashian after they had (supposedly) left Lionel Messi's debut game at Inter Miami in July. This was untrue; while the woman in question was a KarJenner, it wasn't West's former wife. InTouch Weekly confirmed that the photo was an older snap of Kardashian's half-sister Kendall Jenner and her then-boyfriend, Devin Booker, in Los Angeles. The rumors surrounding Paul and Kardashian seem to be all smoke, no fire.
Kim Kardashian has been linked to other athletes since her divorce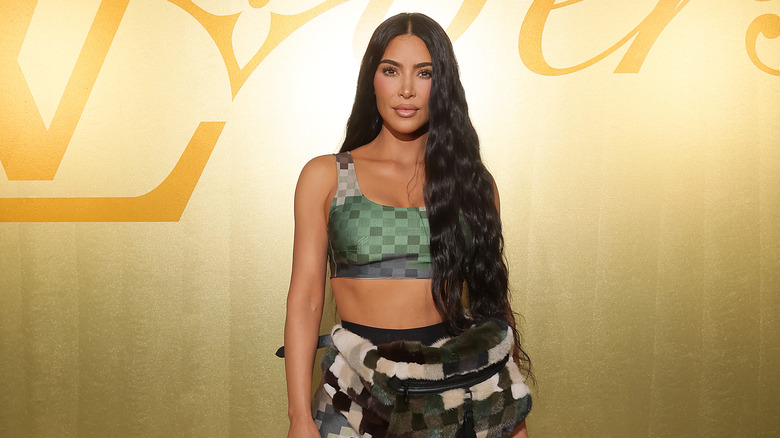 Victor Boyko/Getty Images
Since divorcing Kanye "Ye" West and splitting from Pete Davidson, Kim Kardashian has been linked to high-profile athletes other than Chris Paul. One of the biggest names is Tom Brady, who is recently divorced himself. In May, Page Six reported that Kardashian was looking to purchase property in Baker's Bay Golf & Ocean Club, where Brady also owns a home. However, a source told Us Weekly that the pair were "strictly friends," adding, "[Kim] reached out to [Tom] for advice and he was really helpful. He pointed her in a few different directions and made a couple recommendations." It doesn't exactly ooze romance, but Brady has also been linked to model and author Emily Ratajkowski in recent months.
Prior to sparking dating rumors with Brady, Kardashian got cozy with several Arsenal players in 2023, including Bukayo Saka and Eddie Nketiah, according to The U.S. Sun. While Nketiah presented her with a personalized jersey, she ended up chatting with Saka the most over FaceTime. It's not much to go off of, but we only need to look at Kardashian's dating history to know that she's always had a thing for athletes.
Maybe the reality star is ready for a change? In 2022, she told host James Corden on "The Late Late Show with James Corden" that maybe it was time to set her sights outside the entertainment industry. "Clearly, it's not working, whatever I'm doing," she said.