Sandra Bullock's Sister Speaks Out Following Bryan Randall's Tragic Death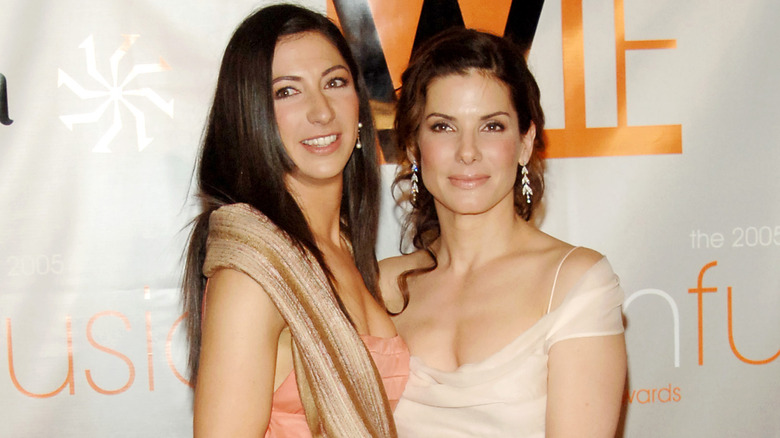 Jon Kopaloff/Getty Images
Sandra Bullock's sister, Gesine Bullock-Prado, has spoken out following the tragic death of Bryan Randall, who'd been dating the "Bird Box" star since 2015. According to a statement shared with People magazine, Randall died following a private, three-year battle with amyotrophic lateral sclerosis (ALS). "I'm convinced that Bry has found the best fishing spot in heaven and is already casting his lure into rushing rivers teaming with salmon," Bullock-Prado captioned a photo of Randall on Instagram shortly after the news of his death had been confirmed, sharing one of his hobbies.
Bullock and Randall met when the actor hired him to take photographs at her son, Louis', 5th birthday party, according to E! News. The two kept their relationship private, with Bullock opening up about her man only a handful of times over the past several years. "I found the love of my life. We share two beautiful children — three children, his older daughter. It's the best thing ever," she said on "Red Table Talk" in 2021. 
And while the couple's choice to live off the map often created rumors of a break-up — some as recently as days before Randall's death — Bullock's sister now reveals a very different story.
Sandra Bullock took care of Bryan Randall following his diagnosis
It is now clear that while some media outlets were busy spinning their wheels about Sandra Bullock and Bryan Randall's relationship status, there was something much different going on. 
Although Bullock hasn't spoken out about Randall's diagnosis or his death, her sister has confirmed that the actor was actually caring for her partner through the most challenging time of his life. "ALS is a cruel disease but there is some comfort in knowing he had the best of caretakers in my amazing sister and the band of nurses she assembled who helped her look after him in their home. Rest in peace, Bryan," Gesine Bullock-Prado wrote on Instagram. This could be why Bullock decided to take a step back from her career. 
"I take my job very seriously when I'm at work. And I just want to be 24/7 with my babies and my family. That's where I'm gonna be for a while," she told Entertainment Tonight in March 2022. The timing of Bullock's break seems to line up with the progression of ALS. According to the National Institute of Neurological Disorders and Stroke, most patients see a rapid decline in health over the first three years, and many die from respiratory failure within that time.
Randall is survived by three children; Louis and Laila whom he shared with Bullock, and a daughter named Skylar from his previous relationship with Janine Staten.