Celebs Who Fell In Love With Their Bosses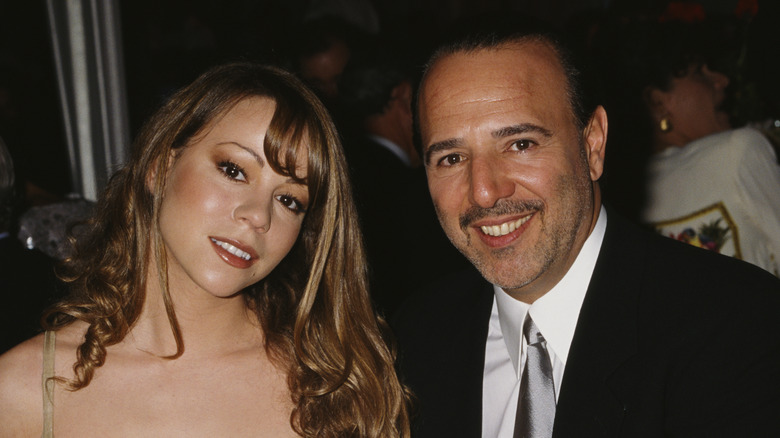 Rose Hartman/Getty Images
We may receive a commission on purchases made from links.
Workplace romances have been a thing for as long as employment has been a thing, and it is not uncommon to meet people who are or have been in a relationship with a co-worker. Less common are relationships between supervisors and those they supervise, at least in recent years as the world has become more attuned to the inherent power dynamics at play and the rampant sexual harassment that still plagues our culture (a 2019 study found that 38% of women and 14% of men have experienced sexual harassment at work). 
Despite the clear issues with such a scenario, dating one's boss is still a thing that happens quite frequently — although, because of those power dynamics, larger organizations often require these (and other) workplace romances to be reported to human resources.
But the entertainment industry does not really follow the norms of most other industries, and in Hollywood, dating the boss is not nearly as taboo as it is elsewhere. Film actors date their (sometimes taken) directors rather frequently, and we have also seen a fair number of TV stars falling for showrunners, musicians falling for record executives, and even journalists falling for heads of the network. For our list, we focused on boss-underling relationships that were substantial (versus, say, Kristen Stewart's kiss with her married director Rupert Sanders), and avoided celebrities whose relationships predated their work arrangement. That left us with a pretty hearty list of celebrities who fell in love with their bosses, and some of these people are even still together.
Helena Bonham Carter started dating Tim Burton after he recruited her to play a chimpanzee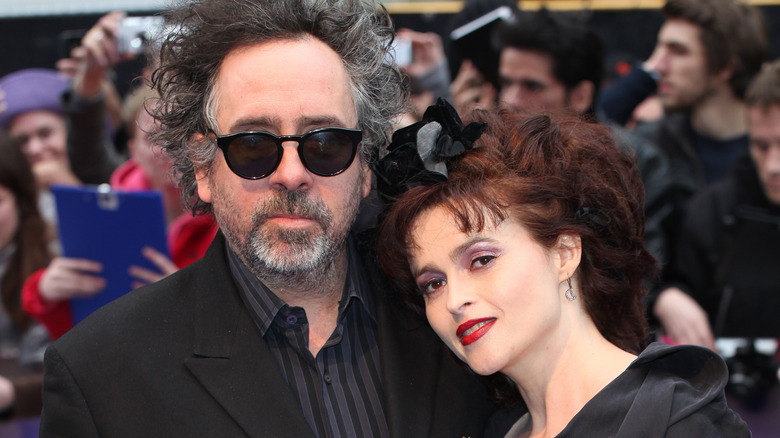 Featureflash Photo Agency/Shutterstock
Tim Burton and Helena Bonham Carter were a show business power couple for many years, and it definitely seemed as though two oddballs had found their way to their perfect soulmate. Not only were Burton and Carter a great couple, but they also made great collaborators. It should come as no surprise, given that they first met on the set of the 2000 film "Planet of the Apes," which Carter directed. "He said, 'Don't take this the wrong way, but you are the first person I thought of to play a chimpanzee,'" Carter recounted on "The Graham Norton Show" of her initial phone call with Burton. "I thought, he's never met me, but he's got me. Because he said, 'I've got this funny intuitive feeling ... that you like to cover up.' And I said, 'You're completely right.'"
Asking a woman to play an ape might not work as a pickup tactic in most instances, so it is not something we advocate trying out at a bar. But for these two unconventional folks, romance blossomed once filming was complete (though they both had long-term partners while on set) in 2001. Burton and Carter had a son, Billy, in 2003, and their daughter Nell was born in 2007, but some of their most fascinating babies were of the film variety. Carter became somewhat of a muse for Burton, and the pair collaborated many times over the course of their 13-year romance, including for "Dark Shadows," "Big Fish," "Alice in Wonderland," and "Corpse Bride." Sadly, the couple split in 2014.
Mariah Carey fell for Tommy Mottola while making her debut album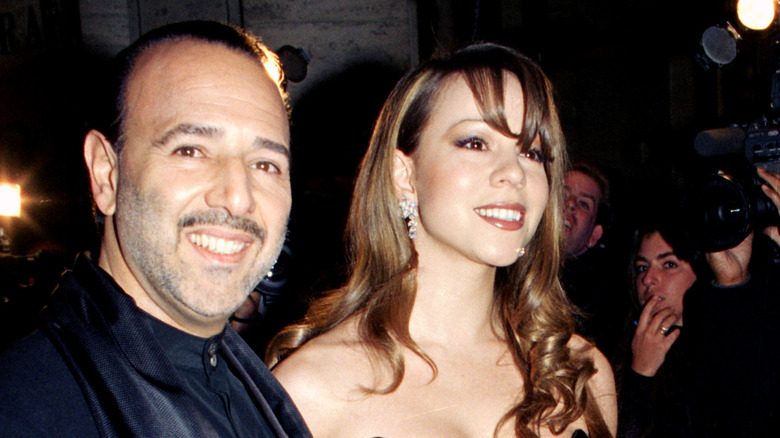 Antony Jones/Getty Images
With her golden vocals and that trademark whistle register, we have faith that Mariah Carey would have become famous no matter what route she took. It certainly could not have hurt, however, that she dated and then married her boss at Sony Music. Tommy Mottola became President of Sony in 1988 and Chairman and CEO of Sony Music in 1993. He signed Carey to Columbia Records (a label owned by Sony) after hearing her demo tape in 1988. 
By 1991 the pair were an item, and in 1993 they had an over-the-top $500,000 wedding at New York's St. Patrick's Cathedral. Carey was only 23, while Mottola was two decades older, and neither of them have fond memories of the marriage, which ended in 1998 after a separation the previous year.
Carey has on multiple occasions opened up about how Mottola controlled every aspect of her life during that time period, including in her 2020 memoir. "You might want to picture a child bride," she said in a 2019 Cosmopolitan interview. "There was a conscious effort to keep me as this all-American, whatever that means, girl. It was very controlled. There was no freedom for me as a human being. It was almost like being a prisoner." In a "CBS Sunday Morning" interview, Carey said that even going out for a bite to eat with a friend created a fight in the marriage. Mottola — who has been married to singer Thalia since 2000 — has since acknowledged the inappropriateness of his romance with Carey.
Jennifer Lawrence started dating her director Darren Aronofsky shortly after production wrapped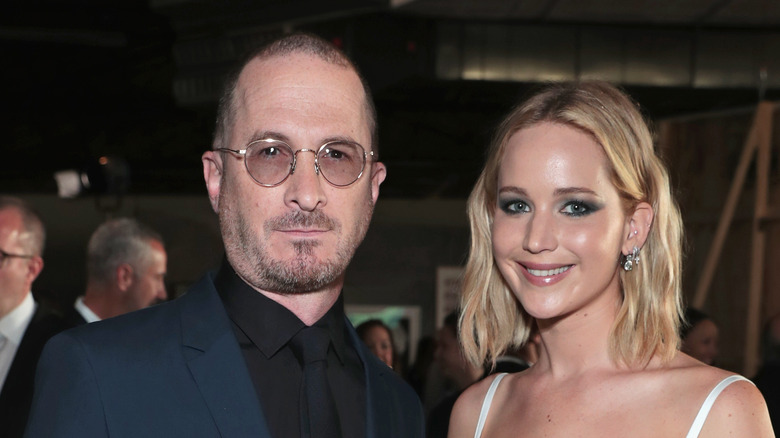 Cindy Ord/Getty Images
Jennifer Lawrence is a huge star, so naturally, we know a lot about her dating history. She has been married to Cooke Maroney, an art gallery director, since 2019, and together they share a son named Cy (born in 2022). Before Maroney, Lawrence had only a handful of big public relationships, but they were relatively significant. She dated "The Great" actor Nicholas Hoult from 2011 to 2014, with a brief split in the middle, and "Coldplay" lead singer Chris Martin from August 2014 to the following August, also with a split in there. 
A year after that, Lawrence began dating her boss — Darren Aronofsky, who wrote and directed the film "Mother!," in which Lawrence starred. The pair began dating in September 2016, after the end of shooting, and lasted for just over a year before calling it quits.
Like many of the relationships on our list, Lawrence and Aronofsky were not only boss and worker (since directors are at the top of the film hierarchy, even when a giant celebrity is in the film, and may as well be the boss) but there also existed a substantial age difference, further complicating dynamics. Lawrence and Aronofsky are 22 years apart in age, and sources (including Daily Mail) reported that this generational gap played a role in their relationship's demise. This is not entirely surprising, since Aronofsky's son with actor Rachel Weisz was born in 2006 and is therefore closer in age to Lawrence than he is, but it is not like massive age differences are not a dime a dozen in Hollywood.
Aaron Taylor-Johnson met his wife when he auditioned for a movie she was directing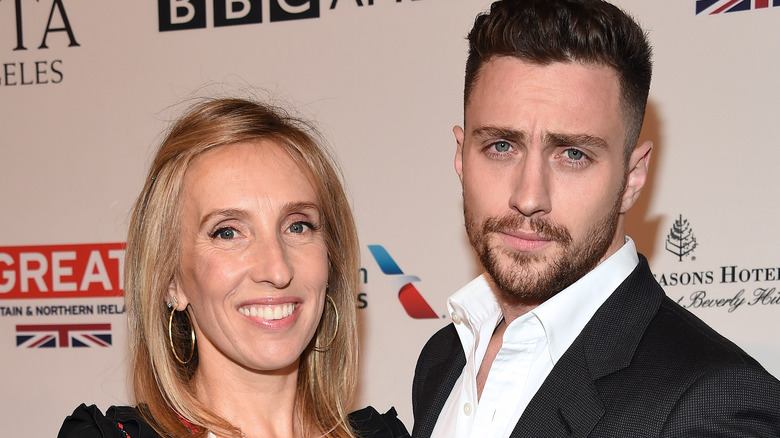 DFree/Shutterstock
Here is another instance of an actor dating their director, as well as another instance of a very large age disparity. We especially like this love story, though, because it turns the gender expectations on their head — and it is also one of the few on our list that has stood the test of time. 
Actor Aaron Taylor-Johnson met his now-wife Sam Taylor-Johnson when he auditioned for the film "Nowhere Boy" in 2008. Sam — who was married at the time — was directing the film and cast Aaron as John Lennon after his audition dazzled her. She got divorced that same year and the couple made their red-carpet debut (and got engaged) in 2009. "We were very professional through the entire film," Sam told Harper's Bazaar in 2019. "But everyone on set knew. And as soon as we finished, he told me he was going to marry me. We had never been on a date, or even kissed."
The chemistry may have been palpable, but on paper, things looked a bit weird. Aaron was still a teenager at the time (he was born in June 1990), while Sam was a divorced mom of two in her 40s. Though Sam's eldest daughter is only eight years younger than her hot hubby, Aaron stepped up to help raise both kids. The couple also have two other daughters, who they welcomed in 2010 and 2012. The Taylor-Johnsons married in 2012 and are still going strong, despite what Aaron has called the "intrusive" attention focused on their age gap.
James Cameron and Linda Hamilton fell in love filming Terminator 2: Judgment Day (despite his being married)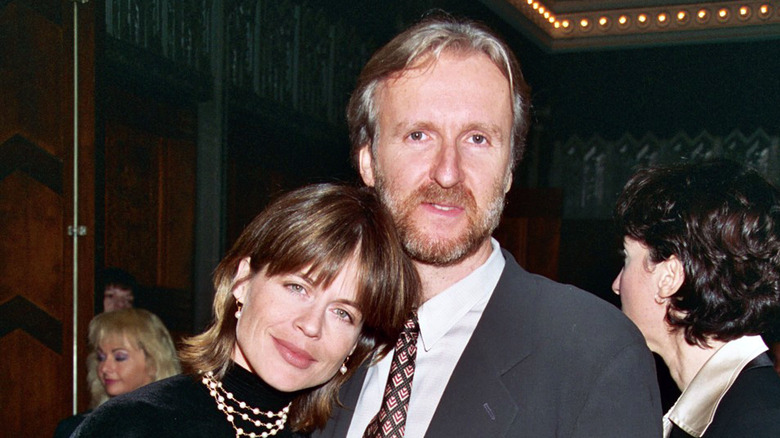 Jeff Kravitz/Getty Images
James Cameron is an amazing director, but his reputation as a husband? Not great, historically. Cameron is on marriage number five, and though things seem to be good with his wife Suzy Amis, his past marriages have shown that Cameron has a faithfulness problem. Amis is clearly aware of this, given that they started as an affair, but it is also possible that the famed director has changed his ways since marrying Amis in 2000. After all, Cameron and Amis have lasted longer than all of his other marriages combined. Not much is known about Cameron's first wife Sharon Williams, to whom he was wed from 1978 to 1984, but his second wife was producer Gale Anne Hurd, who was a frequent collaborator of his before and during (and once after) their four-year marriage.
After his marriage to Hurd ended in 1989, Cameron moved on with Kathryn Bigelow, who is now a fellow Oscar-winning director. They were only married from 1989 to 1991, and they split around the time Cameron started up a rumored affair with Linda Hamilton while filming "Terminator 2: Judgment Day" (he had previously also directed her in 1984's "The Terminator). 
Cameron moved in with his leading lady the same year he split from Bigelow, had a kid with her two years later, and then left her for Amis, who appeared in a small role in "Titanic." He then went back to Hamilton and married her (all in 1997), before leaving eight months later — again for Amis. Hamilton famously received $50 million in the 1999 divorce.
Kate Capshaw fell for Steven Spielberg, the director responsible for her big break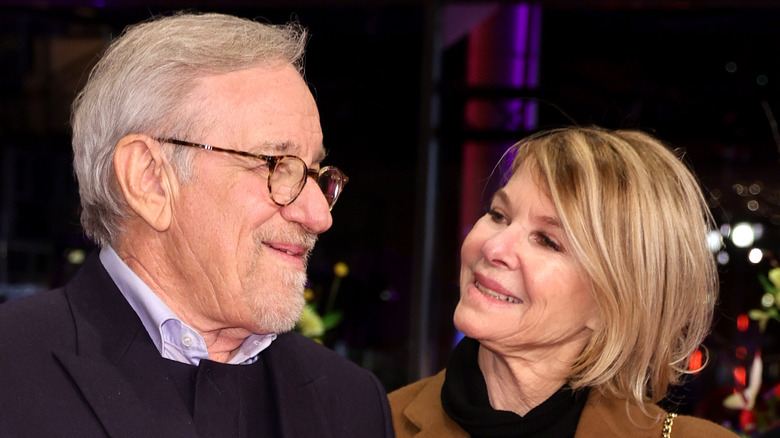 Andreas Rentz/Getty Images
By now, we have firmly established that straight male directors tend to fall in love with their leading ladies, and vice versa, but that does not mean we are going to stop giving you examples. This is a cool one, though, since Steven Spielberg and Kate Capshaw are still together today, more than three decades and enough children to form a water polo team later. 
Both stars were previously married before they got together, with each of them bringing one child into the world with their former partners (and Capshaw's daughter is actor Jessica Capshaw, who played Dr. Arizona Robbins on "Grey's Anatomy"). Their blended family has become one of those iconic Hollywood clans we can't get enough of, even though most of the kids live private lives.
Spielberg and Capshaw first met when he hired her to appear as Willie Scott opposite Harrison Ford's Indiana Jones in the 1984 film "Indiana Jones and the Temple of Doom," which he directed. This was Capshaw's big break in Hollywood, but she did not start dating her boss until years later. It was after Spielberg divorced actor Amy Irving in 1989 (they married in 1985) that he and Capshaw got together. They moved in together that same year and married two years after that. In addition to their two children from previous relationships, the couple has five other kids — three biological and two adopted. While Capshaw has not appeared on screen since 2002, a multiple of their kids work in the entertainment industry, including actor Sawyer and director/actor Destry.
Musician Alesha Dixon once dated the head of her record label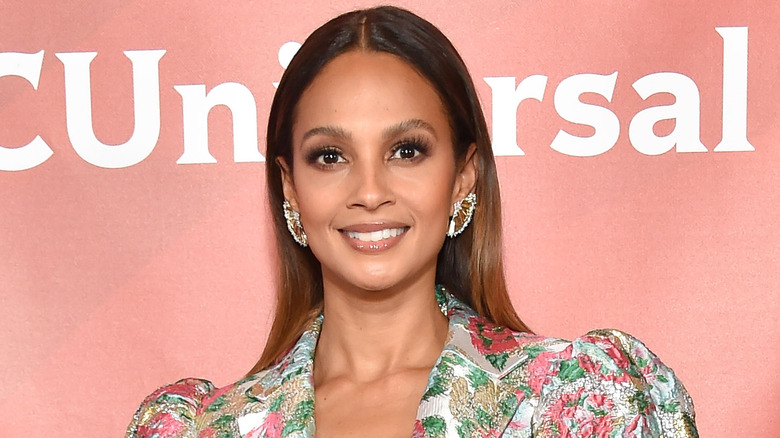 DFree/Shutterstock
Alesha Dixon is not well known in the United States, but she is a big celebrity in Britain, where she is known for her singing as well as other ventures like appearing on "Strictly Come Dancing" and being a judge on "Britain's Got Talent." She is also known for dating her boss, which she did more than decade ago, prior to her current long-term relationship. Dixon was first married in 2005, but her wedded bliss was cut short when her husband, rapper MC Harvey, cheated on her the following year. There are rumors that Dixon got married again in 2017, this time to dancer Azuka Ononye, but she has maintained that the two are not legally married. Regardless of whether they are secretly married or not, Dixon and Ononye have been together for nine years and have two children, Azura and Anaya.
But what we really want to talk about is that period in between Dixon's divorce and her current relationship, where she spent a short period dating the head of her record label. It all happened in 2008, when Dixon was working on her album "The Alesha Show," which went platinum in the UK. Ed Howard was at the time the head of Asylum Records, which released the album, and the relationship became public when the pair were spotted around London getting all lovey-dovey. Since the relationship was so private, we have no idea when Dixon ended things with Howard but we do know she first met Ononye in 2006, so he was waiting in the wings.
Leslie Mann met husband Judd Apatow at her audition for The Cable Guy, which he co-produced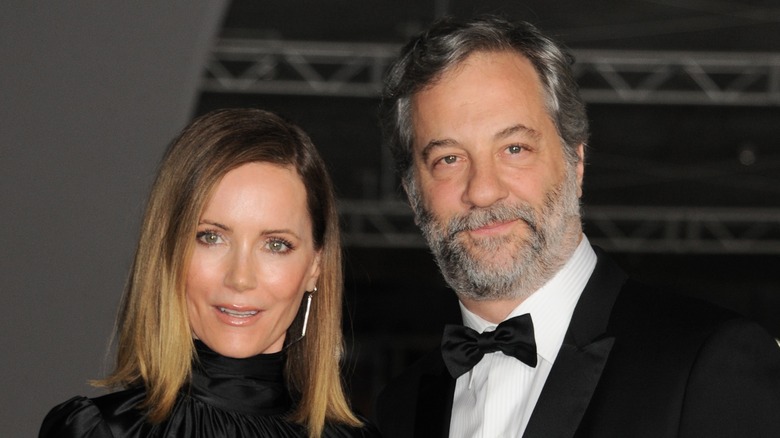 Tinseltown/Shutterstock
In a place like Hollywood, where marriages sometimes last not even a year, a couple who lasts a decade is a huge deal. So, for a celebrity couple to last a quarter of a century is something that should be celebrated, and we are here to toast Judd Apatow and Leslie Mann on that achievement. They have become a fantastic duo over the years, but when the couple first began, Apatow was technically in an authoritative role over Mann. Their first-time coming face to face was at Mann's audition for "The Cable Guy," a film that Apatow helped produce.
Mann scored the role in "The Cable Guy," and she also deeply impressed Apatow, who has said it was love at first sight for him. He told Elle that he said, "There goes the future Mrs. Apatow," as Mann left the room. "I had a soul connection instantly. I meant it. That's why I remember it," he said. Mann and Apatow began dating in 1996, after she was cast in the film, and they got married the following year. They now have two daughters — "Euphoria" star Maude and Iris — and have become one of our favorite funny couples. They have also collaborated again many times, with Apatow casting Mann in films such as "Knocked Up," "Drillbit Taylor," "This Is 40," and "Funny People." The couple most recently collaborated on "The Bubble," a comedy in which their daughter Iris was also featured.
Michelle Williams married Thomas Kail, who co-developed a miniseries she starred in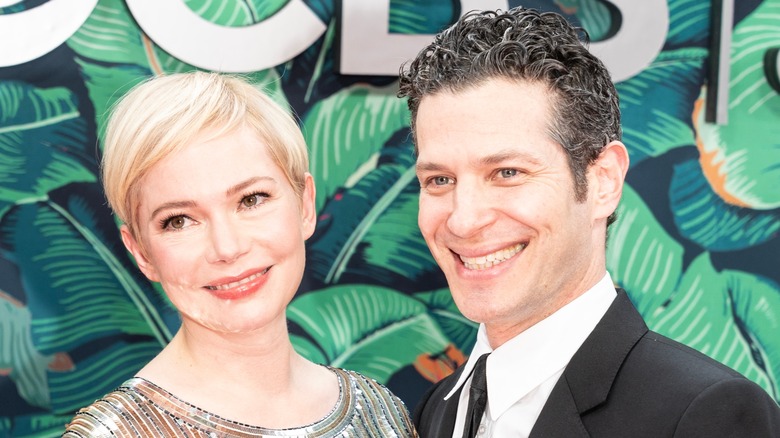 lev radin/Shutterstock
Michelle Williams is notoriously private about her personal life, but you cannot be a world-class, award-nominated actor and not court a certain level of interest. When it comes to Williams, people have been perhaps even more invested in her happiness since the death of Heath Ledger, the father of her daughter Matilda, in 2008. Though they were not a couple at the time of his death, plenty of us shipped them and had hopes they would find their way back to one another. Though she was obviously devastated, Williams forged on after Ledger's death, dating director Spike Jonze that same year. "I never gave up on love," Williams told Vanity Fair in 2018. "I always say to Matilda, 'Your dad loved me before anybody thought I was talented, or pretty, or had nice clothes.'"
Williams dated a number of men after Jonze but no one that stuck around for too long. She walked down the aisle with musician Phil Elverum in 2018, only announcing the marriage after-the-fact, but the pair split the following year. There was a happy ending for Williams after all, however, when she fell for current husband Thomas Kail, who she met during the making of her miniseries "Fosse/Verdon." As co-creator of the miniseries, Kail was technically in a boss role, but the couple did not start a romance until after filming. They got married in secret in early 2020 — we told you she was private! — and had a child in June 2020. They had a second kid in November 2022.
Helen Mirren and husband Taylor Hackford have the film White Nights to thank for their love story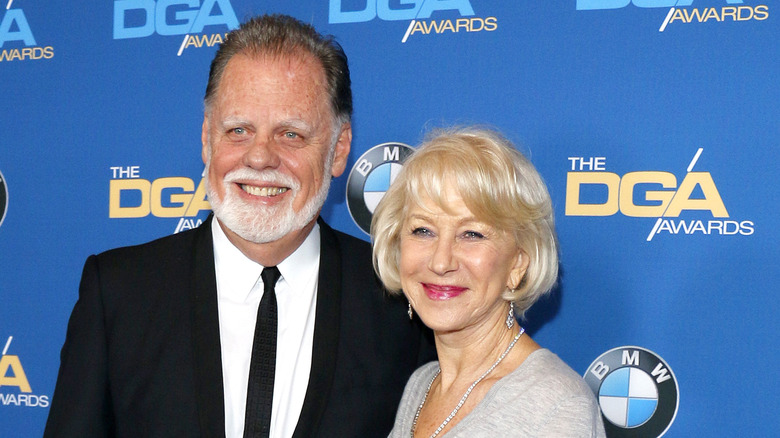 Tinseltown/Shutterstock
Dame Helen Mirren is an acting icon who can do absolutely no wrong in our book. The legend shines in everything she does, whether it is appearing as no-nonsense Detective Chief Inspector Jane Tennison in the "Prime Suspect" series or hilariously serving as the unexpected narrator for the "Barbie" movie. We trust Mirren's creative choices and, given her long and seemingly happy marriage, also trust her personal ones. Mirren has been in a relationship with director Taylor Hackford since 1986 and married to him since 1997. Hackford was Mirren's boss when they met, but the more shocking part is that Mirren really did not like Hackford at first.
The pair met in 1985, when Mirren appeared in "White Nights," a film that Hackford directed. Mirren initially disliked Hackford because he kept her waiting to audition and she was furious. Once they were on set, however, things quickly developed into romance. The dual Oscar winners dated for over a decade before walking down the aisle, although the wedding was more of a formality than anything. "We got married in the end because we realized that we were going to be together forever," Mirren told AARP. "We got married, ultimately, for legal reasons more than anything else. Estate planning and other complicated things like that." When they wed, Mirren — who told AARP magazine that one reason she fell in love with Hackford was because he was a doting father — became stepmother to Hackford's two adult sons, one of whom died in 2022.
Casey Wilson and David Caspe met when she starred on his show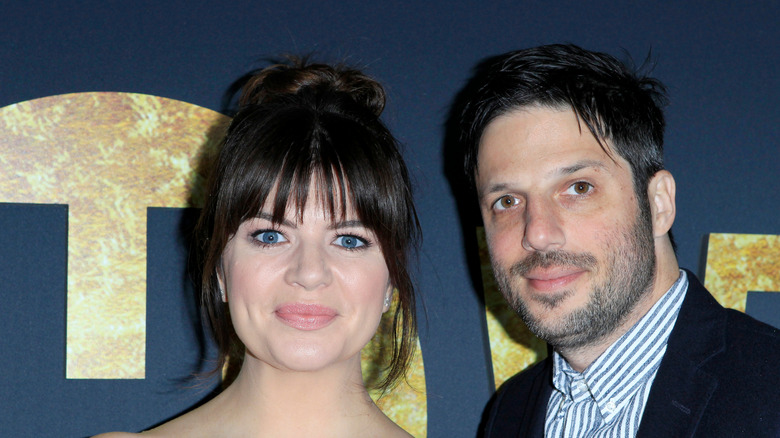 Kathy Hutchins/Shutterstock
"Happy Endings" is an underrated gem of a show and though the whole ensemble was stellar, actor Casey Wilson was the standout. Her character Penny Hartz was notoriously bad at love, and though Penny may not have found her forever person on the series, Wilson sure did. She met the show's creator David Caspe when she auditioned for the part, and they started dating a year after that in July 2011. "I liked him the whole time because he is the most kind, genuine and funny person I have ever met," Wilson told The New York Times. "But David felt it was not a good idea to get involved with the actresses."
That rule clearly went out the window, which Wilson has attributed to Caspe's discomfort once she started dating other people. "I actually had to go to that darker place of, "I don't think this is going to happen." I started dating other people just to get out there. I think it bothered him, though he said it didn't," she said in a Glamour interview. Wilson and Caspe walked down the aisle in 2014, and they have continued to work together in the years since. In fact, Caspe based the sitcom "Marry Me" on their actual relationship, and then cast his wife in the lead role. That series was also cancelled before its time, but Wilson has subsequently appeared on other Caspe-created series such as "Black Monday" and "Champaign ILL." The couple have three children together and are still going strong.
Frances McDormand fell for Joel Coen on the set of the Coen Brothers film Blood Simple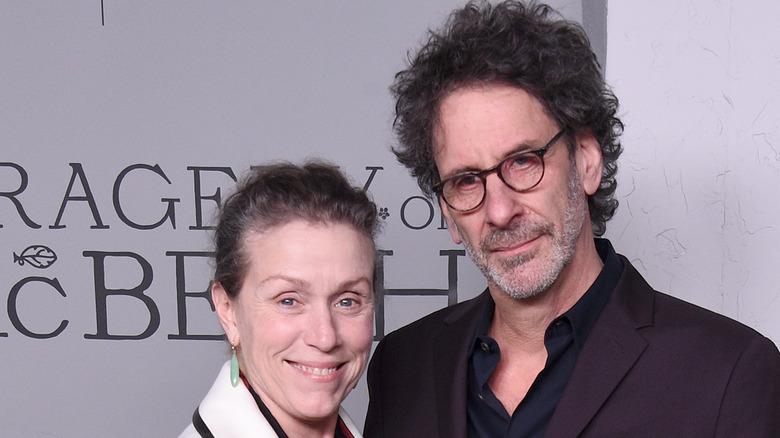 Gregg Deguire/Getty Images
Frances McDormand has been acting for over four decades and has established herself as one of the leading actors of her generation. She has been on fire in recent years — winning Oscars in 2017 and 2020 for her work in "Three Billboards Outside Ebbing, Missouri" and "Nomadland" — and is one of only six actors to have three or more acting Academy Awards (her first Oscar was for "Fargo"). Typically, stars with that level of acclaim have a strong media presence, but McDormand is very much not like her peers in that regard. The actor does not court attention, doesn't do press junkets, and for years following "Fargo" would not give interviews. Heck, she won't even pose for selfies with fans (per The Guardian).
While she is unconventional and sometimes even lovably rebellious, there is one way that McDormand has aligned with the Hollywood norm: falling in love with her boss. McDormand met her husband Joel Coen on her first movie, "Blood Simple," which was also his first film. She auditioned in 1983, and by the time the film came out in late 1984, they were already married. ""It was a revelation that I could have a lover who I could also work with and I wasn't intimidated by the person," she told The New York Times. Coen and his brother Ethan, who are often referred to as the "Coen Brothers," have since cast McDormand in many of their films, including the aforementioned "Fargo," as well as "Raising Arizona," "Burn After Reading," and more.
Diana Ross had a secret child with Motown head Berry Gordy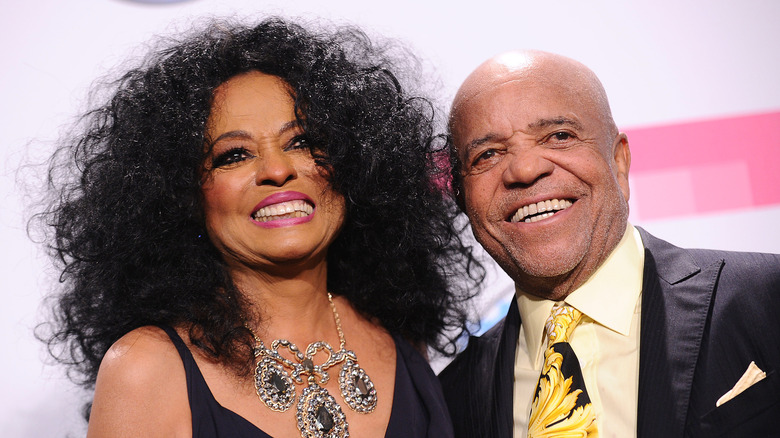 Jason Laveris/Getty Images
A documentary about Diana Ross's life was released in 2019, but "Diana Ross: Her Life, Love, and Legacy" largely focused on the singer's memorable 1983 free concert in Central Park during a big storm. There are way too many juicy details about Ross's life for us to not get another film (maybe a biopic starring daughter Tracee Ellis Ross?), or at the very least an update to her 1993 memoir, "Secrets of a Sparrow" and its follow-up, 2003's "Upside Down." One of the most interesting parts of Ross's story is her love affair with Motown head honcho Berry Gordy, which resulted in a child that for years was presumed to be parented by another man. Not only was Gordy Ross's label head, but he also once employed her as a secretary (a job her fired her from because she was awful, per Rolling Stone).
Gordy and Ross first met she was a high school student seeking a recording contract alongside her bandmates in The Primettes. Once the girls graduated, Berry signed them, renamed them The Supremes, and helped launch them to worldwide success. The pair were romantically involved for the latter half of the 1960s, but broke up when their relationship got in the way of the work. Ross and Gordy had already broken up when they conceived their daughter Rhonda in late 1970 in a one-off night of passion. Since Ross married Robert Ellis Silberstein early into her pregnancy, it was assumed he was the father for the earliest years of her life.
Julie Chen Moonves worked for CBS when she began dating the married head of the network, Les Moonves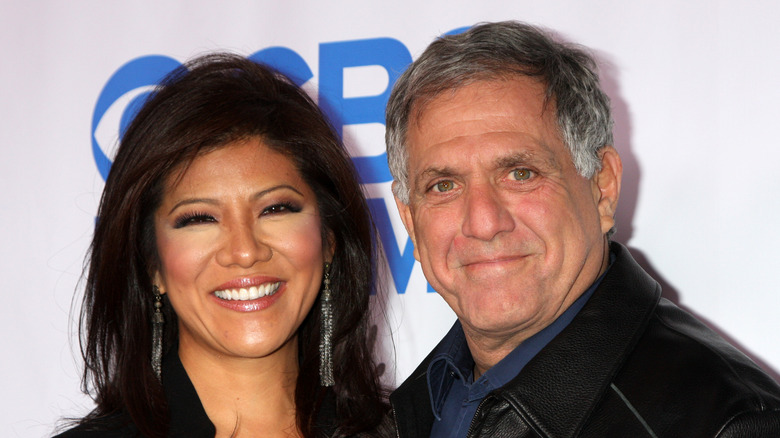 s_bukley/Shutterstock
Forget dating a showrunner or director, why not go all of the way to the top and snag the head of a major network? That is what "Big Brother" host Julie Chen Moonves did when she started up with her husband Les Moonves, who was at the time the head of CBS. Chen Moonves had established herself as a journalist at the network and was a newsreader on "The Early Show" when she was tapped to host "Big Brother." Their romance began while Moonves was still married to his first wife, with whom he has three kids, and details about its origins are scarce. Moonves and Chen Moonves were married in 2004, mere weeks after Moonves's divorce, and had a child, Charlie, in 2009. It is hard to know whether Chen Moonves's career would have been better or worse off had she not married the man in charge.
Chen Moonves only later started using her married name — something she unexpectedly did after allegations of sexual harassment against her husband years after their marriage. "When I married my husband, I chose not to take the name because I thought it could be seen as an unfair advantage," she told Deadline in 2022. "It was a powerful, popular name to have. And I had made my own career prior to knowing him. So, I wanted to keep that." Moonves stepped down from his role at CBS in 2018 amidst the allegations of sexual harassment and misconduct, which he has denied.
Ingrid Bergman's reputation suffered after an affair with her married director (and eventual husband) Roberto Rossellini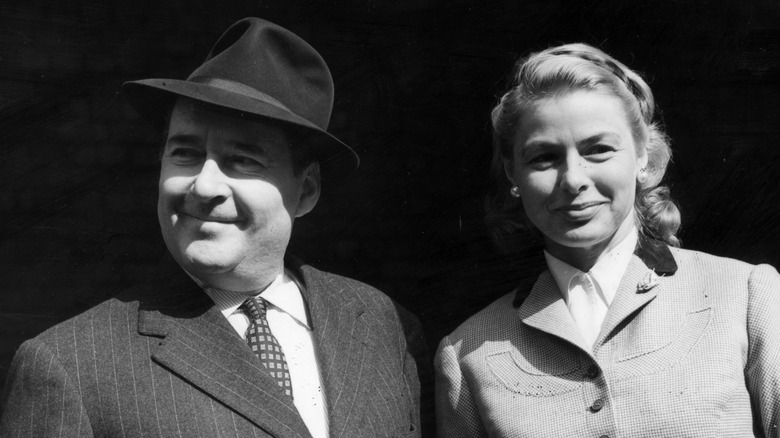 Central Press/Getty Images
A lot of the relationships on our list began as extramarital affairs, but cheating is not uncommon in Hollywood nor outside of it, and affairs are no longer stigmatized the way they once were. Sure, people don't love a cheater, but the scarlet letter once worn by those who cheated fades relatively quickly in the digital age. Once upon a time, stars were marked for life when they were perceived to have broken up a marriage, particularly women. Ingrid Bergman's reputation never fully rebounded after she had an affair with her married director Roberto Rossellini — not even after they married or after she kept turning out Oscar-winning performances.
Bergman was a very popular star prior to her affair with Rossellini, with iconic roles in films like "Casablanca" and "Joan of Arc." She fell in love with Rossellini while making the 1950 film "Stromboli," and the couple both left their spouses to be together. The resulting scandal led to hate mail, public shaming on the floor of the U.S. senate, and even boycotts of Bergman's films. It was not just the affair that made people lose their minds, but also the baby the couple had out of wedlock. The couple married a few months after their son was born in 1950, and they had two more kids before their 1957 divorce (Bergman also had a child from her first marriage). Years later, it was revealed that Bergman had a history of cheating, and that she had cheated on her first husband with co-star Gregory Peck.
Like her mother before her, Isabella Rossellini fell for her married director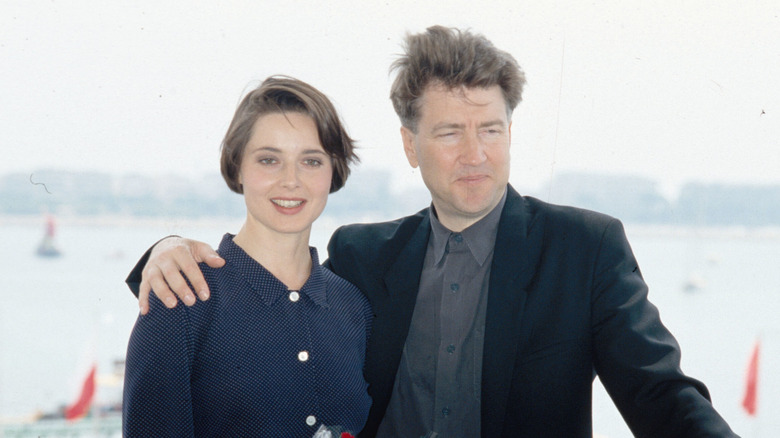 David Nivière/Getty Images
Ingrid Bergman and Roberto Rossellini had three children, and one of them went on to find stardom in her own right. A nepo baby before the world knew what that term meant, Isabella Rossellini first found fame as a model, most notably for Lancôme, with whom she signed an exclusive deal in 1982 that made here the best paid model of the time. She also acted, and many people consider the 1986 film "Blue Velvet" to be the vehicle that first properly exposed her skill in that area. And not only did this film help Rossellini's career, but it also introduced her to one of her great loves, David Lynch. By the time of "Blue Velvet," Rossellini had already been married two times — once to director Martin Scorsese and once to Jonathan Wiedemann.
When she divorced Scorcese in 1979, after four years of marriage, Rossellini was pregnant with Wiedemann's child — eerily similar to her parents' story. Things ended with Wiedemann around the time Rosselini met and fell for Lynch, who directed "Blue Velvet" and offered her a part in the film after they met at a dinner party (and Helen Mirren had turned it down). Lynch was married to his second wife Mary Fisk at the time, and his romance with Rossellini was the catalyst for their divorce (again, very similar to her parents' origins). She and Lynch broke up after six years, after which Rossellini adopted a son and became engaged to actor Gary Oldman.
Sparks flew when Christine Taylor auditioned for a pilot Ben Stiller was directing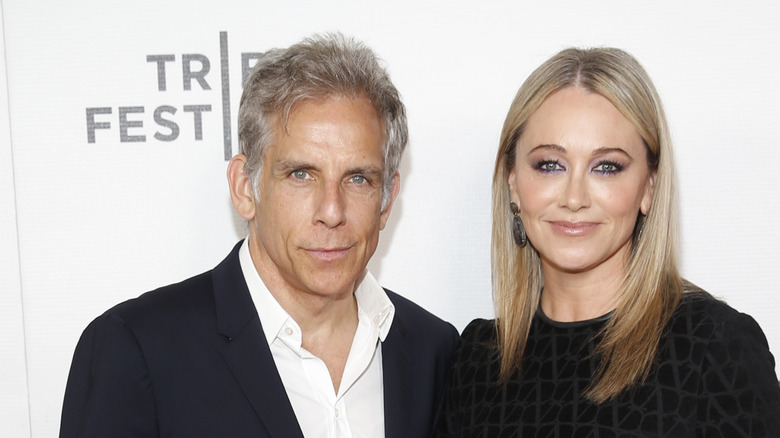 Rob Kim/Getty Images
Ben Stiller is from a Hollywood family, but his road to success was not an overnight one. Though he had some early luck in the theater, he started his television career in bit parts in shows like "Kate & Allie" and "Miami Vice," and then had a disastrous four-episode stint on "Saturday Night Live." A few years later, he got his own sketch show, "The Ben Stiller Show," but that too was not a successful endeavor. This is all to say that Stiller spent some time early in his career trying things, failing, and then trying other things. This included directing and producing content, both of which he still does today, just on a much larger scale. It was through one of his directorial undertakings that Stiller met his wife, all the way back in 1999.
Stiller has been married to actor Christine Taylor since 2000, after they met when she auditioned for a TV pilot he directed for a show called "Heat Vision and Jack." While the show never got picked up, the couple quickly hit it off and began dating, going public at the 1999 MTV Movie Awards. They appeared together in "Zoolander" a year after getting married, and Taylor also had small roles in Stiller's films "Dodgeball: A True Underdog Story" and "Tropic Thunder." The couple shares two children, Ella and Quinlin, and were on a solid track until their 2017 separation. Stiller and Taylor got back together during the COVID-19 pandemic, during which they moved back in together.
Cassie modeled for Sean John and signed with Bad Boy Records before started things up with Sean Love Combs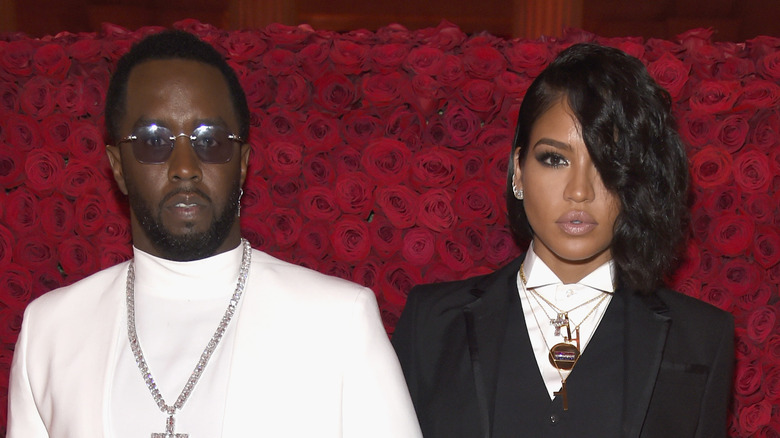 Kevin Mazur/mg18/Getty Images
Sean Combs — formerly known as Puffy, Puff Daddy, P. Diddy, and Diddy — changed his legal name to include "Love" in 2021, and it is his love life that we are here to discuss. Combs's most enduring relationship was with Kim Porter, a model and actor who died of a lung infection in 2018. Combs and Porter first dated from 1994 to 1999, but they got back together in 2003 before once again calling it quits six years later. Combs adopted Porter's son Quincy, and the couple also share twin daughters D'Lila and Jessie (Combs also has four kids with four other women). It was around the time that Combs and Porter broke up for the second time(ish) that the rapper began dating Cassie, who worked for him in multiple capacities.
Cassie and Combs kept things a secret until 2012 because, according to Billboard, their relationship overlapped with Combs's on-again, off-again romance with Porter. They also probably knew how it would look for a young singer to be dating her boss, a situation that could have overshadowed Cassie's talent had it become public. The pair met when Cassie modeled for Combs's clothing brand, and he then signed her to his record label, Bad Boy Records. After going public in 2012, the couple started to show up on red carpets and the paparazzi caught them everywhere from luxe vacations to sporting events. They broke up in 2015 but started things up again a couple of times before splitting for good in 2018.
Harry Styles romanced Olivia Styles after she cast him in her film Don't Worry Darling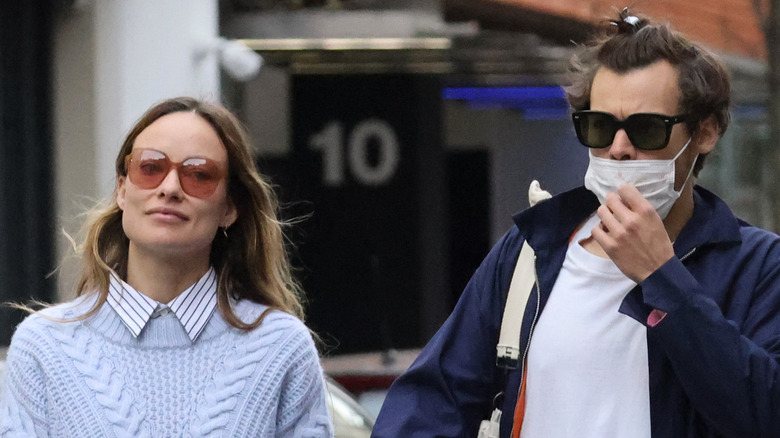 Neil Mockford/Getty Images
In case you thought it was only male directors who fell in love with their female actors, we would like to introduce the case of Olivia Wilde and Harry Styles (even though you would have to have been living under a rock for the last couple of years to have missed this one). Wilde and Styles met when the filmmaker was looking for a replacement for actor Shia LeBeouf, who was at one point attached to star in her project "Don't Worry Darling." As the director of the film, Wilde obviously had a large say in who was cast, and she fell for Styles's charisma and charm. And it turns out she did not just fall for the international pop star as an actor, because the two quickly became one of the most talked about couples in the world.
Wilde and then-fiancé Jason Sudeikis announced their split In November 2020, but Wilde maintains that they broke up earlier in the year, while Sudeikis told GQ they only split in November. When Wilde and Styles were photographed holding hands in January 2021, it further complicated the timeline and caused tongues to wag. Because Styles was cast in her film in September, some have speculated that Wilde may have ended things to be with Styles, but she denied this in a 2022 Vanity Fair interview. Though we had plenty of evidence by way of paparazzi photos, Wilde and Styles made the choice not to speak about their relationship. They reportedly broke up in November 2022, per People.
Rose McGowan was engaged to her Planet Terror director Robert Rodriguez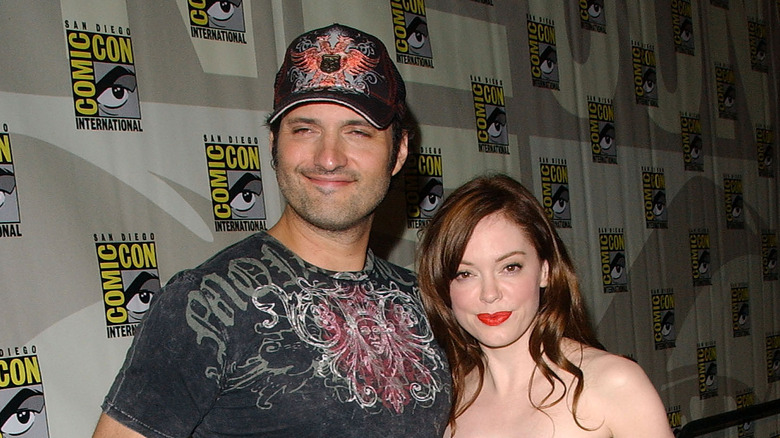 Albert L. Ortega/Getty Images
We can think of no better way to end our list than with another case of a director-actor love story, since these are so prevalent in Hollywood and are typically quite fascinating. When it comes to Rose McGowan's last few years, focus has been squarely on her activist work and her role in taking down Harvey Weinstein, as it should have been. But long before McGowan became a sexual assault advocate with no f's to give and a tendency to unleash on Twitter, she was a working Hollywood actor with a loyal following of fans. Though she has not acted in a handful of years, McGowan was always a scene stealer, be it in films like "Scream" and "Jawbreaker," or as witch sister Paige Matthews on "Charmed." She especially shone in darker roles, like the one she had in the film "Planet Terror."
"Planet Terror" is a 2002 film in which McGowan plays a go-go dancer who survives a zombie apocalypse and has a machine-gun for a leg. It was released as part of "Grindhouse," a double feature that also included the film "Death Proof," directed by Quentin Tarantino. The "Planet Terror" portion of the "Grindhouse" was written and directed by Robert Rodriguez, who McGowan met when she was cast in the film. Rodriguez only split from his wife in April 2006, and there were rumors in the media that McGowan was the reason for the marriage's demise. McGowan and Rodriguez were together from 2006 to 2009, and they were even engaged before things went downhill.