Children Of Celebrities We Think Will Be Big Stars One Day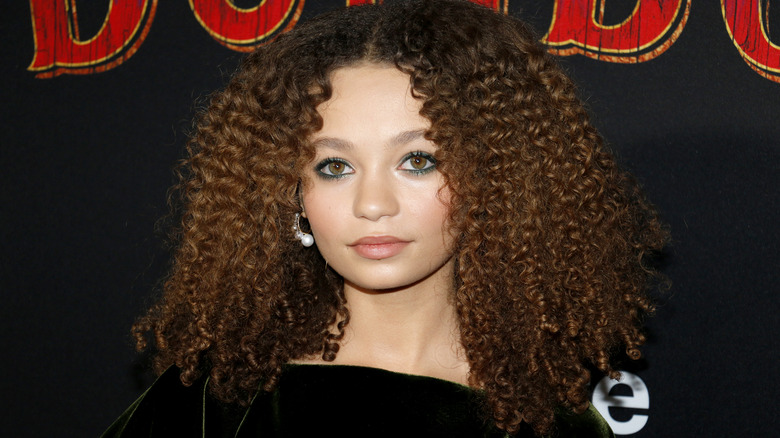 Tinseltown/Shutterstock
It is no secret that kids who grow up in Hollywood have a leg up in terms of getting into the industry. In 2023, this became a trending topic because of the New York Magazine's highlighting of the term "nepo baby" and its subsequent permeation into our culture. The original article was a December 19 cover story titled "How a Nepo Baby Is Born," and the adjoining list of Hollywood nepotism babies, entitled "An All But Definitive Guide to the Hollywood Nepo-Verse." 
This magazine issue drew upon the already heated discussion about celebrity children scoring plum acting roles, and discourse cropped up most often on X (formerly Twitter), where the term "nepo baby" was birthed. It was not long before the phenomenon was being discussed everywhere, from The New York Timesto CNN to Vogue.
According to New York Magazine, the original tweet coining the term "nepotism baby" was made in February 2022, and it targeted "Euphoria" star Maude Apatow (who, it must be said, is wonderful on the show). Though people love to call out younger stars, Hollywood nepotism is not a new thing. Look at Nicholas Cage, Ben Stiller, or Gwyneth Paltrow — heck, go a generation higher and look at Michael Douglas or Liza Minelli. 
While some celebrity kids lack actual talent, others ooze charisma and seem destined for the entertainment biz. Here are some children of celebrities who we think will be big stars one day — perhaps even on par with fellow nepo babies George Clooney, Jennifer Aniston, and Miley Cyrus.
Blue Ivy Carter became a Grammy winner at age 9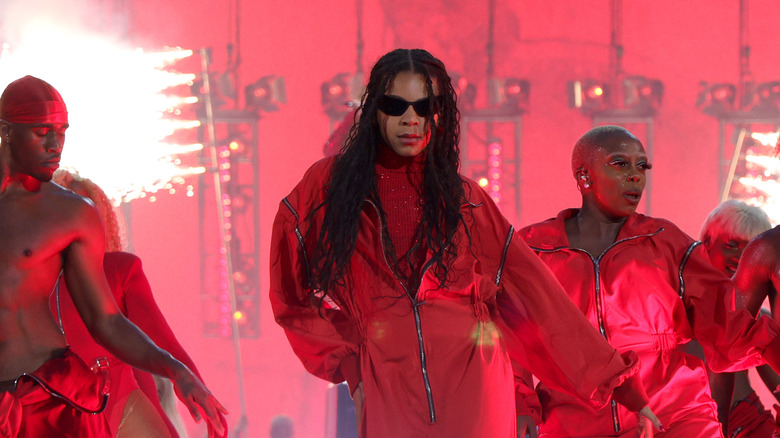 Kevin Mazur/Getty Images
Blue Ivy Carter is the most well-known person on our list and is arguably a celebrity in her own right. Still, she lives in the shadow of her famous parents, and everything she has accomplished has been linked to them. We anticipate a day when Carter will go her own way and truly blow the lid off the pot, but at this point, the water is still boiling. 
That is not to say that Carter is not already successful, as she is the second youngest person to ever win a Grammy Award — something she did in 2021 at age 9. Carter's award was for the song "Brown Skin Girl," which won Best Music Video and which featured Carter alongside her mother, Queen Bey.
In case you are one of the three people in the world who do not know, Carter is the first-born child of superstars Beyoncé Knowles and Jay-Z (a.k.a. Shawn Carter). The couple are also parents to twins Rumi and Sir, but it is Blue Ivy who has captured the attention of the world. Even as an infant, Time was calling her "the most famous baby in the world" after her father recorded her cries and used them on a track. That song, "Glory," made Carter the youngest person to ever chart on Billboard. 
She has always dabbled in entertainment — she narrated an audiobook in 2020, for example — but with her frequent appearances as a dancer on her mother's "Renaissance World Tour," Carter's star is reaching new heights.
Birdie Silverstein may be following mother Busy Philipps's footsteps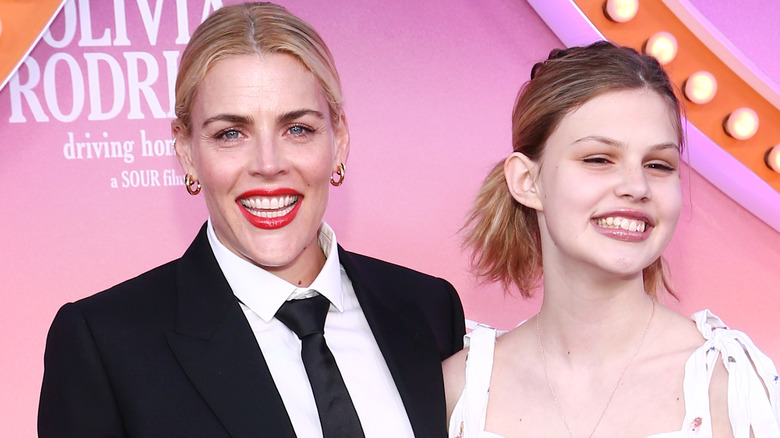 Tommaso Boddi/Getty Images
We do not know a lot about Birdie Silverstein relative to others on this list, which is perhaps why we are so fascinated by them. The budding actor is the oldest-born child of Busy Philipps, famous for her work in series such as "Dawson's Creek," "Cougar Town," and "Girls5Eva," and Marc Silverstein, who has written many well-known films, including "Never Been Kissed" and "He's Just Not That Into You." Youngest child Cricket completes the family unit, but Cricket has been far less visible in the media in comparison to their older sibling. 
Even outside of acting, Birdie has been relatively visible ever since their mother publicly discussed (with permission) their queer identity. Birdie, who identifies as gay and uses they/them pronouns, has become a fantastic model of self-love for queer kids, and Philipps an example of how a parent can support their child.
They have also been able to positively represent non-binary youth on screen through their role as Charlie in "With Love." "With Love" stars Busy Philipps, so we acknowledge the nepotism, but we are happy any time the diversity of the media landscape increases. Birdie is 14 now (they publicly came out at 12), and though they don't have an official Instagram account, we know enough about them to be interested anytime Philipps shares a photo with Birdie (which is very often). And when Birdie attended the "Single Drunk Female" Season 2 premiere screening with Philipps, they showed they were very comfortable posing for cameras. To that we say: get used to it, kid.
Ava and Deacon Phillippe are already extremely popular on social media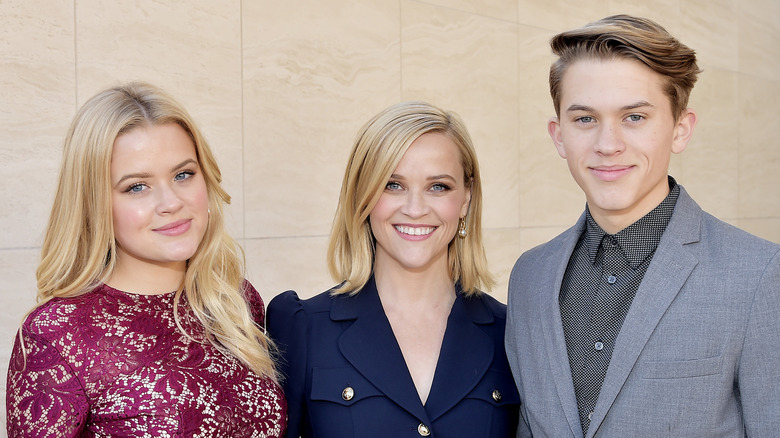 Stefanie Keenan/Getty Images
Lumping together siblings Deacon and Ava Phillippe is no reflection of our belief that they can both be huge stars. Each sibling has already demonstrated that they are both ambitious and charismatic, and it does not hurt that both Ava and Deacon are also gorgeous — much like their parents, actors Reese Witherspoon and Ryan Phillippe. 
While we do not yet know if the kids have inherited their parents' acting talent, we can say for certain that they are charming, interesting, and way cooler than we could ever hope to be. And we know we are not the only ones to believe in them, considering Deacon has roughly 400,000 Instagram followers and Ava has already passed the million mark (as of August 2023).
Both siblings are already involved in creative pursuits of some sort, and they are just getting started. Ava sells her artwork online, has dabbled in modeling, and has expressed an interest in acting (though has not jumped into that pool quite yet). Deacon made his acting debut in 2022 when he had a small role on the Netflix comedy "Never Have I Ever," but has mostly focused on his music. He released his debut song "Long Run" in 2020, when he was only 16, and has since continued to release music and play shows (under only his first name). Adding to their cool factor, both Phillippe kids opted to head off to college instead of solely relying on their connections — UC Berkeley for Ava and New York University for Deacon.
Like her parents, North West seems to love the limelight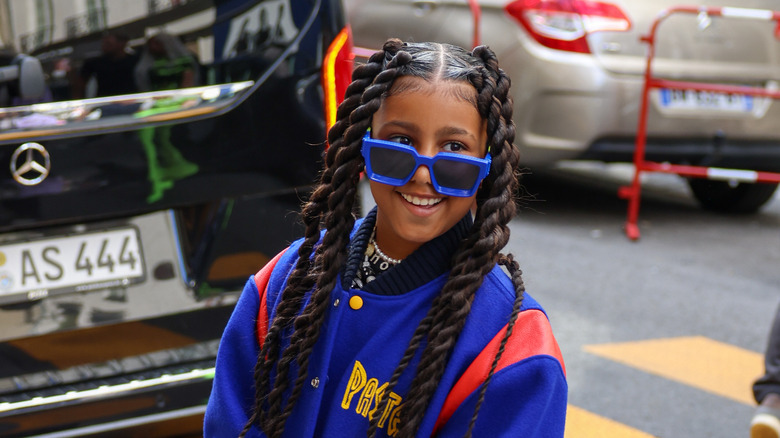 Pierre Suu/Getty Images
There is no denying that both Kim Kardashian and Kanye West covet attention, and for that reason alone, we thought the couple had a shot at lasting for the long haul. We cannot blame Kardashian for opting out of the marriage after six years, given the things West began saying and doing, but we hope their kids can inherit the best parts of West's genius even if they are no longer living in the same house as him. 
It is too soon to tell with the three youngest — Saint, Chicago, and Psalm — but we already know that North West has inherited her father's bravado and fearlessness. Let us not forget when she rapped at her father's Parisian fashion show (for his brand, Yeezy) in March 2020 — perhaps the first time we knew she would be a star.
North was only 6 when she stood in front of a large crowd and took over the mic, and she has since blossomed into even more of a gem. She has been prominently featured on Hulu's "The Kardashians" and seems the most likely of all of the Kar-Jenner kids to seek out her own unique source of fame. Her street style is immaculate — see photos of her at Dior Homme Spring/Summer 2023 show, for example (and pan down to the shoes!) — and she is no doubt a trendsetter in the making. She even steals the show from Kardashian in their joint TikTok videos, hosted on their joint account that has 16.4 million followers. North is a bona fide TikTok star, and we can't wait to see what else she takes on.
Monroe Cannon showed off her singing in a Christmas duet with her mother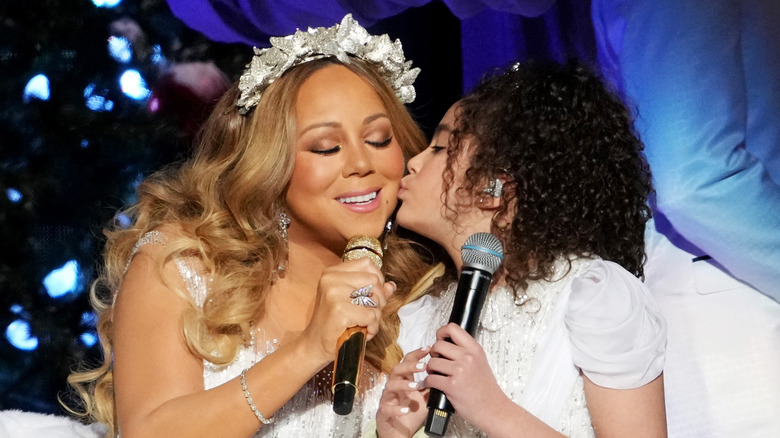 Kevin Mazur/Getty Images
Nick Cannon has a whole softball team of children, and we can totally envision a world where they have a family reality show one day. But most of his kids are far too young to give us anything real, and even if they could, they would probably be overshadowed by his two oldest, Monroe and Moroccan. Even Cannon has said that he sees the two children he shares with Mariah Carey going into show business, and he has been saying that for years now. "My kids, especially Moroccan and Monroe, they're hams," he told E! News in 2017. "They love attention. They love performing. My son is fascinated with cameras and directing and making little movies. They definitely have the bug."
Moroccan may like cameras, but it has been Monroe who has shone brightest in recent years. Both twins first stepped on stage with their mom in 2017, but it was Monroe who did the singing into the microphone during a performance of "Always Be My Baby." This was only a taste of what was to come in 2022, when an 11-year-old Monroe performed "Away in a Manger" alongside Carey during a Christmas concert in Toronto. It was their first duet, and Monroe showed off some serious singing chops. "Honestly their tone when they sing is so beautiful, and I'm so thankful that they inherited that from me," Carey said of her two kids in a 2022 E! News interview. Of the two, Monroe seems poised to carry on the family whistle note torch.
Apple Martin's attendance (and outfit) at a Chanel fashion show made waves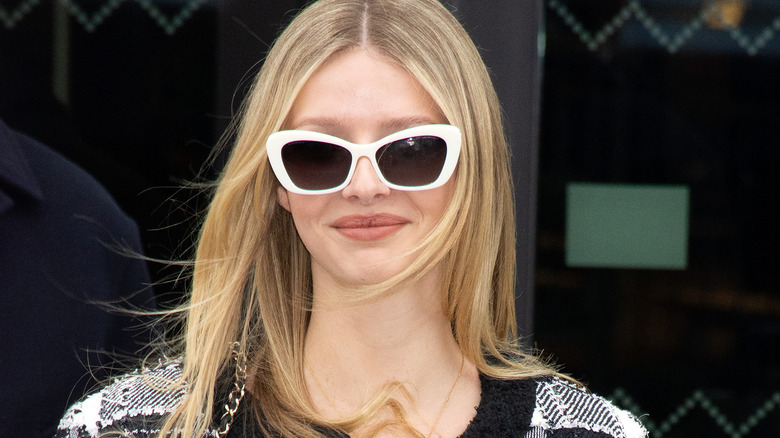 Foc Kan/Getty Images
Celebrities have been known to give their kids unique monikers, be it Jason Lee's son Pilot Inspektor, Geri Halliwell's daughter Bluebell Madonna, or Shannyn Sossamon's son Audio Science — none of whom are going to have trouble sticking out in a classroom of Johns and Sarahs. But those are lower-level celebrities and, when the celebrity parent is a massive star, a baffling name choice can become front-page news. 
When Gwyneth Paltrow and Chris Martin chose to name their firstborn child Apple back in 2004, people got so up in arms that you would have thought they named her Smelly Poopoo Face or something. Apple was all over the news for the first part of her life, and then she largely faded from public view to have a relatively normal childhood alongside her younger brother Moses. Then, at 18, she made one big appearance and became all the Internet could discuss. 
Martin is from a Hollywood dynasty, beginning with Bruce Paltrow, her late producer/director grandfather, and Blythe Danner, her Tony and Emmy-winning grandmother. And then there's her mom (Oscar winner) and dad (7-time Grammy winner) to contend with, which surely opens doors (but also must create a lot of pressure). No worry for Martin, though, because she is carving her own path separate from acting and music. She became a fashion It-Girl basically overnight when she was photographed front row at the Chanel show during 2023 Paris Fashion Week. Combine her mysteriousness (she has a private Instagram!) with those looks and that pedigree, and big-time fame feels almost inevitable.
Simone Johnson is a fourth-generation wrestler destined for greatness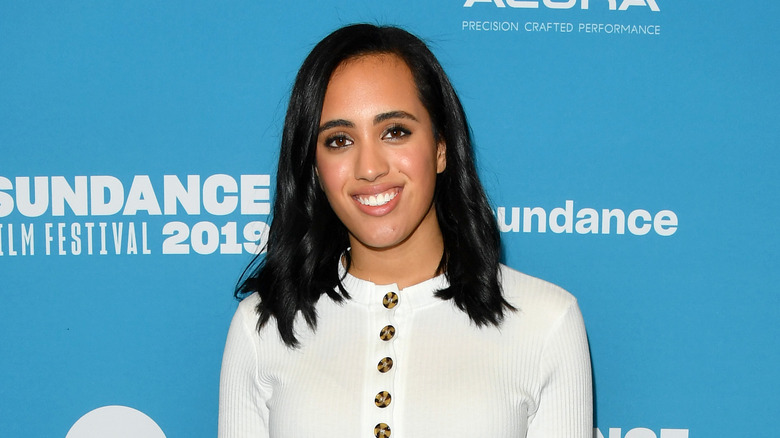 George Pimentel/Getty Images
If you are reading this article, there's a fairly good chance that you are a pop culture fan. And if you are indeed a pop culture fan, there is absolutely no way that you are not familiar with Dwayne Johnson, also known as "The Rock." As one of the most notable wrestlers of all time, Johnson could have easily just hung out on the beach after retiring from the WWE. Instead, he started acting and producing years before retirement and subsequently became one of the most successful action stars the world has ever seen. He can also do comedy (for example, "The Tooth Fairy") and drama (see: "Ballers"), co-owns the XFL, is involved in more than a handful of other business ventures, wrote a bestselling memoir, and looks like a marble statue. Talk about a guy who can do it all, right?
While most people are familiar with Johnson, fewer people outside of hardcore wrestling fans realize that he is from a wrestling dynasty, often referred to as the "Samoan family." His father, paternal grandfather, and many extended relatives were or are wrestlers, and now his eldest daughter Simone has joined the family business. 
Simone Johnson is The Rock's 21-year-old daughter from his first marriage (he also has two younger daughters with his current wife), and in October 2022, she made her WWE debut using the stage name "Ava Raine." We look forward to seeing what the fourth-generation wrestler does inside and outside of the ring in the years to come.
Ever Gabo Anderson is breaking free of her parents' shadow
Shane Anthony Sinclair/Getty Images
Ever Gabo Anderson is the daughter of actor Milla Jovovich, who is the star of the "Resident Evil" films and a slew of other movies like "The Fifth Element" and "Zoolander." Jovovich was also a huge model back in her heyday, so it makes sense that Anderson is not only following in her acting footsteps, but also her fashion ones. 
Ever is already a Miu Miu brand ambassador with over half a million Instagram followers, and she has not even had her Sweet 16 yet. We should also probably mention that the 15-year-old's father is Jovovich's third (and current) husband, "Resident Evil" director Paul W.S. Anderson. The couple have two other daughters, but it is their eldest that the entertainment world has been noticing lately.
Anderson is just getting started in her acting career, but we see the potential for her to be the next big thing — on par with other "nepo baby" actors who are slightly ahead of her in the game, like Lily-Rose Depp, Maya Hawke, or Sosie Bacon. Anderson got her start by playing a younger version of her mother's character in "Resident Evil: The Final Chapter," but it was five years before she revisited acting (as a young Natasha Romanoff in the film "Black Widow"). In 2023, she had her highest-profile role to date when she played Wendy Darling in the Disney+ film "Peter Pan & Wendy." Though there are no upcoming projects listed on Anderson's IMDb profile, we feel confident in predicting that she will be a big star come a few years from now.
Nico Parker acknowledges her privilege as the daughter of famous stars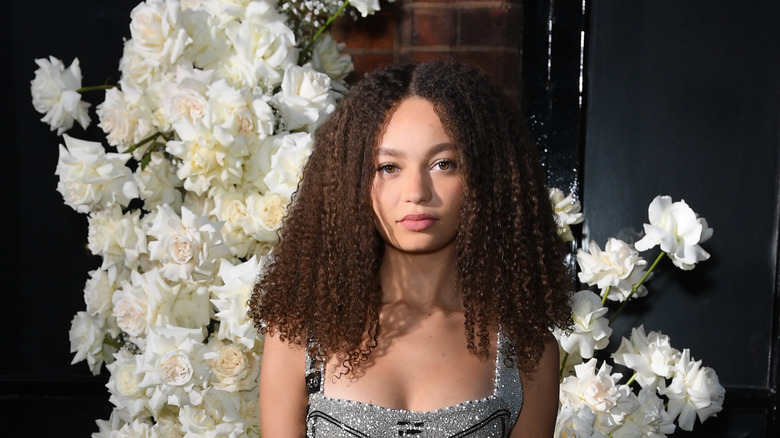 David M. Benett/Getty Images
At first glance, actor Nico Parker might very well look familiar to you even if you have never seen her before. That is because she looks remarkably like her famous mother Thandiwe Newton, who is famous for her Emmy-winning work in "Westworld" and films such as "Crash" and "Beloved." Parker's father, Ol Parker, is not as commonly known, but he has directed and/or written a number of big films including "Ticket to Paradise" and "The Best Exotic Marigold Hotel." 
Nico is early on in her career, shooting to fame with her role in HBO's "The Last of Us." She has been refreshingly candid about how having famous parents has helped her. "I think it's incredibly important to recognize that with your parents being prevalent in the industry, it's way easier to get in the room," the 18-year-old told New York Magazine in 2023.
In another unusually candid move, Parker admitted that "The Last of Us" creator Craig Mazin knew her father well enough to send him a DM prior to her being cast in the series (he asked how tall Parker was). Though her lineage has clearly opened the door, Parker is doing the work she needs to do to stand out amongst the crowd. Before her two episodes of "The Last of Us," Parker appeared in three other projects, starting with the film "Dumbo" in 2019. She has two upcoming projects listed on her IMDb and, considering one of them has her set to star as Astrid in the live-action version of "How to Train Your Dragon," we totally foresee this girl becoming a household name in her own right.
Dylan Michael Douglas and Carys Zeta Douglas desire to continue their family's acting legacy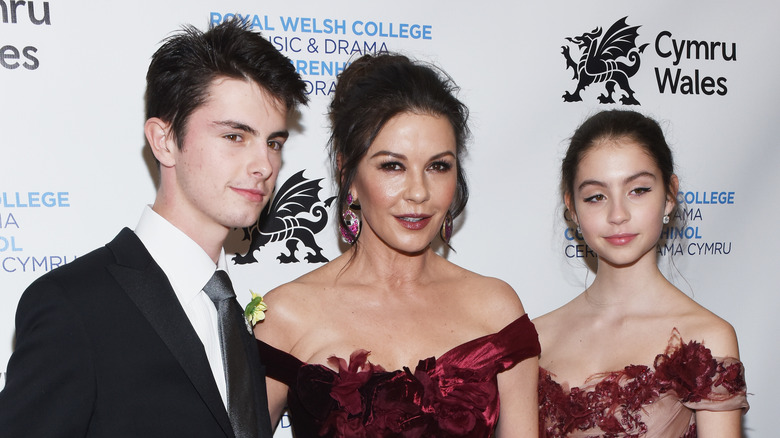 Bonnie Biess/Getty Images
We end our list with another pair of siblings, Dylan Michael Douglas and Carys Zeta Douglas. We likely do not have to tell you — since their parents' names are literally embedded in there — but these two aspiring actors are the children of Oscar winners Michael Douglas and Catherine Zeta-Jones. 
Though neither kid has any substantial screen credits under their belt, both Dylan and Carys are allegedly clamoring to become the third generation of actors in their family (their paternal grandparents were both actors too). "We'd be the first to say, 'I don't know whether they got it.' [We wouldn't] say that blatantly to them, but [we'd] kinda guide them towards something else," Zeta-Jones told "Entertainment Tonight" in 2018. "But it's so evidently clear that they have it and they get it. They know it's a craft. It's not a quick fix of getting a YouTube show."
Dylan — who attended Brown University and graduated from the Ivy League school with a political science degree in 2022 — only has a one-episode voice role on "Phineas and Ferb" on his professional resume, but he's been studying acting since at least 2008 according to People. With over 70,000 Instagram followers, he is gaining fans simply for his lifestyle, name, and looks, but it is sister Carys that is really exploding. She has 212,000 Instagram followers (as of August 2023), has gained attention for videos of her singing, and has been featured alongside her mother on both magazine covers and in an ad campaign for Fendi.