What Matt Rife And Dave Chappelle's Relationship Is Really Like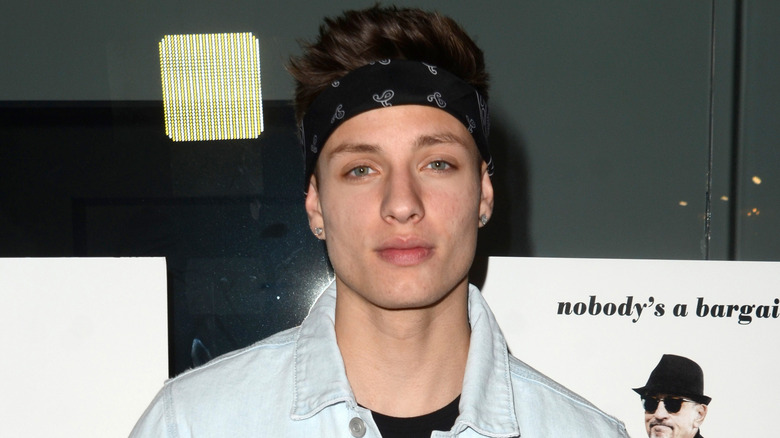 Kathy Hutchins/Shutterstock
Matt Rife was a world away from Hollywood when he decided he wanted to pursue a career in comedy and one of the comedians who inspired him the most as a teen was fellow Ohio native Dave Chappelle. "As corny as it is going to sound, I had two posters in my room. I had one of Dave Chappelle, and I had one of Dane Cook," Rife said on the "About Last Night" podcast.
Rife got the opportunity to meet Chappelle in 2013 and, crazily enough, it was Cook who snapped a photo of the aspiring young comic posing with his other comedy idol at the Laugh Factory. That one went on Rife's Instagram page, obvs. Five years later, Rife would find his name in the headlines alongside Chappelle's, but it wasn't because he'd been asked to open for "The Chappelle Show" star. You see, Rife was dating actor Kate Beckinsale and they were spotted attending one of Chappelle's Los Angeles comedy shows together. This was news because Us Weekly had previously reported that Rife and Beckinsale were no longer a couple.
Rife encountered Chappelle again in 2020 and snagged himself another Instagram-worthy pic. "This man is not only saving standup comedy, but freedom of speech," Rife captioned the photo. "Testing the brittle spirit of today's society for the sake of freedom and comedy." Three years later, Rife would become something more than a fan — he'd become an equal Chappelle considered worthy of sharing the stage with him.
Matt Rife and Dave Chappelle bonded over bud
When Matt Rife met Dave Chappelle in Atlanta in 2020, he couldn't just savor the moment because he had an intrusive idea rattling around in his brain. "I wanted to so badly ask, 'Can I do five minutes to open your show before your opening act?'" he recalled on "About Last Night" in 2021. But, while Rife felt fairly certain that Chappelle would have become a fan of his particular flavor of comedy, he couldn't gather up the courage to ask his hero to do him such a huge favor.
When host Adam Ray said he had attended one of the "Chappelle Summer Camp" events in Yellow Springs, Ohio, Rife expressed envy. But Rife soon scored his own invite to perform at one of the shows. Better yet, he got to hang out with Chappelle afterward. "We just smoked and talked for, like, four hours," Rife told The New York Times. "And he gave me 30 years' worth of advice." One big takeaway was for Rife to stick to his guns and not let anyone else dictate the content of his material.
Rife's girlfriend was with him and the comedian told Deadline that Chappelle was warm and welcoming to her, as well. "He treated me like an equal, rather than somebody he was mentoring, rather than somebody who he was put onto by somebody else," Rife said. "He treated me like a real friend and colleague."
Matt Rife took advantage of a Dave Chappelle controversy
Before Dave Chappelle became someone Matt Rife could consider a friend, Rife showed his support for Chappelle with a stunt that also served as a way to shamelessly promote himself. In 2022, there were rumors that some "Saturday Night Live" writers were going to boycott the show Chappelle had been invited to host. At the time, the comedian was facing backlash for making transphobic jokes and saying that he supports TERFs (trans-exclusionary radical feminists).
A rep for Chappelle told CNN that no such boycott was taking place, but this didn't stop Rife and another comedian, Alex "Fonzi" Cureau, from staging a two-man rally for Chappelle at 30 Rock. They held signs that read "Will Write For Dave" — and they managed to attract the attention of a TMZ reporter. When he was asked about the rumored boycott, Rife wouldn't share his stance on Chappelle's transphobic remarks. "There's no powerful statement to be made other than if you don't want your job, I will take it," he said.
Rife followed his idol's lead by including jokes about transgender people in his "Matthew Steven Rife" special, and although both he and Chappelle remain uncancelled and enormously successful, Rife has also joined the elder comedian in moaning about cancel culture onstage. Speaking to The New York Times, Rife said of Chappelle, "Fighting cancel culture with every show he does, I just admire him for that so much."