What Happened To Anna Nicole Smith's First Husband Billy Smith?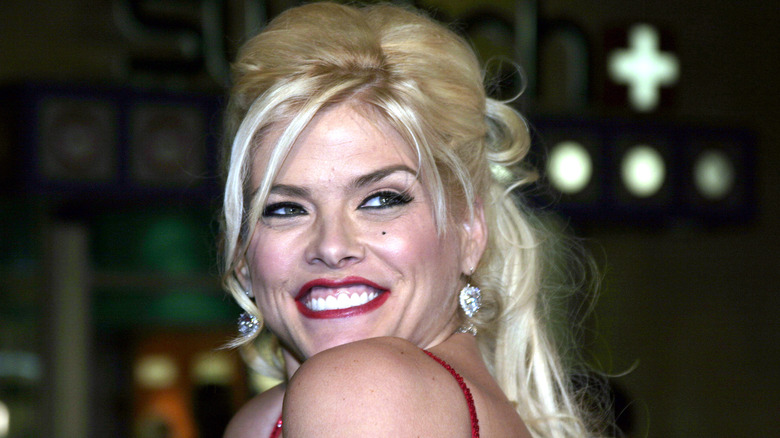 Tinseltown/Shutterstock
Anna Nicole Smith gained notoriety in June 1994, when at 26 she married 89-year-old oil tycoon J. Howard Marshall just a year before his death. But that wasn't the only time age had played an important role in her interpersonal life. Anna Nicole's marriage to Marshall was actually her second. The 1993 Playmate of the Year had said "I do" for the first time in April 1985. Anna Nicole, who went by a couple of different names back then, was 17 years old and her groom, Billy Smith, was 16.
Anna Nicole met Billy after she dropped out of high school in Mexia, Texas, and found work waiting at the local fried chicken joint, where she became smitten with the fry cook. "Billy was also a high school dropout," Jo McLemore, a friend of Anna Nicole's from Mexia, told ABC News in 2021. Anna Nicole fell pregnant pretty much right away. Nine months after their nuptials, Anna Nicole welcomed their son Daniel on January 22, 1986.
The marriage was not meant to be, though. "They were so young," McLemore said. Daniel was still just a baby when Anna Nicole and Billy went their separate ways, and she moved back to her native Houston. Despite being separated, the two remained officially married for several years. Anna Nicole and Billy divorced only in 1993 after Anna Nicole had gotten together with Marshall in 1991. Anna Nicole and Daniel went on to live an incredibly public life while Billy stayed right where he was.
Billy Smith has stayed out of the spotlight
The life Anna Nicole Smith went on to live resembled very little the life she had with Billy Smith. But his didn't. He remained in the small Texas town where they had met and stayed out of the public eye. In October 2022, friend Jo McLemore said on Facebook that Billy continued to live in Mexia. Billy never took another wife or fathered other children, McLemore added. The last time Billy was seen in public was in September 2006, when members of the Mexia community organized a service for his son Daniel following his tragic death.
Anna Nicole wasn't in attendance, WFMY reported. The ceremony, which about 50 people attended, was held in the absence of Daniel's body, which had been laid to rest in the Bahamas. He died in the Caribbean while visiting his mother, who had just given birth to Dannielynn three days earlier. Billy was described as being "grief-stricken" at the memorial and throughout the day, WFMY noted
But it is unlikely Billy had a close relationship with Daniel, given that Anna Nicole moved from Mexia when Daniel was an infant and raised him as a single mother. In fact, Billy reportedly hadn't seen Daniel since he was 2. Despite not being close, Billy sought to have Daniel exhumed and "transferred where his father and family reside" following Anna Nicole's death in February 2007, TMZ reported. His attempts were unsuccessful. Daniel remains at Lakeview Memorial Gardens, next to his mother. 
Anna Nicole Smith accused her first husband of controlling behavior
Anna Nicole Smith was once reportedly obsessed with Billy Smith. "He drove me crazy," Anna Nicole said, according to Eric Redding's 2007 biography "Sex Bomb, Anna Nicole." But Billy was so introverted that he even tried to avert Anna Nicole's attempts to get close to him. "It made her mad because he didn't pay attention to her," Virgie Arthur, Anna Nicole's late mother, told the Daily Mail in 2017. But Anna Nicole always got what she wanted, Arthur said.
"She told me, 'I'm going to get that boy, just watch, he's going to marry me.' And I said, 'Why? Because he doesn't pay you any attention?' And she said, 'That's right,'" Anna Nicole's mom recalled. That was just a few months before Anna Nicole and Billy tied the knot. "I chased him and chased him the way young girls do until I finally got him and married him," she said, according to the biographer. Billy, however, lost his allure almost immediately. "By then, of course, I wasn't interested," she said.
Anna Nicole's mother remembered Billy as someone who didn't like to be the center of attention. "He was a sweet young man, very timid and shy," Arthur said. But Anna Nicole would later describe him as a jealous partner who tried to control her every move. "I wasn't allowed to go out of the house or go to the store," Anna Nicole said, according to Redding. "He was so jealous."