Gwen Stefani's Son Kingston Shows Off His Rocker Roots With Performance At Blake Shelton's Bar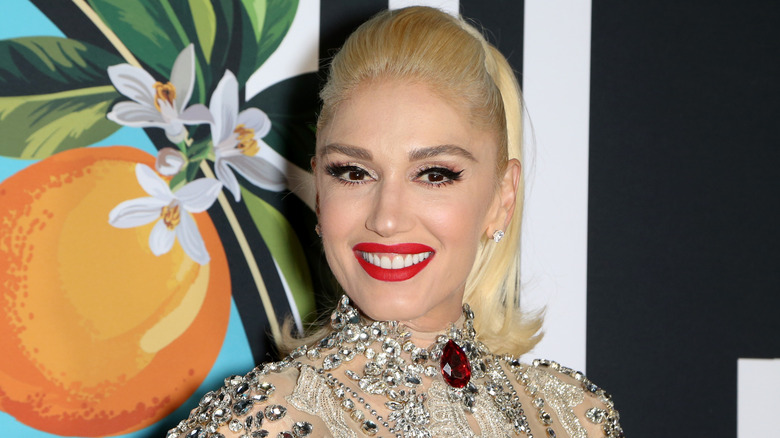 Gabe Ginsberg/Getty Images
It looks like Gwen Stefani will have to share the spotlight with her oldest son, Kingston Rossdale. These days, Stefani seems to be living out her dream life with her husband, Blake Shelton. However, she's still a dedicated mom to her sons with her ex-husband, musician Gavin Rossdale. From oldest to youngest, they are Kingston Rossdale, Zuma Rossdale, and Apollo Rossdale. And though Shelton doesn't have any biological kids, he has a great relationship with Stefani's sons, too. Given the trio's musical prowess, one of the kids had to eventually showcase musical talent, right?
For example, Stefani's youngest son Apollo showed some promising musical potential in 2020 when he sang the beloved playground classic, "Old MacDonald Had A Farm" and later played the drums with his mom on tour, according to People. And while it was obviously too early to know whether the then-6-year-old would have a real future in music, it was clear that he at least had an interest in music, which is definitely the first step! With that said, Apollo's older brother, Kingston may have just claimed the musical protégé title for himself.
Kingston Rossdale has a bright future in music
Over the weekend of August 11, Kingston Rossdale popped up at Blake Shelton's popular Oklahoma bar and put on a soulful performance that immediately won over the crowd. The footage came courtesy of an audience member, who goes by @TiaraDBlue on TikTok. She posted a short snippet of the performance before interested fans clamored for the full thing. Although Kingston's song of choice hasn't been identified, his vocal range and clarity are certainly not up for debate. Both videos have since garnered thousands of likes and comments, many of which point out Kingston's resemblance to his father, Gavin Rossdale.
And though it doesn't seem as if Gavin was in attendance, Shelton proudly embraced him following the performance. Shelton also made sure that Kingston would have an audience as he slyly promoted Kingston's appearance ahead of time. "Ok y'all here's the deal... 7:30pm this Friday I'm gonna set up and play 30 minutes or so acoustically. Then I'm gonna turn the stage over to a debut artist that will be doing their VERY FIRST public performance! See you at the @OleRed Tishomingo Doghouse!!!! You never know who else may show up..." tweeted Shelton on August 9. 
In June, Gavin revealed to Entertainment Tonight that Kingston isn't just a talented singer. He's also a gifted songwriter who's been in the recording studio. "He just has the innate ear for melody," said Gavin. "Beautiful melodies he just chooses to sing."