What's The Real Meaning Of Last Night By Morgan Wallen? Here's What We Think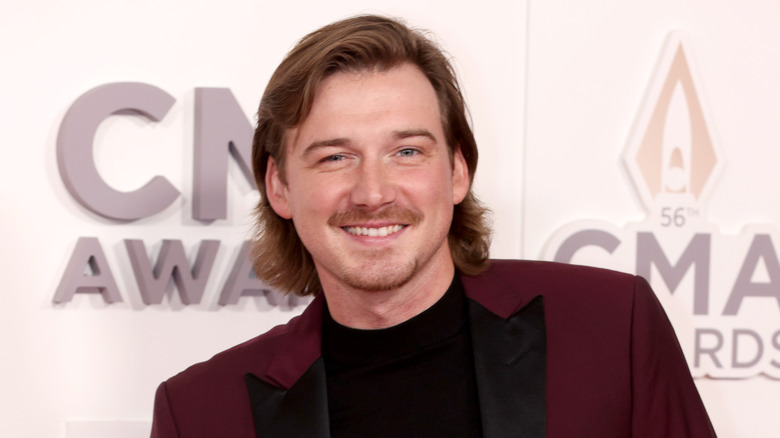 Sara Kauss/Getty Images
With 36 tracks competing for his fans' attention, it could have been difficult for one song on Morgan Wallen's album "One Thing at a Time" to stand out. But "Last Night" streaked to the top of the Billboard Hot 100 shortly after it dropped, becoming Wallen's first No. 1 single on the chart. Lower slots were snapped up by every other song from the album, which was a record-breaking feat — the last artist to even come close to having that many songs on the chart simultaneously was Drake with 27.
Speaking to American Songwriter, Wallen explained why he felt that the track — penned by John Byron, Ashley Gorley, Jacob Kasher Hindlin, and Ryan Vojtseak — was worthy of releasing as a single when he was so spoiled for choice. "'Last Night,' 'Every Thing I Love,' and 'I Wrote The Book' felt like an appropriate introduction for my album because they showcase each style of music that I'm going for. They are just really diverse," he said. The decision has paid off in the form of all sorts of records, including "Last Night" becoming the first song to be streamed 1 billion times in a calendar year.
While Morgan's use of a racial slur has made him a polarizing figure, he's largely avoided wading into the culture wars in his music, a la "Try That in a Small Town" singer Jason Aldean, and "Last Night" explores familiar themes that will resonate with many listeners.
The title of Last Night has a dual meaning
"Last Night" explores some popular country music tropes: Regret and hitting the bottle too hard. The storytelling is a pretty straightforward reflection of a previous night with a romantic partner, although the narrator admits that his drinking has made his recollection of what exactly went down somewhat hazy. Morgan Wallen sets the scene by dropping the title over a twangy riff. "Last night, we let the liquor talk," he sings. But the song's title takes on a second meaning after he shares some of the hurtful things that were said. Now, he's trying hard to convince himself that his relationship isn't over: "You told me that you wish I was somebody you never met / But baby, baby, something's tellin' me this ain't over yet / No way it was our last night."
We then learn one reason he's finding it so difficult to accept that his lover might not be coming back: He showed her a really good time. "I kiss your lips / Make you grip the sheets with your fingertips," he sings. But add some Jack Daniels to the equation, and the passion quickly sours.
There's also a revelation that this wasn't the first time these lovers lashed out at each other: "You know you love to fight / And I say s**t, I don't mean." So, this sad cycle will likely continue if his lover ever returns, and this relationship might be too toxic to redeem.
Morgan Wallen sings about drinking a lot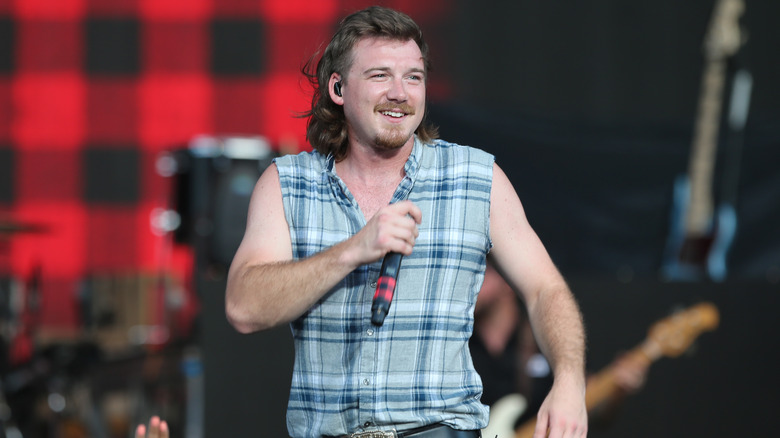 Debby Wong/Shutterstock
"Last Night" is a cautionary tale about the dangers of drinking when you're involved in a relationship that's already unhealthy. It's so bad, in fact, that the friends of both parties involved are rooting for its demise. "My friends say, 'Let her go' / Your friends say, 'What the hell?'" Morgan Wallen sings. But after bags get packed and tail lights disappear into the night, there are lingering feelings of regret and anguish over the potential loss of a lover.
"Last Night" isn't the only song on "One Thing at a Time" that mentions alcohol. According to Country 102.5, there are actually just two tracks on the album that don't: "'98 Braves" and "Last Drive Down Main." While some of Wallen's songs are a toast to the alcohol-fueled honky-tonky lifestyle that so many traditional country songs celebrate, he also regularly admits that living out a Hank Williams Jr. song has its downsides. In "You Proof," he realizes that alcohol won't cure his heartbreak, and in "Born with a Beer in My Hand," he blames alcohol for some of his past bad behavior.
After the racial slur incident, Wallen told "Good Morning America" that he checked into rehab to see if he had "an alcohol problem" – then he proceeded to do tequila shots during a Luke Bryan concert. But whether he's sober or not, singing about alcohol is clearly going to be unavoidable for Wallen for the foreseeable future.