Alex Collins, Former NFL Running Back, Dead At 28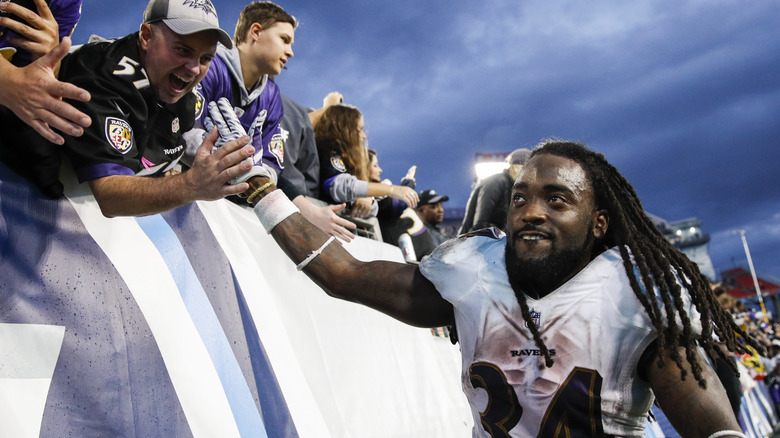 Joe Robbins/Getty Images
Baltimore Ravens fans are grieving yet another loss. A former running back for the team, Alex Collins, has died, TMZ confirmed on August 14. He was just 28 years old.
According to a statement Fox Sports 640 obtained from the Broward County Sheriff's office, Collins was driving a motorcycle in Lauderdale Lakes, Florida, when he crashed into the side of a vehicle. He was pronounced dead at the scene, and a police investigation is ongoing.
Collins was drafted by the Seattle Seahawks in 2016 and played for the Baltimore Ravens from 2017 through 2018. His coach for the latter team, John Harbaugh, released a statement that read in part, "Alex was a joy to be around and someone whose light shined brightly." It's been a tragic year for the Ravens, with three other players dying in the past year: Jaylon Ferguson, Tony Siragusa, and Ryan Mallett. Collins was also remembered fondly by his college team, the Arkansas Razorbacks, with a tweet that read, "He was a legendary Razorback and an even better person." As the tributes to Collins continue to flood social media, it's clear that fans and those who knew him best agree that he had a good heart. 
Alex Collins had a big impact on a bullying victim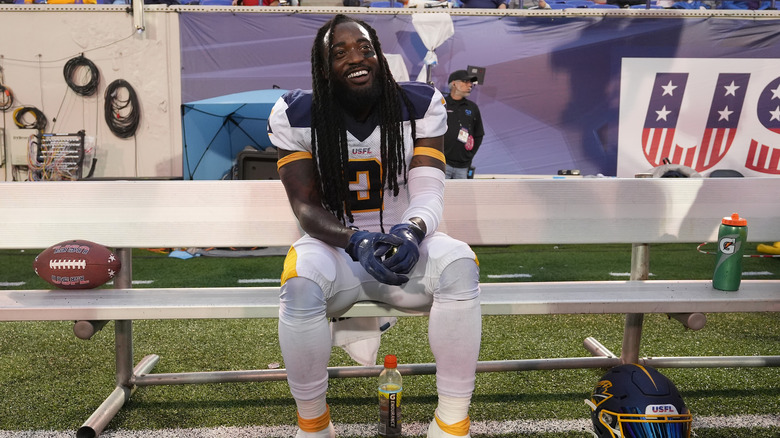 Dylan Buell/usfl/Getty Images
While reminiscing about what an incredible human being he was, many Twitter users shared that their favorite Alex Collins moment was when he met a 12-year-old boy named Carl Stubbs. Per ABC News, Tubbs, an Iowa native, said that he became a target of bullies at school when they learned that he was taking Irish dance classes. Collins was known for giving his touchdown dance a wee bit of the ol' Irish charm, and he'd actually learned the same traditional dance moves to get faster on his feet ahead of the NFL draft. Tubbs got the opportunity to meet Collins at a Ravens game, and those bullies changed their tune post-haste when they learned that NFL players dance, too. Collins' simple act of kindness had a huge impact on Tubbs life. "It's boosted my confidence so much," he said. "I feel like I can do anything and no one can stop me."
On Twitter, fans remembered the joy they felt watching Collins dance in the end zone during games, and the NFL player's words of encouragement to Tubbs will tug even harder at the heartstrings now. "Never stop doing the things you love because someone else doesn't agree Carl," he tweeted, "and don't let them stop you from being great!"
Our thoughts are with everyone who loved and cared for Collins.