Offset's Cheating Allegations Against Cardi B Fully Explained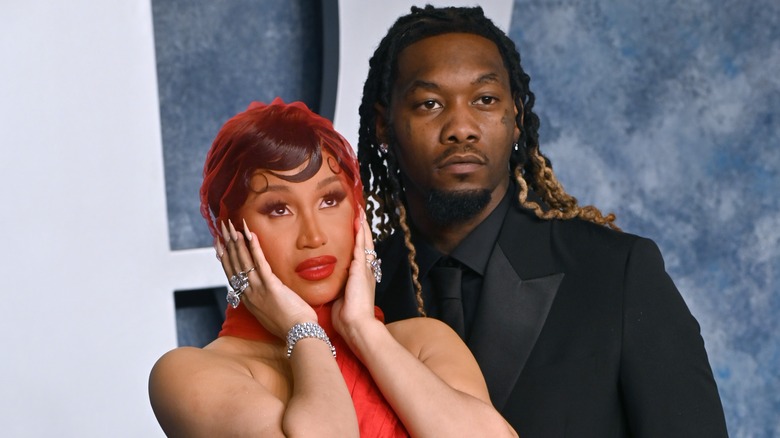 Featureflash Photo Agency/Shutterstock
Cardi B and Offset are one of hip-hop's power couples, but their relationship is admittedly far from perfect. What started as a whirlwind romance turned into a long-term affair, with tons of drama sprinkled in between, including cheating scandals.
The "Bodak Yellow" singer and "Ric Flair Drip" rapper met in 2016, sparked romance rumors in 2017, and had a secret wedding in September of that same year. Sure, it all seems so fast, but Cardi told Fader he was a godsend and inspired her to go after her goals. "It's been a blessing, me meeting him and meeting his friends," she confessed. "I see how hard they work. And that motivated me to work even harder." But by the end of 2017, the first of a handful of cheating accusations happened after Offset's iCloud got hacked, and a video of him with another woman surfaced. Offset attempted to take Cardi back through over-the-top gestures, which appeared to have worked as they got back together and went on to have two children. In an interview with Cosmopolitan, the "WAP" rapper clapped back at people judging her for taking her husband back. "It's like everybody is coming down my neck," she said. "But I want to work out my s**t with my man, and I don't got to explain why."
Cardi and Offset had an on-again-off-again relationship since, and in June 2023, Offset accused Cardi of being unfaithful. "My wife f***ed a n****a on me gang yall n***as know how I come," he wrote in a since-deleted Instagram Story. Fans were left confused when he made the allegations — given the couple's history. However, he eventually confessed to making it all up. What gives?
Offset admitted that he lied about Cardi B's cheating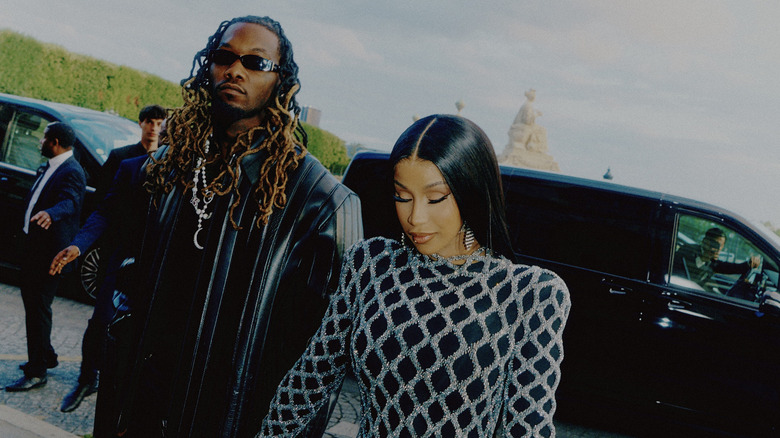 Julien Lienard/Getty Images
A few weeks after he flung cheating allegations against Cardi B, Offset admitted in an interview on "Way Up With Angela Yee" that he only posted the rumor to get back at his wife after a particularly nasty argument.
"That's my wife. I love her to death," he declared and went on to share that they were "going back and forth" at the time, and "if you got a New York woman, you know she's a pitbull at the mouth." He also confessed to being "lit" at the time after downing Casamigos tequila, so his Instagram Story was largely alcohol-induced. "We're going back and forth and I'm like, 'Watch this,'" he recalled, adding that he didn't feel like giving an explanation at the time because people were going to judge them regardless. "The delete is enough because at the end of the day, them people don't be really knowing what's going on with us, for real," he explained.
Cardi, for her part, did not let it slide, telling fans on Twitter Spaces that her husband wasn't being serious. "Listen, don't pay attention to that countryman," she said (via People). "That motherf**ker spiraling and thinking s**t." And well, she was right. "Please boy, stop acting stupid. Stop acting stupid," she continued, this time calling out her husband. "Going crazy over a f**king Space. Don't play with me. What the f**k. Stop playing."
Are Cardi B and Offset still together?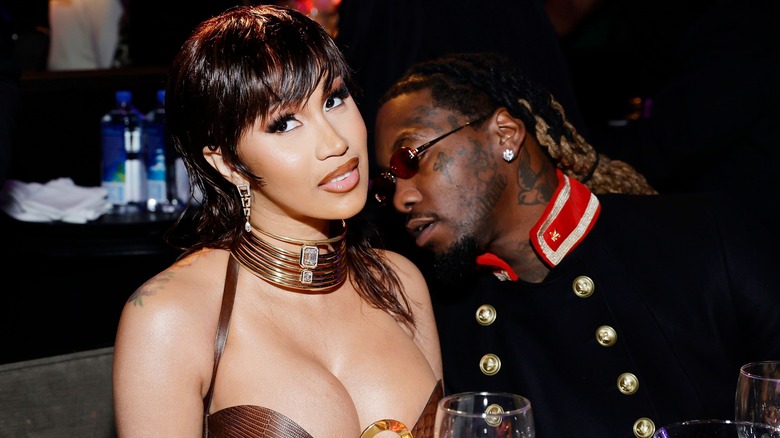 Emma Mcintyre/Getty Images
Despite the many ups and downs in their marriage, Cardi B and Offset are still an item to this day. According to People, Cardi filed for divorce in 2020, citing an "irretrievably broken" marriage with "no prospects for a reconciliation." But the "Hustlers" star called it off months later, which the Fulton County court in Georgia "dismissed without prejudice."
Cardi explained in an interview on "The Jason Lee Show" that Offset changed for her, although she refused to elaborate. "Me and Offset, we was not seeing eye-to-eye. This was, like, the same year I filed for divorce and everything," she explained. "I'm gonna let him talk about this because the main thing that was really bothering me — imma let him say it. The main thing that I wanted him to stop and everything, he stopped, and he changed, and it showed me that he wanted to change for me."
It's unclear what Offset's main issue was, but the "Bad and Boujee" rapper told Variety that Cardi, who he refers to as "my bestie," helped him lay off codeine altogether. "I put down lean. I was drinking my whole career. It opened my mind up. But I never thought it helped me create," he said. "She always got my back, right or wrong. We both are on the same mission to make each other better."