Here's Who Blue Bloods Star Vanessa Ray Is Married To In Real Life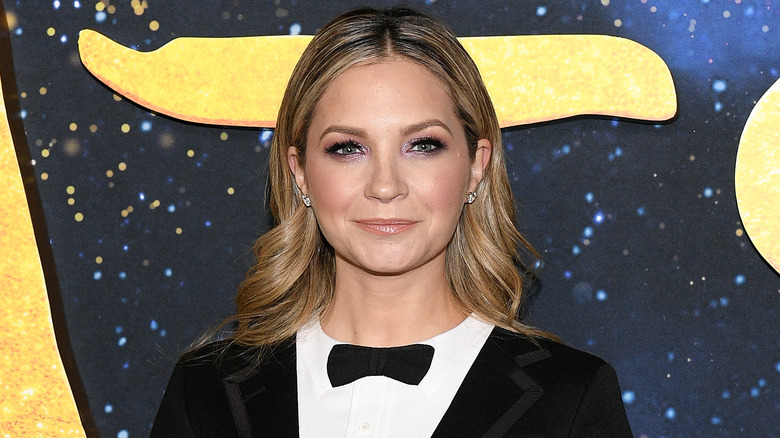 Dia Dipasupil/Getty Images
Actor Vanessa Ray has been married to her current partner for several years. Before this relationship, the "Pretty Little Liars" alum got hitched to fellow actor Derek Baynham, according to Baynham's IMDb page. He and Ray tied the knot in 2003, and they ended up divorcing in 2009. The exes both appeared in the 2003 short film, "The Sparky Chronicles: The Map." Additionally, in 2007 the couple's experience of purchasing and renovating a home together in Toronto was documented on the reality series "Marriage Under Construction," as the Toronto Star stated. 
Ray has since married Landon Beard. She posted an Instagram photo in March 2015 of her engagement ring after Beard asked for her hand in marriage. "So we went for a walk on the Hudson when he all of a sudden started getting really mushy and sweet," Ray said. "I could feel his heart beat under his clothes when he pulled out the ring." In 2015, E! Online wrote that Ray and Beard had wed during a Pala, California, ceremony with a guest list that featured people like Sasha Pieterse, Ray's costar from "Pretty Little Liars." Beard is also a professional in the entertainment industry.
Vanessa Ray is married to musician, producer and actor Landon Beard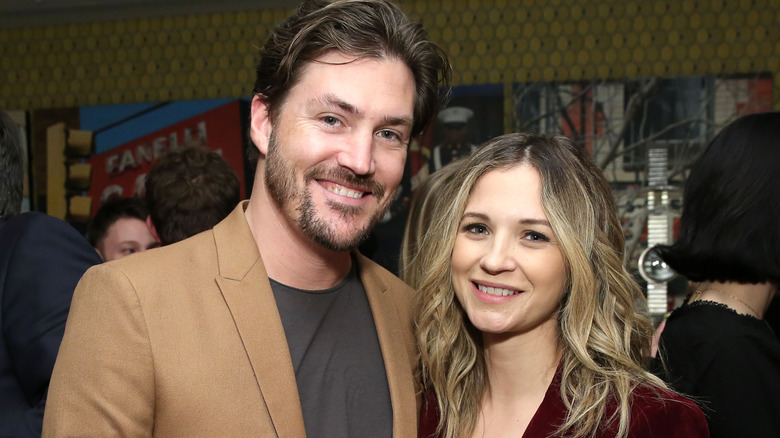 Monica Schipper/Getty Images
Vanessa Ray is married to fellow performer Landon Beard. Beard is an actor, producer, and musician. He has played a handful of roles in the past, with his most recent part being Mr. Big in the 2012 drama film, "Generation Um..." Per his website, Beard has followed in the footsteps of his parents, who were both music industry professionals. Beard told 10K Dollar Day in November 2020 that he was a Disneyland singer early on in his career. He went on to tour with Frankie Valli and the Four Seasons and is a member of two different bands. 
In September 2022, Beard took to Instagram to share the news that he was part of the production team for that year's Emmys. Back in 2020, he celebrated the release of a holiday album that was recorded by his group, The Modern Gentlemen, via social media. Beard and Ray have sung together, such as when they appeared on stage and performed a song called "Come with Me," per a 2009 archival YouTube video. The spouses have publicly displayed their devotion to one another.
Vanessa Ray and Landon Beard are still going strong
Vanessa Ray and Landon Beard have an enduring love connection. In a 2021 "Women on Top" podcast interview, Ray opened up about being diagnosed with bipolar disorder and going into treatment at a mental health facility, after which she and Beard adjusted their marriage accordingly. "...When I came back to the real world, Landon and I — my husband and I — had to have a ton of therapy as well within that," the "Blue Bloods" actor said. "Because here I am, changing, starting to take accountability for myself, trying to be present, and all of those things. And my husband is someone who takes care of everything." She added, "Ultimately, we've come out on the other side."
The pair has given each other sweet shoutouts on social media over the years. In 2021, Beard honored Ray's birthday via Instagram, writing, "She blesses every person she comes into contact with. It is I who got the gift when she was born." In response, Ray commented, "Honey, this is just the sweetest." Ray celebrated her and Beard's anniversary with a heartwarming Instagram post in June 2019. "Even in the past few months I've just realized more and more ways to love you and accept love from you," Ray wrote prior to adding, "Thank you for keeping our life wonderful." More recently, Ray commemorated their 2020 wedding anniversary by writing on social media to Beard, "Still crazy bout ya."
If you or someone you know needs help with mental health, please contact the Crisis Text Line by texting HOME to 741741, call the National Alliance on Mental Illness helpline at 1-800-950-NAMI (6264), or visit the National Institute of Mental Health website.