Tia Mowry's Daughter Cairo Is Growing Up To Be Her Mini-Me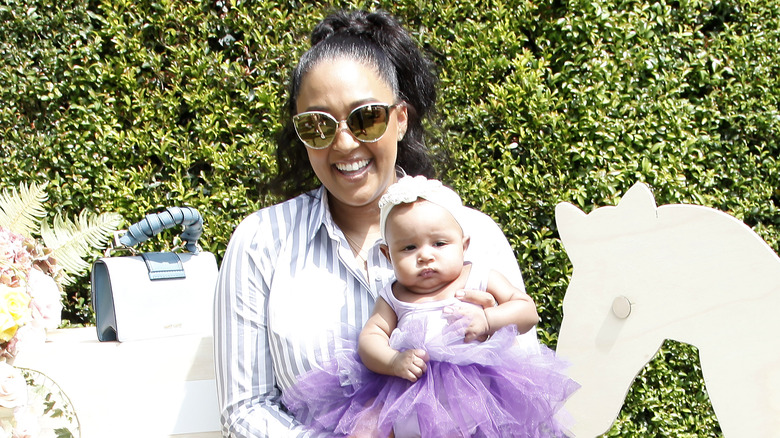 Tibrina Hobson/Getty Images
Tia Mowry's daughter, Cairo Hardrict is a carbon copy of the "Instant Mom" star. Tia's fans have been keeping up with her career ever since she and her twin sister, Tamera Mowry launched "Sister, Sister." The sitcom premiered back in 1994, which means fans have watched her transform from a teen actor into an entrepreneur, wife, and mother. And though Tia willingly left her marriage behind in November 2022, when she broke things off with fellow actor, Cory Hardrict, per Entertainment Tonight, she'll always be a mom to their kids: Cree Hardrict and Cairo Hardrict.
Tia's oldest child, Cree was born on June 29, 2011, according to People. Meanwhile, Cairo was born seven years later, on May 4, 2018. And though Tia obviously adores her kids equally, she seems to be extra close to Cairo, even though she never thought she'd have a daughter. "I never really saw myself having a girl," posted Tia to Instagram in December 2022. "I don't know why? But I didn't. Maybe I was afraid of the pressures that come along with being a woman in this world." She continued, "God really knew what he was doing when he blessed me with you Cairo. Raising you has been one of the most fulfilled blessings."
Tia and Cairo embrace their resemblance
Someone should tell Tamera Mowry that Cairo Hardrict is coming for her spot. Although Tamera may be Tia Mowry's official twin, her daughter is definitely shaping up to be her honorary doppelganger. Not only does the mother/daughter pair share the same glowing skin, but they also both embrace their natural hair. In July 2023, Tia posted an Instagram video of herself styling Cairo's gorgeous ringlets – while wearing her own curls – as she guided her through a set of positive affirmations.
Tia and Cairo also share a love of fashion. Over the years, the duo's color-coordinated frocks have totally one-upped all of the other neighborhood mothers and daughters. Last fall, the pair sported matching black and white looks that were still age appropriate for the five-year-old. For Mother's Day 2022, Tia and Cairo both wore ruffled pastel dresses out to dinner with their fam. Of course, Tia and Cairo were definitely Coachella-ready with their matching flower crowns and bright smiles in this Instagram throwback posted by Tamera. By the way, we'd be wasting a golden opportunity if we didn't point out that Cairo also looks super similar to her cousin, Ariah Housely — Tamera Mowry's daughter.
Cairo also shares her mom's sense of humor
While it's clear that Cairo Hardrict borrowed her mom, Tia Mowry's beauty, she also borrowed from her sense of humor. Every time Cairo appears in Tia's comedy skits, she completely steals the show! In an Instagram vid posted in January, Tia and Cairo engaged in a standoff as each refused to back down. "When your four year old is already giving you sass" read the caption. Cairo's funny even when she's not trying to be – such as the time she wiped off Tia's kiss. "Really?! Cairo, ladies and gentlemen. Cairo," Tia captioned the hilarious Instagram post.
Cairo's gift of comedic timing is great given that Tia previously shared her desire for her daughter to be known not just by her looks, but for her humor as well. "Beauty is awesome, but it goes deeper," shared Tia on her YouTube channel. "She doesn't just have to be seen as a sex symbol." She continued, "And that's what I really value my career on. I was never seen as that, and I want her to know that she doesn't have to be seen in that way. It is okay to be beautiful and funny at the same time."