Do Zooey Deschanel And Her Ex-Husband Jacob Pechenik Get Along?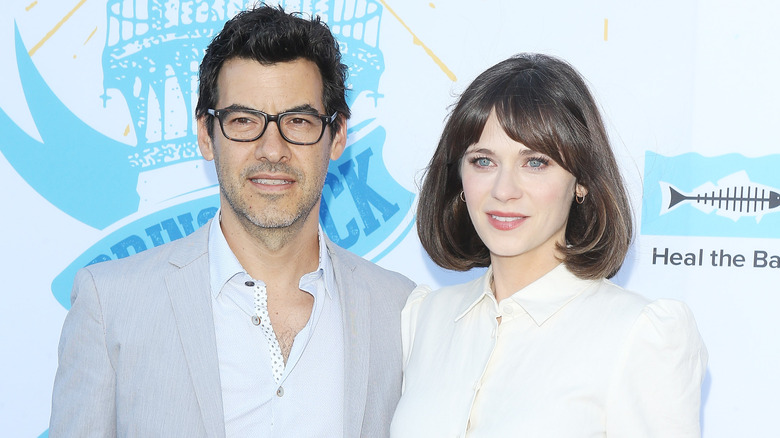 Michael Tran/Getty Images
In Hollywood, ex-spouses who remain good friends long after their split rarely ever happen, but it's not the case with Zooey Deschanel and her second husband, Jacob Pechenik. The two share two children, Elsie Otter and Charlie Wolf, and to this day, they remain in each other's lives.
The pair tied the knot in 2015 and split in 2019 after four years of marriage. In a statement shared with People, they admitted that their relationship would fare better moving forward if it was completely platonic. "After much discussion and a long period of contemplation we have decided we are better off as friends, business partners and co-parents rather than life partners," they said at the time, referring to their joint venture, Lettuce Grow. "We remain committed to our business, our values and most of all our children."
True to their word, Deschanel and Pechenik have made it a point to remain in touch for the sake of their kids and business, with Pechenik even found getting along with his ex's new beau, Jonathan Scott.
Zooey Deschanel and Jacob Pechenik remain on good terms
Tinseltown/Shutterstock
Sources close to Zooey Deschanel and Jacob Pechenik revealed that before the two announced that they were parting ways, they had already been separated for quite some time. They made sure to minimize the noise about their split so as not to affect their kids. "They are both very involved parents," the insider told People. "They have been separated for several months. They are very private and are excellent parents and love their kids so much and want this to be smooth for them."
Shortly after they disclosed that they were divorcing, Pechenik assured fans that his split from the "New Girl" star was drama-free — even if it was reported that Deschanel had quickly moved on to date "Property Brothers" star Jonathan Scott. Per Pechenik, he harbors no hard feelings whatsoever.
"Yeah, everything is amicable and we have two beautiful children together," Pechenik told Hollywood Life. "We've been raising them and we're going to continue to raise them, and take great care of get them... I'm happy." He also added that Deschanel continues to be an ideal business partner, with both of them determined to reach their goals for Lettuce Grow. "[Zooey and I] haven't had so many differences when it comes to the business, we both know what our strengths and weaknesses are and turn to each other for suggestions or advice on the other person's expertise," he continued.
They continue to co-parent, too, with the addition of a Bonus Dad
According to Zooey Deschanel, she and Jacob Pechenik have developed a system to remain good parents to their two kids. "They go back and forth, and we're all really close," she explained in a guest appearance on "Broad Ideas with Rachel Bilson" podcast. "When we went through our divorce, there's always a little touch-and-go kind of stuff. We were doing mediation, no lawyers or anything," she explained, noting that Jonathan Scott is also in the picture as a Bonus Dad. "It was my son's birthday... and my boyfriend booked an Elmo performer to do, like, a Zoom thing," she shared. "My ex-husband came over and my boyfriend was there and we were all wearing cowboy hats. It was just the three of us and the two kids, and we're watching this Elmo performer on Zoom, and the kids are so happy we were all together and we were all getting along great."
Scott also once shared with ET that he admires Pechenik and that he's grateful that he is involved in raising the kids. "The kids' dad is a great dad. We have an amazing relationship there as well," he told the outlet. "I love it when the kids draw photos. They draw Mommy and Daddy and Jonathan. It's really sweet." We love this adorable blended family!