The Scandal That Put Mark Meadows' Wife Debbie In The Spotlight
Donald Trump's former Chief of Staff, Mark Meadows, is currently in hot water after he was charged with two felony counts in the wide-ranging indictment of 19 defendants, including Trump himself — and while it's his name in the spotlight, his wife, Debbie Meadows, previously weathered a scandal of her own. As reported by NBC News, Mark is being charged alongside others in the Trump administration for conspiring to "overturn the 2020 election" in Georgia. Politico notes that Mark is the first accused to file court papers seeking a transfer of the Georgia state prosecution to federal court, but his co-defendants are expected to follow.
This low moment in Mark's political career exemplifies how the one-time Trump advisor has fallen from grace, but we know that Debbie hasn't stayed on the right side of the law either. In 2020, Debbie was accused of voter fraud after she filed voter forms with false information, listing a residency in North Carolina where the couple did not live, per The Washington Post. After an investigation, neither Mark nor Debbie faced repercussions for the potentially fraudulent voter forms. "After a thorough review, my office has concluded that there is not sufficient evidence to bring charges against either of them in this matter," Attorney General Josh Stein said.
The situation raised eyebrows, especially because Debbie is married to one of the most prominent members of Trump's cabinet. So, what happened, and why did she lie about where she lived?
Did Debbie Meadows commit voter fraud?
Bloomberg/Getty Images
In 2020, The Washington Post reported that Debbie Meadows submitted an application to vote in the 2020 presidential election. On this form, Debbie noted that she and her husband, Mark Meadows, resided in a North Carolina-based mobile home; however, this was later proven untrue. As The New Yorker specified, the actual owner of the property went on record saying that Debbie had "reserved the house for two months at some point within the past few years" and that it's unclear whether Mark "ever spent a single night there." The owner at the time later sold the property to Ken Abele, who told the outlet, "It was not the kind of place you'd think the chief of staff of the president would be staying." Upon learning that the Meadows had listed his property as their primary residence, Abele deemed the whole situation "really weird."
Prior to this news breaking in 2020, the Meadows sold their home in Sapphire, N.C., and were living in a condo building in Virginia. This meant they could no longer claim North Carolina as their state of residence. It's possible that North Carolina native Mark felt that voting in his home state would increase Donald Trump's chances of winning the election, but he and his wife were removed from the voting rolls amid claims of voter fraud. Tellingly, Trump won North Carolina by a small margin in the 2020 election, while then-presidential candidate Joe Biden beat his opponent in Virginia.
Mark Meadows has spoken out about voter fraud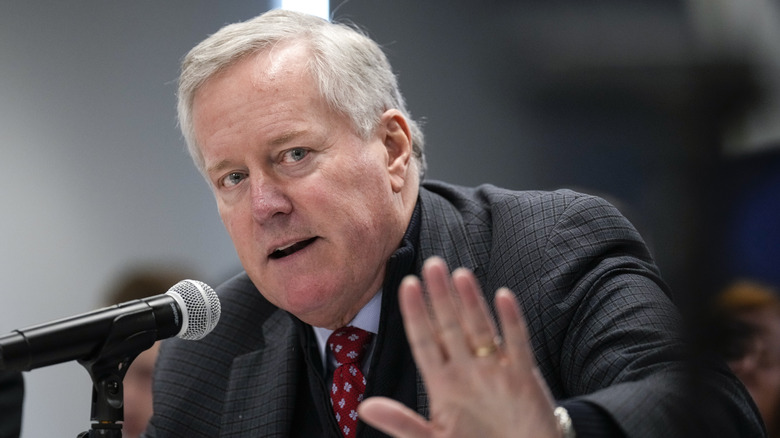 Drew Angerer/Getty Images
The North Carolina State Bureau of Investigation conducted a probe to determine whether Debbie and Mark Meadows committed voter fraud and ultimately did not prosecute the couple. As Attorney General Josh Stein told The Washington Post, he found there was proof that "[Mark] and his wife leased the home" and "Debra did stay there for short periods." However, it's ironic that Mark and Debbie came under fire for alleged voter fraud because Mark has perpetuated the false claim that former President Donald Trump lost the 2020 election due to that same crime. He also addressed voter fraud in a 2020 interview with CBS' "Face the Nation," as well as in his 2021 book, "The Chief's Chief," in which he wrote, "President Trump had alerted us to the strong possibility that there would be fraud connected to these mail-in ballots."
While the Meadows weren't charged, voter fraud convictions can be unfairly handed out along racial lines, as the ACLU has pointed out. For example, a Black woman named Crystal Mason was sentenced to jail time because she voted while on probation; meanwhile, a white man who voted on behalf of his dead mother merely earned probation.
Mark still could be prosecuted, as this latest indictment is the most serious set of charges to be brought against him. That said, the Trump administration continues to come out swinging.