Mike Pence Just Made A Startling Claim About The 2020 Election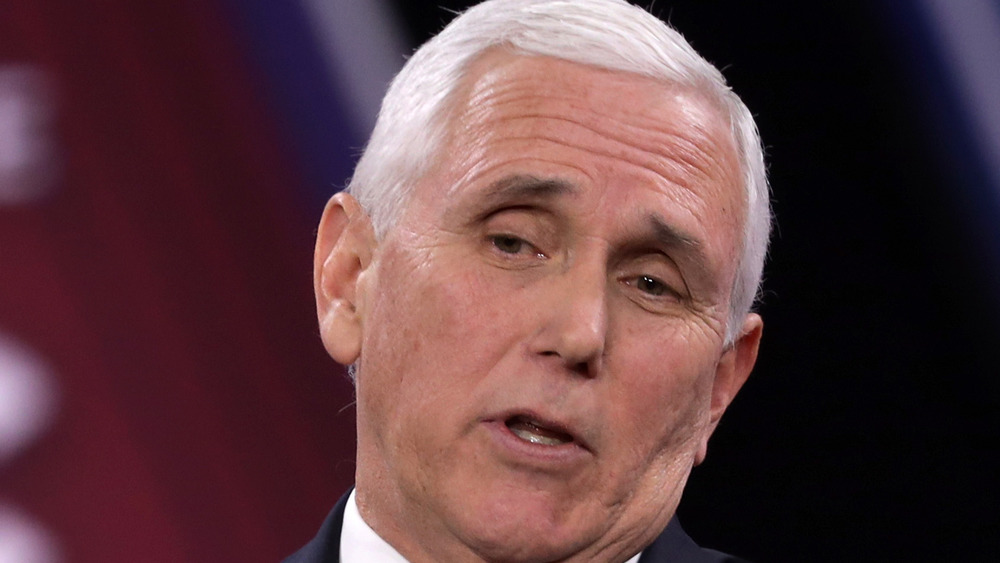 Alex Wong/Getty Images
In a stunning reversal made following a weeks-long silence after departing the White House in January 2020, former Vice President Mike Pence used one of his first public statements since leaving office — in the form of a written op-ed for the conservative outlet The Daily Signal — to align himself with his one-time boss, ex-President Donald Trump (the two didn't exactly leave office seeing eye-to-eye). Pence's editorial, which was published on March 3, 2021, definitively sided with Trump and his loyal GOP cohort by calling the November 2020 election results the doing of possible fraud, echoing the baseless claims Trump has continued to make since losing the presidency to President Joe Biden. 
In the editorial, Pence called the outcome of the November 2020 election results "troubling" and "significant" over what he perceived to be issues of "integrity." In another shocking twist, Pence then invoked the Jan. 6, 2021 insurrection at Capitol Hill, stating that the deadly event "deprived the American people of a substantive discussion in Congress about election integrity in America." However, it's important to note that Pence did denounce the events of that day, tweeting at the time, "The violence and destruction taking place at the US Capitol Must Stop and it Must Stop Now."
So what does Pence's editorial mean for his relationship with Trump? We explore that question below.
Did Mike Pence use his statement to sidle up to Trump?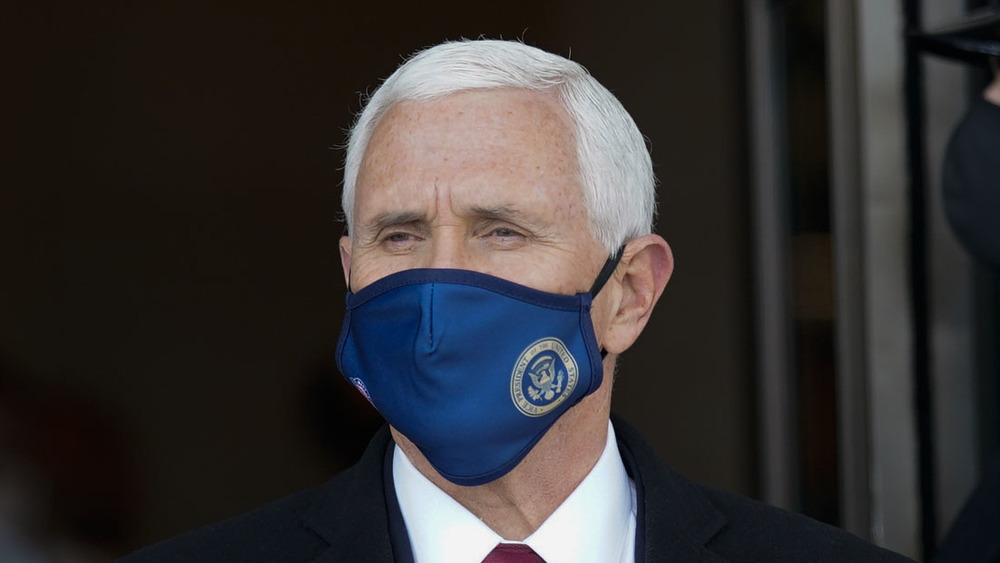 Pool/Getty Images
In one of his first official statements since stepping down as vice president, ex-VP Mike Pence seemingly switched course on what many perceived to be his previous stance in the weeks leading up to the Jan. 20, 2021 inauguration of President Joe Biden. (Despite the fact that Pence had not definitively spoken on Donald Trump's claims of voter fraud.)
While Pence remained more or less silent in the final months of Trump's presidency, many pointed to Pence's refusal to help Trump overturn the election results during their Jan. 6, 2021 ratification session as a sign of where Pence stood on the matter. The session itself spurred Trump to tell attendees at a rally organized by his camp nearby in Capitol Hill to "take back our country," zeroing on Pence as an actor in the election result verification. People then stormed the Capitol building in droves, with a number of them calling to "hang Mike Pence," as per Snopes.
Following the violent Jan. 6 riots, Pence seemingly distanced himself from Trump — albeit with perceived subtlety — going as far as to leave Trump out of his final social media post as vice president. (Notably, Trump refused to apologize to Pence after the Capitol Hill insurrection, despite the threats rally attendees made to Pence's life.) Now, however, it appears that Pence is on the same side as his former boss.