Why Mike Pence's Farewell Message Is Causing A Stir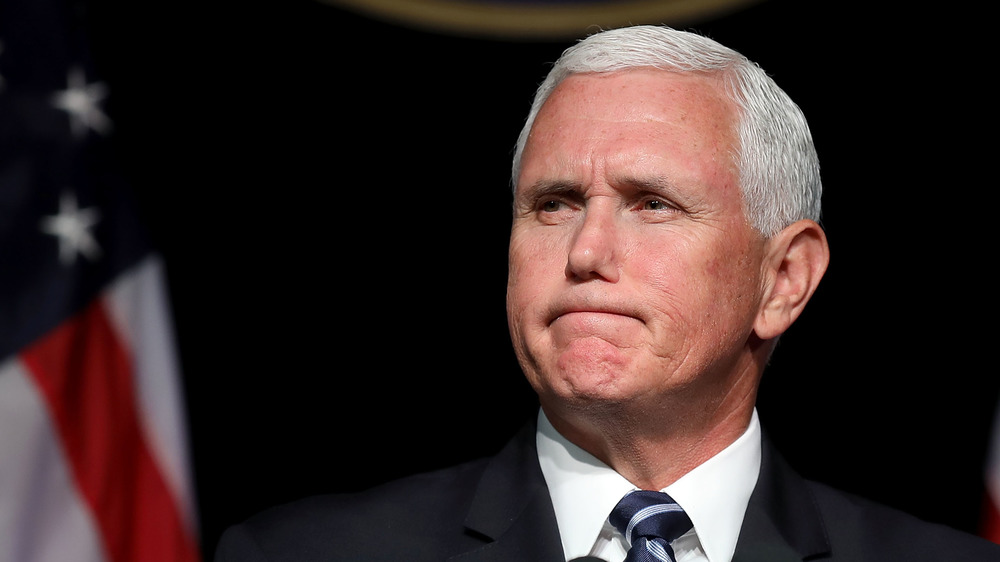 Chip Somodevilla/Getty Images
When it comes to farewells, it's hard to find a pair that could be more different in saying goodbye than ex-President Donald Trump and former Vice President Mike Pence. On Jan. 20, 2021, Trump notably bucked tradition by refusing to attend President Joe Biden's swearing-in ceremony, instead staging his own kiss-off event before absconding to his new residence at the Mar-a-Lago resort near Palm Beach, Fla. Pence did the diametric opposite: adhering to the precedent of attending the inauguration of the next president.
But while Pence by all appearances kept a stiff upper lip in order to not make any waves, it seems like his final message to the American public via social media did otherwise. "Thank you for the privilege of serving as your Vice President these past four years, it has been the greatest honor of my life," tweeted Pence on Jan. 19, 2021 in his last post as vice president. "On behalf of our Wonderful Second Lady, Karen Pence, and our entire Family, Thank You and God Bless America." The message was accompanied by four photos, two of which featured Pence and his wife, Karen Pence, and two of which depicted both with family members. 
But as HuffPost and other outlets noted, the tweet-in-question decidedly didn't mention one person in particular — and the omission overall speaks volumes about the state of the Trump administration in its final hours. Keep reading to find out what Pence's final message really means. 
Mike Pence's final tweet failed to mention Trump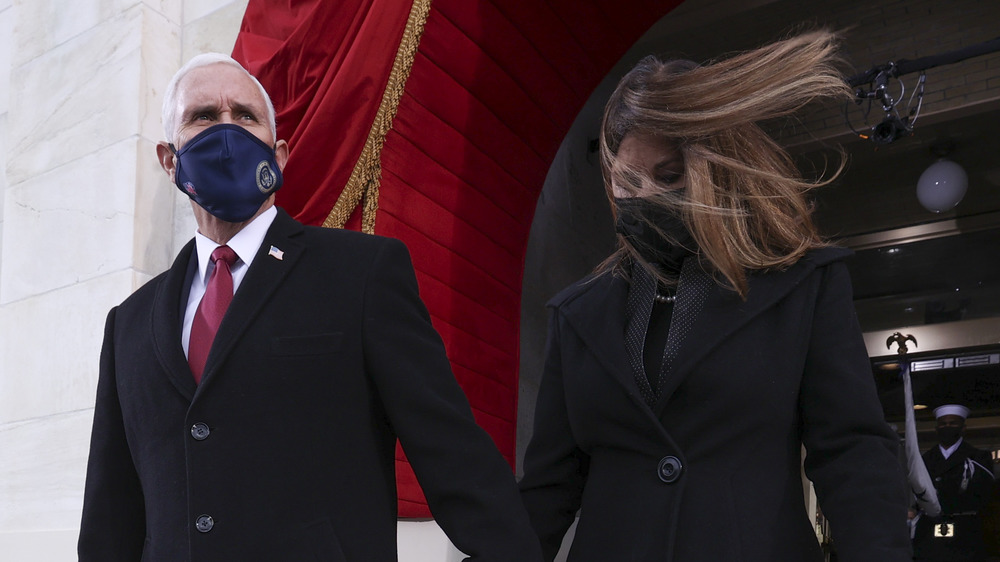 Pool/Getty Images
As HuffPost noted, former Vice President Mike Pence's farewell tweet contained no photos of Donald Trump, and the text itself did not reference the former president and Pence's one-time running mate. Many took this as a reflection of Pence's relationship with Trump during the final weeks of the presidency, per HuffPost. Tension between the two reached its zenith on Jan. 6, 2021, in which Trump, during a rally, excoriated Pence for refusing to halt proceedings by the Electoral College in order to ratify President Joe Biden's win in the 2020 election; attendees at the Trump event subsequently stormed the Capitol Building.
The lacuna of it all was also noted by a number of others, including the conservative, Never-Trump political action committee the Lincoln Project, which formed in 2019 under the direction of George Conway — the husband of former White House aide Kellyanne Conway — in an effort to stop Trump's reelection during the 2020 presidential race at all costs. "No pictures with Trump. So messy," the PAC's social media account sarcastically noted. 
In a strange parallel, the omission of Trump from Pence's farewell note on social media echoes Trump's final address to the nation on Jan. 20, 2021. As CNN pointed out, Trump did not mention Joe Biden's name during his last speech as president, but did leave Biden a personal letter to read in the Oval Office — one of the only traditions Trump adhered to for Inauguration Day. 
Mike Pence's last post raised another question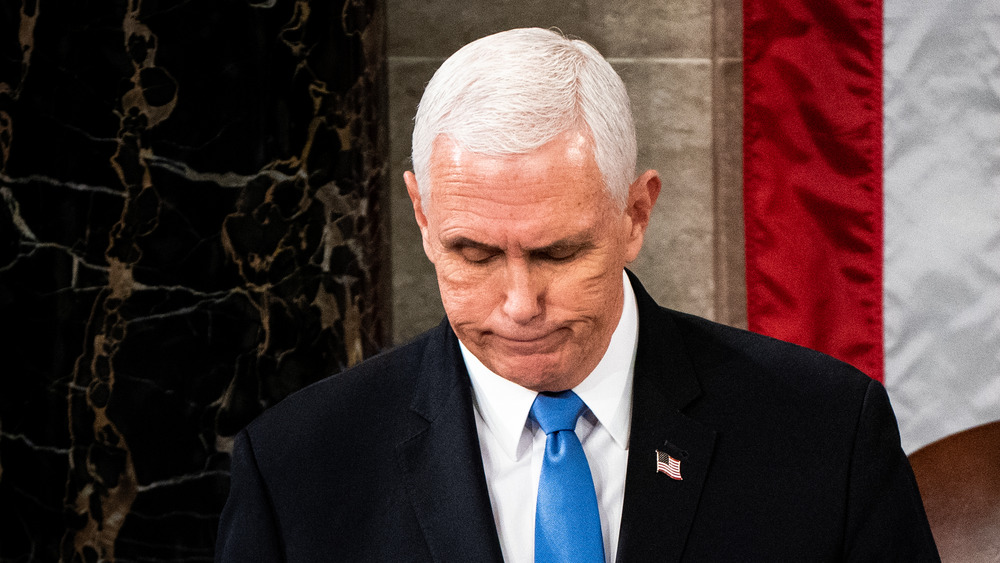 Pool/Getty Images
While former Vice President Mike Pence's tweet was most notable for its apparently purposeful omission of ex-President Donald Trump, there was another thing it also failed to mention: what Pence's plans are for his life after his vice presidency. 
As The Indianapolis Star reported on Jan. 20, 2021, some of Pence's more practical moves have already been well-established: namely, that Pence has taken steps to live permanently in Indiana, the state where he once served as both governor and as a representative of the House. He announced his decision to return to his home state at the Columbus airport on Jan. 20.
The future of Pence's political career, however, is seemingly less concrete. In a piece published by The Atlantic on Jan. 15, 2021, the publication posited that Pence's political future is all but over due to a strange mixture: his loyalty to Trump and Trump's policies throughout the majority of his term, paired with his decision to break from Trump by refusing to overturn the 2020 election on Trump's behalf. As Atlantic writer Peter Nicholas theorized, the overall effect of Pence's gambit has ultimately alienated his general base, which includes die-hard MAGA-ites and Trump supporters. In addition to this, his affiliations with Trump to begin with have made him a persona-non-grata amongst Never Trumpers.