How Shark Tank Guest Judge Emma Grede Really Became A Millionaire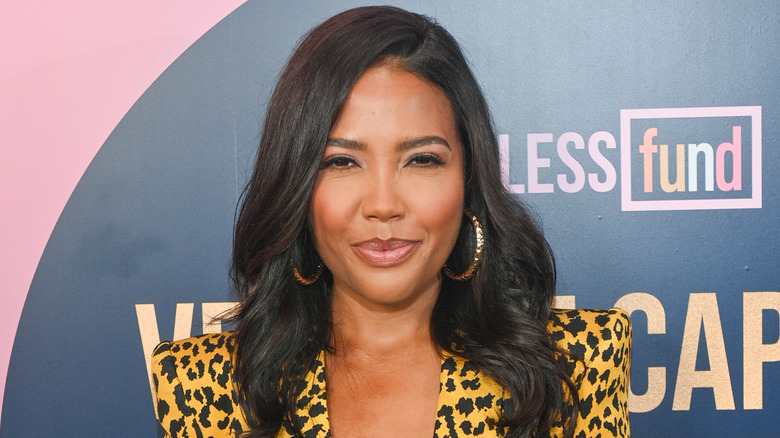 Prince Williams/Getty Images
To be a shark on "Shark Tank," you've got to have money – and a lot of it at that. The regular roster of investors on the show all have net worths of hundreds of millions or even billions of dollars, with Mark Cuban reportedly being the richest of the bunch with a staggering net worth of $5.1 billion.
Even the guest sharks are incredibly stacked. Gwyneth Paltrow, actor and Goop founder who appeared on the hit show during Season 14 has a fortune valued at $200 million. Season 13 guest, comedian Kevin Hart, who founded LOL, is reportedly worth $450 million, while Ashton Kutcher, actor and venture capitalist, has around $200 million in his bank account. In 2021, entrepreneur Emma Grede made history when she became the first black woman to star as a judge on "Shark Tank." The UK native reportedly has a net fortune valued at a jaw-dropping $360 million.
You may not be familiar with Grede, but you may know the brands she helped flourish. To the uninitiated, Grede, one of Forbes' richest self-made women, happened to have co-founded Good American with Khloe Kardashian and Safely with Kris Jenner and is a founding partner of Skims with Kim Kardashian and her husband Jems Grede. Yup, that's right — Grede made her millions by partnering with the Kardashians.
She's a longtime business partner of the Kardashians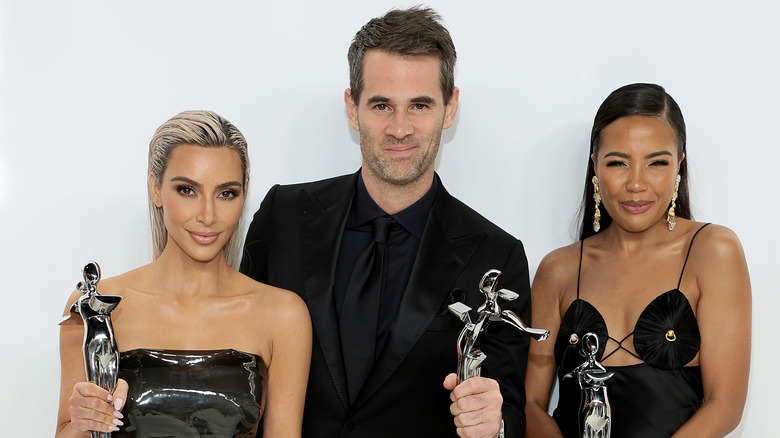 Dimitrios Kambouris/Getty Images
Emma Grede was already pretty successful on her own before collaborating with the Kardashians, but her involvement with the family propelled her to become a powerhouse. A hustler from the get-go, she dropped out of college in her early 20s and immediately dipped her toes into the professional world by working for a concierge company and then a production company that staged fashion shows. It's with the latter that she found what she was good at — being the middleman between designers and brands. "I understood how contracts worked, and I was very good at getting stuff off of people, and I kind of finally felt like oh I've hit my stride," she explained in an appearance on the "No Limits with Rebecca Jarvis" podcast.
At 24 years old, she founded the influencer agency ITB Worldwide, which specializes in brokering deals between celebrities and big brands. She was instrumental in solidifying partnerships between Natalie Portman and Dior and Kendall Jenner and Calvin Klein. "I realized very, very quickly how working with talent can really accelerate a business," she added. Through her agency, she met Kris Jenner, to whom she then pitched her idea for Good American, telling the famous momager that she thought Khloe Kardashian would be a good business partner. "It sounds cliché, but she [Khloe] really did finish my sentences," she shared with Essence. 
The two launched the brand in 2016 and sold $1 million worth of products on the first day. Grede helped Kim Kardashian launch Skims three years later, and in 2021, together with Kris and Chrissy Teigen, she launched the cleaning brand Safely.
Her success didn't happen overnight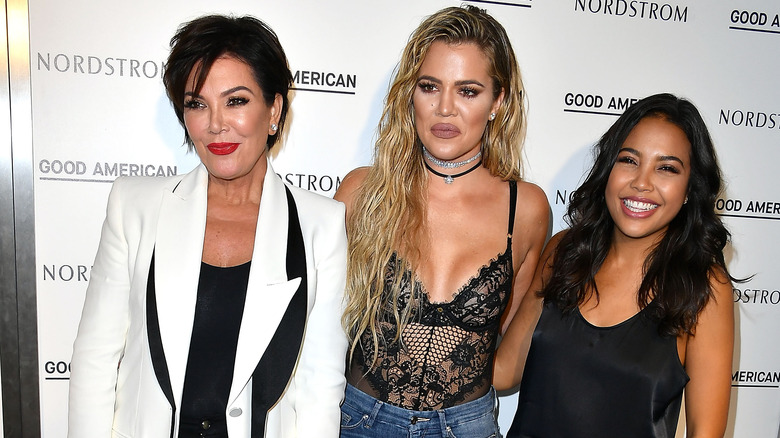 Steve Granitz/Getty Images
Emma Grede is now one of those entrepreneurs many look up to, but she wants to remind everyone that she didn't become a multi-millionaire overnight. She started working at a young age and has done all sorts of jobs, from a paper route to retail to being a personal shopper to serving in restaurants. And as she worked her way up, she had to do a lot of learning. "I've made an enormous amount of mistakes. In fact, I'm finding success relatively later in my career seeing as I started work when I was 13," she told E! News. "When you're an entrepreneur, you put yourself in a lot of situations where you're exposed and you're going to make mistakes and luckily for me, I did that kind of all on my own time and my own dime, so to speak, but it definitely hasn't been like a linear, simple journey."
And how did she get to where she is today, you ask? She mastered the art of delegation and saying no. "I am very, very good at prioritizing and I say no to a lot of stuff," she shared with Glamour UK. "If I think if something's not getting me closer to a goal, I just say no to it and that's where I have to be ruthless!"