What Whoopi Goldberg Has Said About Her Sexuality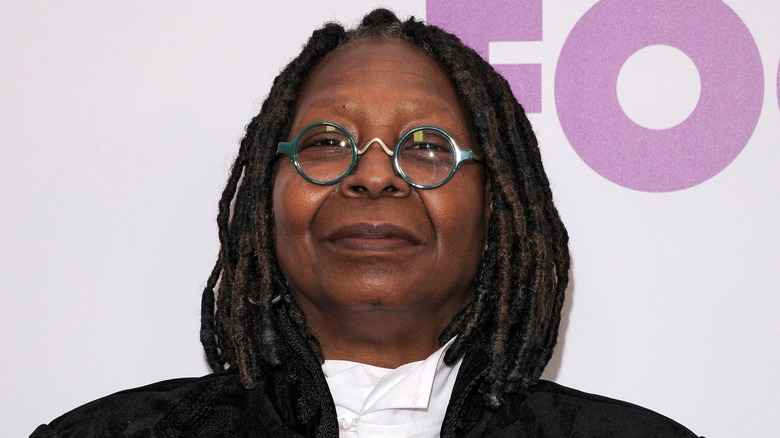 Ron Adar/Shutterstock
Whoopi Goldberg has never been one to fit the mold of what a typical celebrity should be. The EGOT winner, despite her elite status in the industry, cannot be found gracing the covers of magazines ever so often, nor is she always top-billing blockbusters. Fans also rarely see her caked up in makeup or clad in dresses, heels, and designer totes. In fact, she often gets flak for her unconventional sartorial choices, as she's often sporting oversized shirts, vests, and pants, making her look androgynous.
In 2019, novelist Ottessa Moshfegh — a longtime fan of the actor — wrote in a Vice feature: "She is neither overwhelmingly feminine nor masculine. She exists outside of any mundane binary. She is something else, a species unto herself. She truly is unusual." Yup, that's Whoopi Goldberg for you. There's also a veneer of mystique surrounding her, and for almost as long as she's been in the limelight, people have been trying to figure her out, including her sexuality.
But Goldberg has always been a private person, rarely addressing speculations about whether she is queer or not. "I don't care. Don't care!" she once told Pride Source in 2014. "With all the amazing people who have come out, if you're still talking about my sexuality — I'm the one you choose — you're not doing your job." In 2023, however, she finally put all the assumptions to rest when her former "The View" co-host Raven Symone told her that she gives off "lesbian vibes."
Whoopi finally set the record straight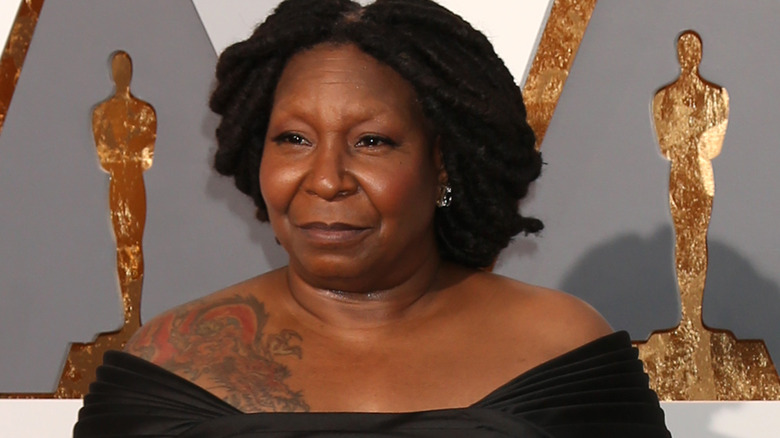 Kathy Hutchins/Shutterstock
In an August 2023 episode of "The Best Podcast Ever with Raven and Miranda" podcast, Whoopi Goldberg cleared out any confusion the public has regarding her sexuality. On the show, Raven Simone made a surprising admission regarding their time as "The View" co-hosts. "I loved you so much, like I just wanted to be up underneath the t***y the whole time," she said of Goldberg, before adding, "But that's also because you just kind of gave me lesbian vibes!'"
Simone assured Goldberg that she was free to admit whatever she wanted, but the EGOT winner took it as an opportunity to clear up longstanding rumors about her sexuality instead. "Women have been asking me this for as long as I've been around. I am not a lesbian. But I know lots of them, and I've played them on television," Goldberg said, noting that she has several lesbian friends and had set boundaries with them. "I'm not gonna kiss you, but I'll kiss you over here. I'll do this, but I'm not going to do this,'" she explained. "And they're like, 'OK!'"
To be fair to Goldberg, it's not like she ever attempted to hide her true sexuality. She's only had public relationships and marriages with men and maintained it was never her intention to come across as vague. "I'm pretty clear," she said in the Pride Source interview. "You've never seen me with a woman. Pretty much been married to men the whole time! Not the same, but a few of them. ... Nah, I'm straight, but what does it mean? What does it really mean?"
But she doesn't care what anyone thinks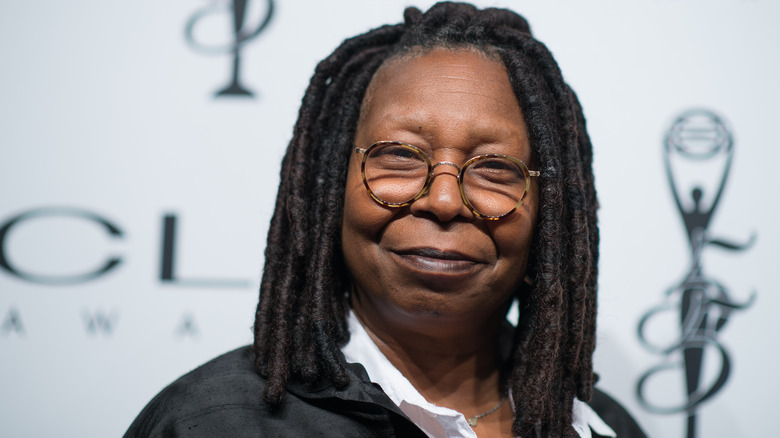 Dave Kotinsky/Getty Images
That said, if fans think otherwise, Whoopi Goldberg wouldn't go out of her way to correct them. She has long given up on caring about what other people think about her and her sexuality. "That's okay. Honey, let them have what they want. It's hard to find anything about me. Clearly, people are blind — I married a couple of really interesting men, and I've run around with interesting men," she shared with OutSmart Magazine. "You never sort of catch me with a chick. Let them have that, sure. But if they wanna believe I'm bisexual, and it makes them feel better, fine." The "Sister Act" actor added that she isn't sure why people cared, but as long as they don't accuse her of anything egregious, she's fine living with all the assumptions. "I don't understand why it's so important for them to nail that down for me. But since they insist, I just say 'Alright,'" she noted. "They're not calling me a murderer."
One thing's for sure, though, and that's Goldberg has and always will be an ally for the queer community. Speaking with Out, she said that the LGBT community has "always been a part of my life," so she's always going to fight for them. In 2013, the Human Rights Campaign gave Goldberg the Ally for Equality Award, with former HRC President Chad Griffin saying: "Whoopi is always willing to stand up for our community and is a longtime friend of HRC."