Jaden Smith Calls Tyler, The Creator His 'Boyfriend' During Set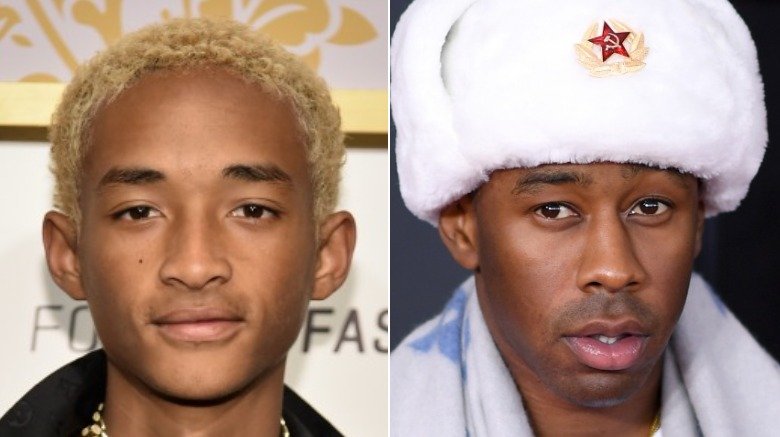 Getty Images
Are rappers Jaden Smith and Tyler, the Creator dating?
During his Sunday, Nov. 11, 2018, performance at the Camp Flog Gnaw Carnival in Los Angeles, Smith, who's famously the son of Will and Jada Pinkett Smith, shared what may have been a major announcement about the duo's love lives.
"I just want to say Tyler, the Creator is the best friend in the world, and I love him so f**king much," Smith began in a video captured by a fan on Instagram. "And I want to tell you guys something ... Tyler doesn't want to say, but Tyler is my motherf**king boyfriend. And he's been my motherf**king boyfriend my whole f**king life ... It's true!" The "Icon" rapper added, "If you take anything away from this f**king show, that's what you need to take away."
For his part, Tyler, who organized the festival, appeared to laugh in surprise while shaking his head and finger in the above-mentioned clip, while the crowd cheered. The musician later took to Twitter with, "hahaha you a crazy n***a man," after The Pursuit of Happyness actor tweeted out to his 7.96 million followers, "Yup @tylerthecreator I Told Everyone You Can't Deny It Now" (via USA Today).
At the time of this writing, Smith, Tyler, and their reps have not publicly confirmed the rappers' alleged relationship. Additionally, it has yet to be revealed whether Smith, who's known to make some pretty off-the-wall claims, was actually being sincere and had Tyler's permission to make the announcement, or was simply joking. However, a number of social media users seem to suspect it's the latter. "I'm honestly so confused," one fan wrote, while another tweeted, "I can't tell if this is a joke" (via Us Weekly). Meanwhile, another Twitter user wrote, "If this is legit I'm stanning."
According to the Advocate, both Smith, 20, and Tyler, 27, have faced media speculation over their respective sexual identities for years now. However, neither has officially and publicly come out. While Smith has been romantically linked with multiple other celebs like Kylie Jenner and Amandla Stenberg (via Entertainment Tonight), Tyler previously rapped about "kissing white boys since 2004" on his song "I Ain't Got Time" in 2017. Two years earlier, he also tweeted, "I tried to come out the d*mn closet like four days ago and no one cared hahahhahaha."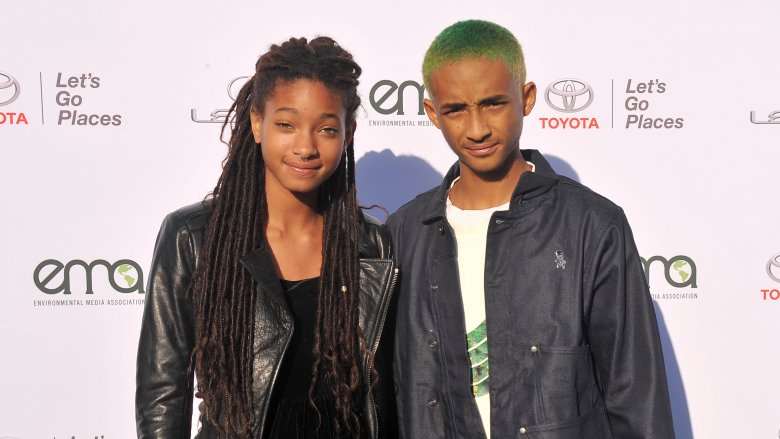 Getty Images
Elsewhere in the Smith clan, Jaden's younger sister, Willow Smith, shocked fans and family alike in May 2018 when she revealed a painful secret on the Facebook talk show, Red Table Talk. "I would have to say I honestly feel like I lost my sanity at one point," the "Whip My Hair" singer told mom Jada and grandmother Adrienne Banfield-Jones at the time, before noting that following the 2010 song's success, "I was kind of just in this gray area of, 'Who am I? Do I have a purpose? Is there anything I can do besides this?'" Willow, who previously discussed the difficulties she faced while growing up in the spotlight, went on to reveal that she began to self-harm during this time. She added, "I never talk about it because it was such a short, weird point in my life but you have to pull yourself out of it."
Meanwhile, Tyler, whose real name Tyler Gregory Okonma, has recently made headlines of his own — albeit for mixed reasons. As Nicki Swift previously reported, the "Yonkers" rapper crashed into a parked car in Los Angeles after falling asleep at the wheel on the morning of Oct. 25, 2018. Thankfully, no one was hurt during the accident. That same day, Tyler released his latest track — a cover of the holiday classic, "You're a Mean One, Mr. Grinch," which is featured on the soundtrack of the recently released film adaptation of Dr. Seuss' The Grinch.
The rapper later took to his Instagram Stories to explain what had happened during the incident, writing to his 5.6 million followers, "My big doopy a** usually go to sleep 10:30 (i wake up at 7 er morn) and guess who wanted to finish music super late and dosed off for a few seconds while driving home" (via People). Adding, "Im a dumb a** b**** but lil mama don't have a scratch im lucky," Tyler went on to reference Tesla CEO Elon Musk in his post, while writing, "I calmly jumped out the back and called the people. thanks elon for the excessive airbags u a qt. good day sir."