What's The Real Meaning Of Single Soon By Selena Gomez? Here's What We Think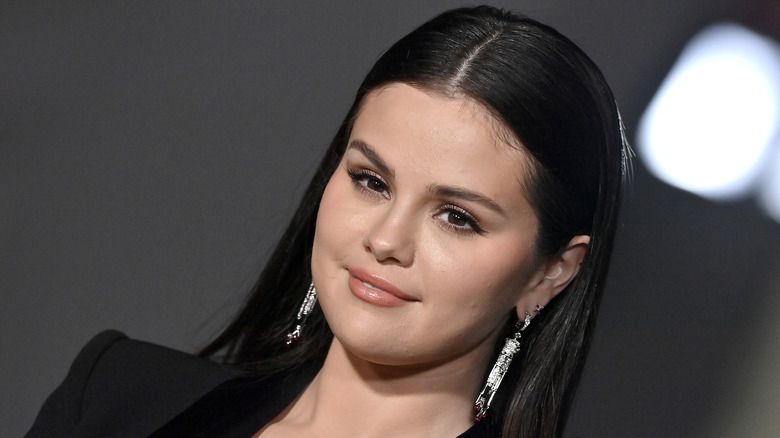 Axelle/bauer-griffin/Getty Images
"Single Soon" is Selena Gomez's late summer singles' anthem that's made up of charming, airy lyrics. But is this just a fun summer bop — or a heartbreak anthem in disguise?  
August 25 gave fans Gomez's new song — her first since 2022's "My Mind and Me " — which debuted on all the major music streaming platforms. It came a few days after Gomez utilized her acting chops and posted a "Sex and the City" reenactment to Instagram, which actually ended up being relevant to the song's theme. Gomez's best friend, Taylor Swift, also got in on the promo by hyping up the song on her Instagram Stories. "When your bestie is the bestest. Will be dancing to this forever methinks," Swift wrote (via People). 
As of this writing, 11 million Selenators have flocked to YouTube to check out the song's uplifting music video. The vibrant visuals feature Gomez preparing for a girls' night out, seemingly to escape from all of her relationship drama. It's filled with chic, enviable fashion, karaoke, and many colorful shots of Gomez and her friends having a blast. Basically, Gomez is giving off the ultimate unbothered vibes, which is a welcome turn after Gomez and Hailey Bieber's weird feud that kicked off 2023. 
But that's just the video. What's the real meaning behind the "Single Soon" lyrics?
Single Soon is about the excitement of leaving a relationship
"Single Soon" isn't at all like "The Heart Wants What It Wants" or any of the other sad love songs that Selena Gomez sings so well. "Single Soon" is sung from the POV of a woman who's about to leave her relationship — and could not be happier if she tried. The song starts with Gomez going over a few savage means to break up with her boyfriend. "Should I do it on the phone? /  Should I leave a little note / In the pocket of his coat?" Gomez sings (via Genius). To add insult to injury, Gomez also considers disappearing so she does not have to see her partner cry after she delivers the final blow. It's probably safe to say they have no idea she already has one foot out of the door.
According to Bustle, the song's opening actually ties into Gomez's "Sex and the City" Instagram promo, because it was inspired by a scene when Carrie Bradshaw's boyfriend used a Post-It note to end their relationship. Fortunately, in this song, Gomez is sitting in the driver's seat, which is why she's able to go on about her night in the most fabulous manner. Later in the song, Gomez brags about getting dressed up to celebrate her impending breakup. "I'm pickin' out this dress / Tryin' on these shoes / 'Cause I'll be single soon / I'll be single soon," she continues.
Is Single Soon about Selena Gomez's ex, The Weeknd?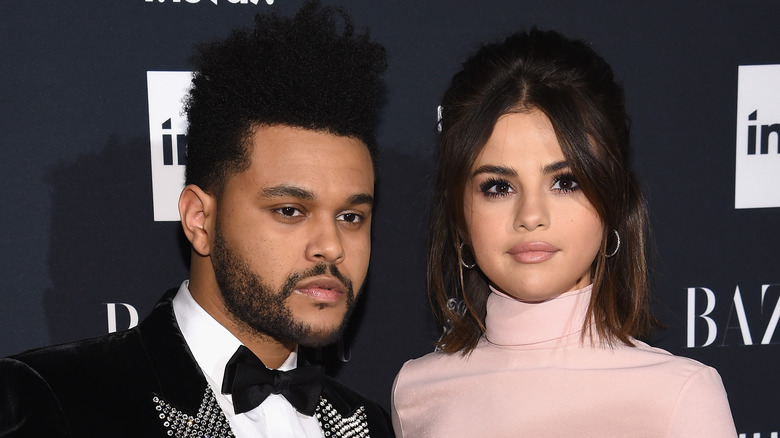 Dimitrios Kambouris/Getty Images
Sorry, "Single Soon" is not about Selena Gomez's 2017 breakup with The Weeknd. While "Single Soon" has a line that references "the weekend" — Gomez sings "I don't wanna see a tear / And the weekend's almost here" — it's doesn't refer to the Grammy award-winning singer. On August 28, Gomez commented on Hollywood Life's Instagram account, shutting down the rumor before social media drifted too far into its delusions. "In case you missed it, #SelenaGomez released her newest song, 'Single Soon' earlier this week! Her fans believe that it is about her romance with #TheWeeknd. What do you think?" asked the publication. But Gomez wasn't having it, writing, "Couldn't be more false." With that said, we wouldn't blame you if it crossed your mind for a sec. 
On August 26, Gomez posted a black and white still from the video with an explanation of what the song is about. "Thank you guys for all the love on Single Soon!!! It's a playful anthem about being comfortable in your own skin and loving your own company... and it's also really fun to dance to!" she captioned the Instagram post. And while Gomez didn't mention the teary-eyed ex who will "be a mess / when I break the news," we'll happily (or maybe sadly) acknowledge his plight.