Why Tristan Thompson Still Lives With Khloe Kardashian After Their Split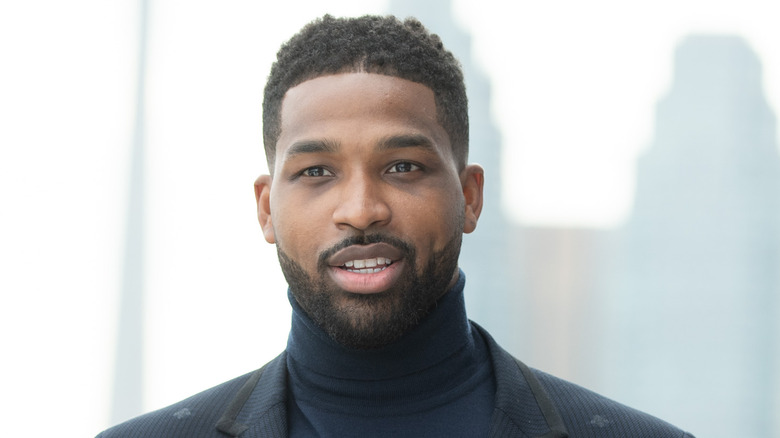 George Pimentel/Getty Images
Khloé Kardashian and Tristan Thompson have such a complicated relationship they could have a spin-off show. Normally, you would want your ex as far away from you as possible, but Thompson and Kardashian have chosen an unusual route as the Los Angeles Lakers player still lives with the reality star.
The former couple's relationship is complex and has been since they started dating in 2016, per US Weekly. Before long, Kardashian and Thompson announced they were expecting their first child together. Initially, things between the two seemed picture-perfect, and it looked as though Kardashian had finally found the man for her. But 48 hours before "The Kardashians" star gave birth to the couple's baby girl, she learned that Thompson had cheated on her. And who would have known this would only be the first of many?
From Jordyn Woods to random women, Thompson continued to be unfaithful to Kardashian. It seemed like a never-ending cycle between the two, even as Kardashian welcomed her second child with the basketball star. No matter how badly Thompson treated Kardashian, she maintained a good relationship with him for their kids. On "The Kardashians," she shared, "Tristan and I, we always get along great. Him and I have a great friendship relationship, we get along fine, and for my kids, I will put anything to the side," Their co-parenting relationship is so good that the reality star has welcomed Thompson into her home — but there's a reason why he continues to live with Kardashian.
Tristan Thompson's home had severe damage after the loss of his mother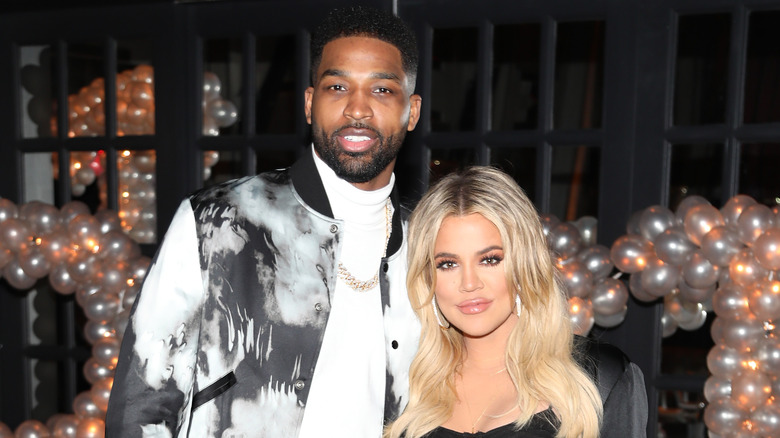 Jerritt Clark/Getty Images
When it rains, it pours...literally for Tristan Thompson. The NBA player had to deal with the unexpected after heavy rain damaged his home. According to US Weekly, Khloé Kardashian revealed on "The Kardashians" why she has to wake up in the same home as Thompson. She shared, "Tristan has a house that he is doing construction on and renovating. He was able to live there during renovations but we had crazy weather for California, like extreme rain. Tristan's roof caved in on his home and caused flooding." Instead of sending him to a hotel, Kardashian welcomed the athlete into her home, but not just because the two share kids. Thompson had also recently suffered from a tragic loss.
In January 2023, Thompson's mom, Andrea Thompson, tragically passed away due to a heart attack. The death was completely unexpected and turned the basketball player's life upside down. A month after the Los Angeles Lakers star lost his mom, he shared a heart-wrenching tribute to her on Instagram. He wrote, "Dearest mommy in heaven, It has been one month since you've been gone. I'm in disbelief. I'm in the deepest part of sorrow & grief...You were an amazing mommy, role model, best friend & the strongest woman I know." With the loss of his mother and his home damaged, Kardashian knew he needed to be surrounded by family, so she welcomed him with open arms.
Tristan Thompson's brother also moved in with Khloé Kardashian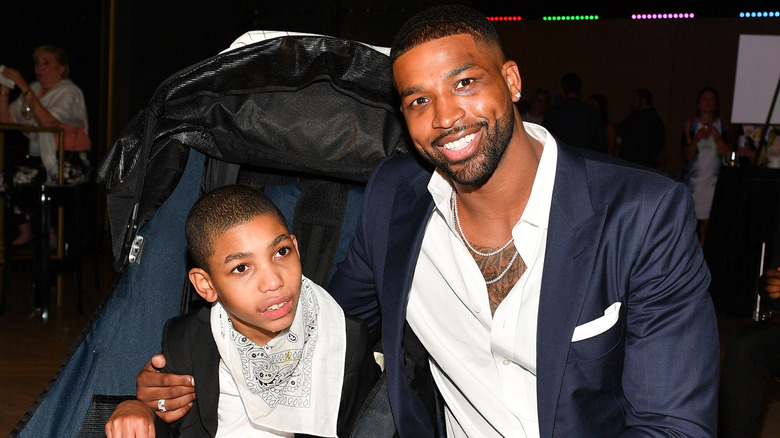 George Pimentel/Getty Images
Khloé Kardashian didn't just welcome one Thompson into her home, but two. "The Kardashians" star revealed on the show that both Tristan Thompson and his little brother, Amari, are living with the reality star.
When Thompson's mom, Andrea Thompson, died, the NBA star became the legal guardian of his 17-year-old brother, Amari. According to The U.S. Sun, Amari is disabled and suffers from epilepsy. Kardashian briefly mentioned Amari's situation in "The Kardashians," she shared, "Amari is 16 and he is severely disabled and it is just really sad. Because we don't know what he knows or doesn't know cognitively." Just as Tristan's world was turned upside down after his mom's death, so was Amari's — especially because Andrea was his sole caretaker.
Now, Thompson is in charge of caring for Amari, and although it may be difficult, he appears willing to step up to the plate. In his Instagram post dedicated to his mother, he spoke directly to her and mentioned caring for his little brother. He shared, "Mommy, Amari is going to be taken care of. I'll protect him, love him & do anything in the world to make sure he's ok." Although Thomspon has faced some tragic situations, Kardashian has made it known that she will continue to support and be there for him and his family.