Body Language Expert Tells Us Buster Murdaugh's Stress Speaks Volumes In New Interview
Buster Murdaugh displayed some rather unsettling behavior in his new interview.
It's only been a few months since Buster — Alex Murdaugh's son — sparked a wave of interest on social media for his passive reaction to learning that his father had been found guilty of murdering his mother, Margaret Murdaugh, and his younger brother, Paul Murdaugh. According to NPR, Alex — a former personal injury attorney and patriarch of his historically troubled family — will serve two consecutive life terms for his crimes despite professing his innocence up until the 11th hour. During his sentencing, Judge Clifton Newton gave an impassioned statement about the grisliness of the Murdaugh family murders. "It's so unfortunate because you had such a lovely family of such friendly people — including you," stated Judge Newton. "And to go from that to this."
Buster exuded much cooler energy when his father was found guilty, despite essentially learning that his only immediate surviving family member would soon be shipped off to prison. According to the New York Post, Buster barely reacted to the news and silently absorbed his father's March 3 verdict. 
Now, Buster has turned up in a new interview to discuss his father's sentence, and his body language has raised just as many questions.
Buster Murdaugh's body language is all over the place
Buster Murdaugh — who gained his own infamy due to his possible connection to the death of his former classmate Stephen Smith  — recently appeared on "The Fall of the House of Murdaugh," a documentary produced by Fox Nation, and proclaimed his belief that his father, Alex Murdaugh was not guilty. "I do not think that he could be affiliated with endangering my mother and brother," said Buster (via People). Buster also expressed fear over his family's real killer. "I think I set myself up to be safe but yes, when I go to bed at night I have a fear that there is somebody that is still out there," revealed the 25-year-old. 
Nicki Swift reached out to Mark Bowden, a renowned body language expert and co-founder of TRUTHPLANE, to fill us in on Buster's state of mind during the interview.
According to Bowden, Buster attempts to hide his emotions during the interview. "Buster appears to have locked his body in place, hands clasped together and legs crossed in order to resist displaying his underlying thoughts, feelings, and intentions during questioning," said Bowden. However, "when the interviewer presents the thought, 'If you believe your Dad's innocent, your mom and your brother's killer is out there somewhere,' Buster shifts his position and subtly raises his legs quickly before responding with, 'That's what I believe.'" This signifies "potential stress." He continued, "This stress could stem from genuinely believing a killer is at large, or it might indicate deception ... However, his verbal response itself suggests a belief rather than an evidence-based fact."
Expert analyzes Buster Murdaugh's word choices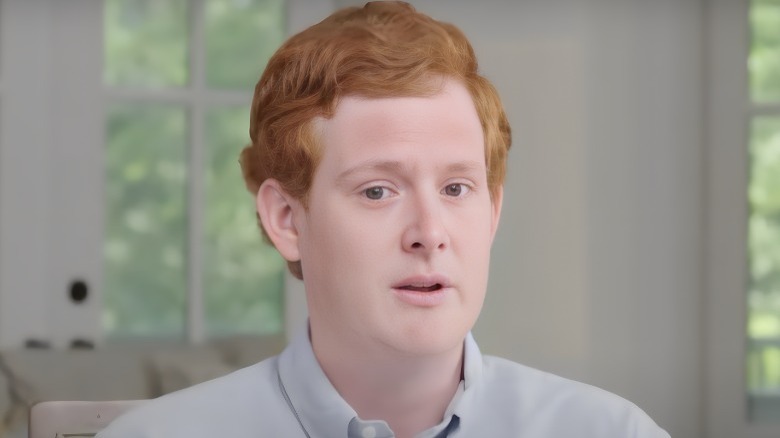 Fox Nation/YouTube
Body language expert Mark Bowden also advised that Buster Murdaugh may genuinely be having trouble accepting that his father, Alex Murdaugh murdered his mom and brother. "Furthermore, when asked if his father 'did it,' he replies, 'I don't think he could be affiliated with endangering my mother and brother.' His voice lacks significant emotional inflection, and his body remains rigid as before. This absence of emotion might be attributed to trauma-induced restraint, deception, or a genuine lack of emotional connection to the event." 
And though Bowden stated that "further analysis of additional footage could shed light on this, Buster's statement purposefully distances his father from the act, a tactic often used deceptively in similar situations." 
Bowden also honed in on Buster's word choice, pointing out the significance of his peculiar phrasing. "The phrase 'affiliated with endangering' is markedly distinct from 'personally kill,'" continued Bowden. "Such distancing from the act can often indicate deception or a psychological state of being 'in denial,' especially when considered alongside other indicators."