Joey Camasta: What We Know About Nicole 'Snooki' Polizzi's Best Friend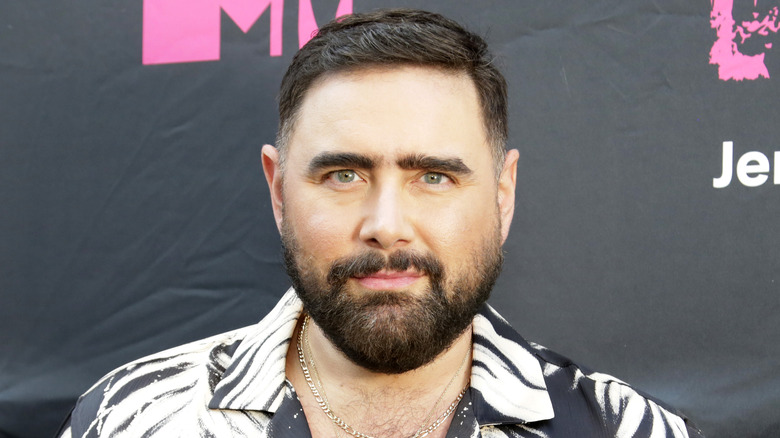 Santiago Felipe/Getty Images
If you're a true "Jersey Shore" fan, you've seen mainstay Nicole "Snooki" Polizzi's BFF, comedian Joey Camasta. He appeared in the MTV phenomenon's reboot, "Jersey Shore: Family Vacation," and has a career in entertainment of his own. So, here's everything we know about what Camasta's been up to lately.
Long before he ever met the reality star, Camasta had a career as a makeup artist and was employed by MAC Cosmetics in 1997. Eventually serving celebrity clientele, he first crossed paths with his future BFF in 2010 when he was hired to do her makeup for a photoshoot while she was filming "Jersey Shore" Season 2. As the story goes, Snooki arrived at the studio straight from the club after one of her notorious nights out and asked Camasta if he would drink more alcohol with her. "[Camasta] was taking shots with me at 7 a.m.," Snooki recounted. "And that's when I knew, like, this might be my soul brother."
The two lives of the party have been attached at the hip ever since, with Camasta even becoming an ancillary character on "Jersey Shore: Family Vacation." He even attended the Season 6 premiere party in August 2023 alongside other members of the "Shore" family. Although most audiences first met him through his friendship with Snooki, Camasta has made a name of his own through his animated personality.
Joey Camasta's personality is perfect for podcasting
Fans got to see both Snooki and Camasta's personalities outside of the "Jersey Shore" when they began their podcast, "It's Happening with Joey and Snooki," in 2017. The besties have uploaded weekly episodes ever since, and have even taken their show on the road. The cohosts embarked on the "Messy Besties Tour" in 2022, featuring a live episode, Q&A, and appearances from special guests, like "Jersey Shore" costar Deena Nicole Cortese.
In February 2022, Camasta signed a talent contract with Barstool Sports, making him one of the few LGBTQIA+ voices in the brand. "I haven't had a job in 25 years," the comedian proclaimed when he received the deal live on air. Camasta cohosts the "Out and About" podcast with Pat McAuliffe, and they also created the "Working Girls" YouTube series. Despite some Barstool viewers's homophobia toward the show, the brand has stuck behind the openly gay hosts, including participating in New York City Pride since 2022.
Joey can throw down in the kitchen
While comedy comes naturally to Joey Camasta, it turns out that he also has a passion for cooking! MTV sponsored Camasta and BFF Nicole "Snooki" Polizzi's very own online show in 2018, called "Cooking in the Crib with Snooki and Joey." In 2020, Food & Wine invited Camasta to be one of the first contestants on "Beat the Recipe," where a professional chef and a "food influencer" battle to create the best dish using only $20 for ingredients. The comedian went on to create his own online cooking show, "Kiki Kuisine," in 2021. He also produced one season of a podcast series in 2022, named "Could I Get in Your Pantry?"
Outside of his comedy and cooking careers, Camasta made headlines in August 2023 when he called out "The View" host Joy Behar to Page Six for not filming with the "Jersey Shore" cast. He alleged Behar was angry Snooki had named her the "rudest" celebrity while on an episode of "Watch What Happens Live." A source claimed to Entertainment Weekly that Camasta's claims were false and it was "The View" producers that removed two hosts from the panel to "allow space" for the seven-person "Jersey Shore" cast to speak. Either way, it's clear that Camasta is certainly not afraid to stand up for his BFF.