How Shereé Whitfield Found Out Her Ex Bob Whitfield Had A Secret Child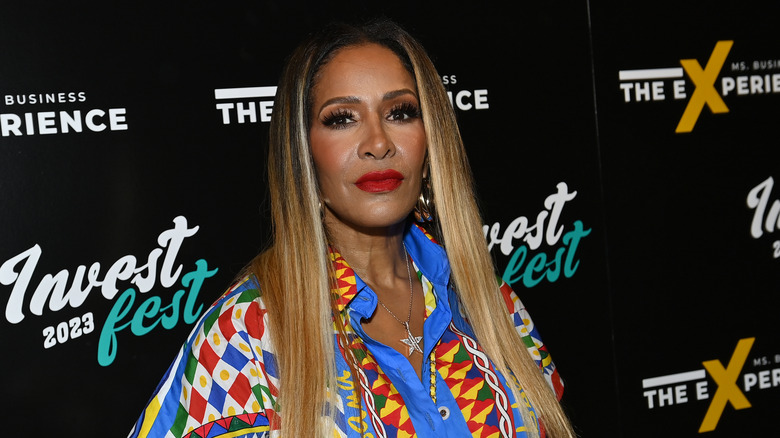 Paras Griffin/Getty Images
"The Real Housewives of Atlanta" star Sheree Whitfield recently found out her ex-husband, Bob Whitfield, hid a child from her during their marriage — in quite possibly the most disrespectful way imaginable. Sheree hasn't been romantically involved with the former Atlanta Falcons player since they divorced in 2007, following seven years as spouses and the birth of their two biological children, according to Bravo. After the split, the exes had trouble putting their past contention behind them. Once, Bravo's cameras even followed them into family court when Bob infamously made fun of Sheree after he succeeded in getting the judge to postpone their child support case.
During later seasons of "RHOA," the divorcees appeared quite flirty at times when they attempted to get over the painful memories of their marriage. One example is that time Bob joked about moving into Sheree's gorgeous mansion, which she famously nicknamed Chateau Sheree. "I look at it like this. Your house is bigger than mine, can I move in," Bob asked during Season 9, Episode 3 of "RHOA." Of course, Sheree shut him down, arguing that they should take "baby steps." Ultimately, the ex-spouses never fully reconciled and are both in different relationships today. However, Bob recently returned to the show and dropped a major bomb on his ex-wife and made an amendment to their family tree.
Bob Whitfield brought his secret daughter to Sheree's party
Bob Whitfield recently appeared on "The Real Housewives of Atlanta," but he decided to make the most of his camera time. When Sheree Whitfield invited him to her home for a party to celebrate the birth of their son Kairo Whitfield's first child, he decided to arrive with a special guest: His undisclosed daughter — who's been revealed to be a 30-year-old actress named Candice Whitfield, per The U.S. Sun — from a previous relationship. From the start, Sheree's castmates were intrigued with her identity, only for Bob to casually reveal her as his secret daughter. 
As Sheree noted in a later scene, she already knew that Bob had two other kids coming into their relationship, but he never mentioned Candice. Although Sheree seemed surprised, she kept things civil and engaged in small talk with Candice, who revealed an even bigger secret: Her siblings already knew about her. "Yes ... I've gotten a chance to be at some family events with Kairo and Kaleigh, so they've been really good to me," she revealed. During an episode of the "RHOA" after the show, Sheree revealed another insensitive fact about Bob's reveal. "The whole time, I'm still thinking [Candice] is his girlfriend," admitted Sheree. "He told [the cast] before I found out."
Sheree and Bob have shared many uncomfortable on-camera moments
Although many reality stars have been involved in dysfunctional relationships with their partners or exes, Sheree and Bob Whitfield's relationship has often ventured into a whole other level of uncomfortable, And though it's up for debate, their past interactions were just as troubling, if not more so than their recent scene. During Season 9, Episode 13 of "RHOA" Bob admitted to having inappropriate thoughts about Sheree. "I was driving her and she fell asleep and I was like, it'd be easy for me to take the seat belt off of your and hit the breaks, so she can fly her a** through the window," said Bob during a group scene. And though Bob then asserted that he'd never physically abused her, Sheree pushed back. "Could you still breathe?" Bob then joked.
During a 2013 appearance on "Iyanla: Fix My Life," Bob got quite candid with Sheree about his feelings for her after their divorce. "I needed you to be my cheerleader full time, unadulterated that you live and speak for Bob," said the athlete. "And now we're to the point were, it'll be a song and dance, a horrible charade that we'll continue, because I really don't like you. And I tried to want to like you anymore, and I think I want to like you some more, but every time I would try to connect, I think that you don't like me either." Sheree agreed.