Red Flags About Naomi Osaka's Relationship With Cordae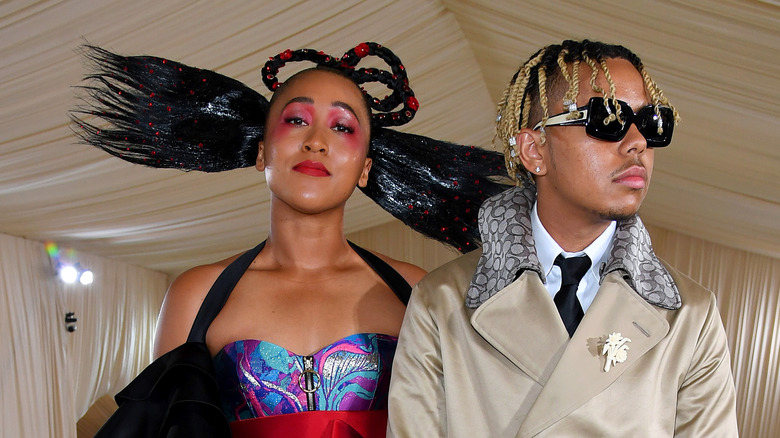 Kevin Mazur/mg21/Getty Images
Tennis star Naomi Osaka's relationship with rapper Cordae has been muddied by a few red flags. Since 2020, Osaka and Chordae — whose real name is Cordae Amarie Dunston — have become one of the most talked-about celeb couples. But this wasn't always their reality, as the young parents certainly flew under the radar for the first year of their relationship. During an interview with GQ, Osaka revealed that they'd been together for nearly a year before going public with their romance. She added, "So we kind of move very reclusively." Unfortunately, as soon as their relationship became public knowledge, people quickly became obsessed. 
Their relationship profile grew even bigger when Osaka announced that she was pregnant with their first child. Roughly six months later, she gave birth to their daughter during an extended break from tennis. According to People, a source within the couple's circle revealed that the baby was born in July 2023. "They are doing well," shared the insider. A few days later, Cordae shared that he and Osaka had named their baby Shai. "My daughter Shai was just born a couple days ago, so I dedicate this performance to my baby girl Shai," said Cordae during his Calgary Stampede performance, per People. "Love you, I'm going back home."
However, that doesn't mean it's all been smooth sailing for the couple. In fact, there are a few aspects of the relationship that seem potentially problematic. 
Cordae didn't know who Naomi Osaka was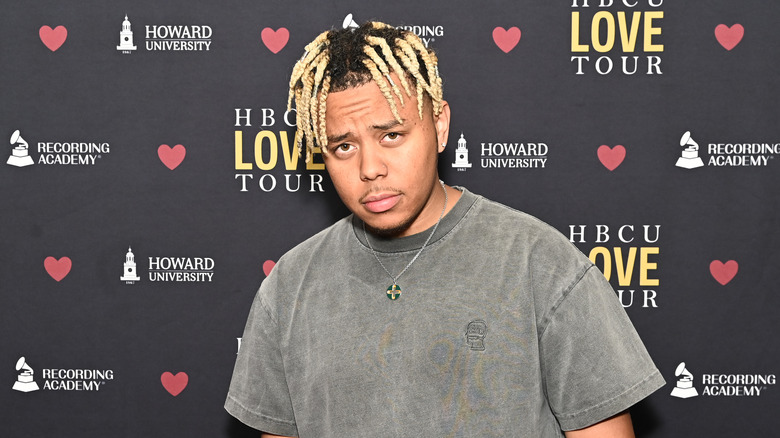 Shannon Finney/Getty Images
Given Naomi Osaka's many feats in the tennis world — including her historic win against Serena Williams at the 2018 U.S. Open and her brave decision to put her career on hold to prioritize her mental health — there aren't many people who don't know her name and face. And while many are tennis fans, there are just as many who don't care for the sport. But Osaka's fame extends outside of the typical sports radar. That's why it was a surprise to hear that Cordae was completely oblivious to the awesomeness radiating from Osaka's pores when they met.
During their GQ interview, Cordae admitted that he didn't know much about Osaka or her chosen sport before their first meeting. "It's not my sport," revealed the rapper. "If you asked me about tennis, before being immersed in it because of Naomi, I could only give you Venus and Serena Williams, you know? Because they're just a part of the culture." Cordae reiterated the claim during his interview on Hot 97's Ebro in the Morning. "I didn't even know who [Naomi] was," he said. "When you think about tennis, I know Serena Williams. That's all I can speak on tennis." And though Cordae has learned just how important Osaka is to the current generation of tennis stars, it's just a little disheartening to know he wasn't her secret tennis admirer beforehand.
They don't post each other on Instagram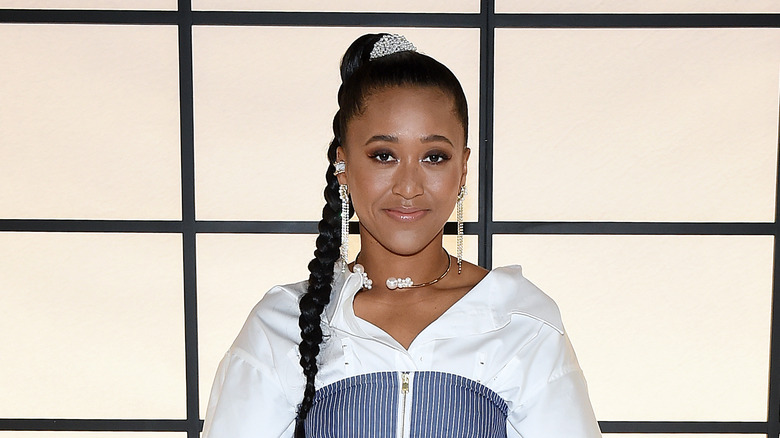 Ilya S. Savenok/Getty Images
Naomi Osaka and Cordae may be coupled up in real life, but their social media feeds suggest they're living the single life. Instead of devoting a portion of their social media real estate to their relationship, the stars seem happy to use their social media accounts to promote their hustles. On Osaka's Instagram, where she has 2.7 million followers, you'll often find her promoting her various tennis endorsements, including the awesome Nike Tech partnership she landed while heavily pregnant with baby Shai.
Meanwhile, Cordae often updates his 2.3 million Instagram followers on the latest happenings in his growing rap career. He's not short on sponsored posts either, like his 2023 partnership with Puma. "Proud to announce The OFFICIAL PUMA-HI LEVEL SNEAKERS HITS FOOTLOCKERS this THURSDAY !!! @puma @hilevel," wrote Cordae in February. Yet, Osaka and Cordae don't have a single active Instagram post celebrating their sweet love. Of course, shying away from social media certainly has its advantages for many couples — celebs especially. However, this is a recent strategy for the stars. They used to sporadically post about each other at the beginning of their budding bond, but that feels like a lifetime ago now. Maybe the attention became too much to handle.
Naomi has addressed breakup rumors
Naomi Osaka and Cordae have also inspired breakup rumors. According to the NY Post, gossip around a potential split started after Osaka's July 2022 tweet. "If a guy constantly has to tell you he's a good guy, there's about a 1000% chance he's not," tweeted Osaka. However, she took to Twitter the following month and revealed that she and Cordae were still happy in love. "Us looking at twitter yesterday," tweeted Osaka, alongside a photo of her and Cordae seemingly scrolling social media.
Ultimately, many of Osaka's fans backed up Osaka's decision to address the rumors "People going to stop believing everything they read on the internet every day," tweeted one fan. Another fan begrudgingly tweeted, "Happy for you or whatever." However, it may have been better for the couple to let the internet think what it wanted. Unfortunately, many fans took the response as them caring a bit too much about what other people thought of their relationship, which is never a good sign.
Cordae accidentally stole Naomi's shine
Even though Cordae has brushed up on his tennis knowledge since dating Naomi Osaka, not all of her fans have openly embraced him. In September 2019, Cordae watched on as Osaka competed in the U.S. Open, where she eventually won out over Coco Gauff, according to TMZ. A few hours before Osaka won, he spoke with TMZ and gave the sweetest response about how he was supporting Osaka. "I make sure she's in the house early and sleep on time," said Cordae during the video interview.
Unfortunately, Cordae totally overshadowed Osaka's victory, per Sports Bible. As the publication noted, Cordae inspired outrage as he posed with Osaka and stuck his middle finger up during a post-game photo. "Why is he giving the bird? It looks terrible and unsportsmanlike. I don't understand why this would ever be acceptable," tweeted one tennis fan. He also wore a shirt that read, "Defund the police," which set off those who didn't agree with his sentiment. In response to the backlash, Cordae tweeted, "Ultra black, unapologetically black. No matter where I'm at. Forever."
Cordae rapped about Noami giving up her career for him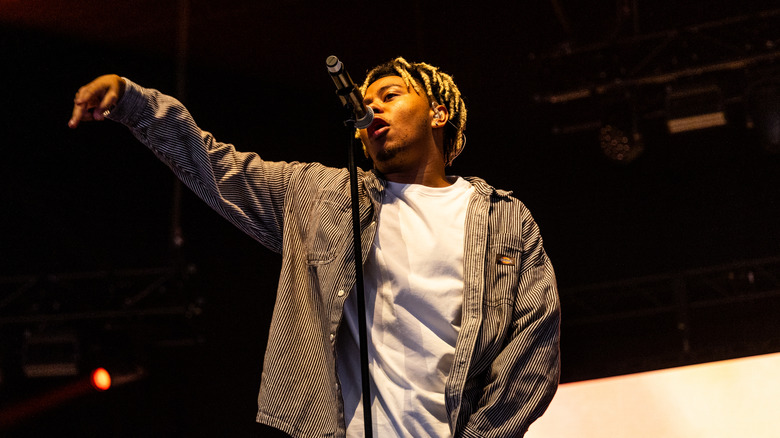 Roberto Finizio/Getty Images
In 2021, Cordae released a song called "Dream In Color," which referenced Naomi Osaka. Unfortunately, Osaka's fans didn't gravitate towards how he spoke on their relationship. "My girl would forfeit a tennis match to meet my grandmama / Man, she truly a keeper (Huh)" he raps on the track. While it's quite possible that Cordae was exaggerating to showcase Osaka's love for him, many didn't approve of Cordae bragging about Osaka prioritizing him over her tennis career — especially given the numerous hurdles she's faced throughout her career.
Fans wasted zero time voicing their displeasure about Cordae's word choice. "Why are you asking your girl to give up her match day and just not reschedule with your family? Don't respect her career?" tweeted one concerned fan. A second fan chimed in, tweeting: "I cringed while reading this too, giving up her dream...?" The quote tweets on the original Complex Music tweet were even harsher. One user tweeted, "Being okay with jeopardizing your partner's career, literally or even theoretically, is a big no." Meanwhile, another fan wrote, "One day Naomi will look back and cringe laugh about the person she dated in her early 20s, we all do."
They work on different schedules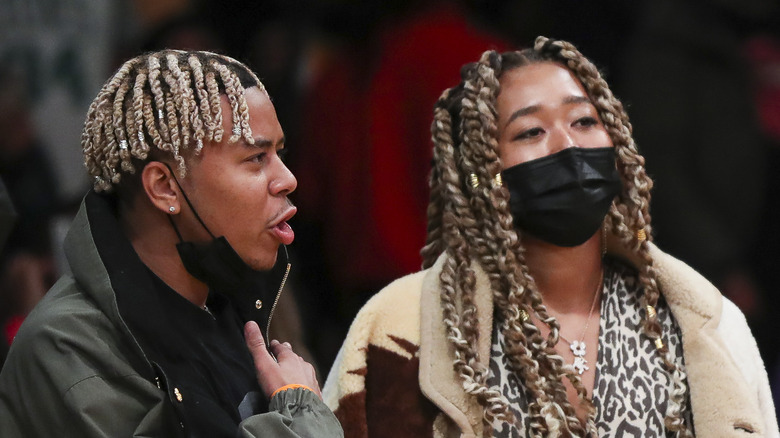 Meg Oliphant/Getty Images
In the case of Naomi Osaka and Cordae, it seems that opposites truly did attract, given that they've pursued such different career paths. However, there's another big difference in their relationship that could potentially pose problems down the line. During her sit-down with GQ, Osaka revealed whether there had been an "adjustment period" in their relationship. "In the beginning," shared the star. "Just because he has such a completely different work style than me. I start super early in the morning, and then I end late afternoon. But I feel like for him everything starts at night. So it was kind of hard to adjust to that in the beginning."
Fortunately, Osaka did reveal that she's since gotten more "comfortable" with their contrasting work patterns. Plus, given that Osaka is currently still on maternity leave, and not expected to return to tennis until 2024, they have time to work out their work and parenting schedule. However, it remains to be seen if they'll be able to stay on one accord as they add parenting duties into their daily routine — especially as Osaka's tennis career eventually ramps back up. Of course, we're hoping the new family is able to make things work.