Meet Lauren Conrad's Sons Liam And Charlie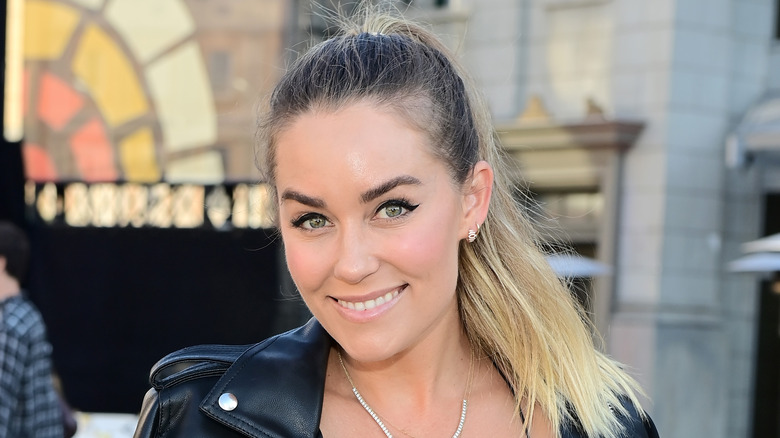 Stefanie Keenan/Getty Images
Lauren Conrad has never shied away from talking about motherhood or the love she has for her two sons, Liam and Charlie Tell ... but what do we know about the two little boys who stole her heart?
Conrad is the first to admit that motherhood wasn't always top of mind for her. In fact, in a 2022 episode of the "Perelel Lives" podcast, the "The Hills" alum chuckled that her decision to become a mom only came in her late 20s. "It sounds so cheesy ... I think it came with falling in love with my husband, because I wanted to have a family with him," she recounted. Cheesy or not, today, she and William Tell are the proud parents of two boys, and the businesswoman couldn't be happier. After all, she's previously told Fit Pregnancy that while William would have been happy with boys or girls, the former had been her first choice. "I was a wild little tomboy, so I think I understand boys. My mom always told me that nobody loves you like a son does, especially when he's young," she said (via Us Weekly). 
From the rare glimpses Conrad has shared of Liam and Charlie, it certainly does seem as though she, William, and the boys have a special bond. However, our question remains: what do we know about the kids themselves?
LC learned a lot when she brought Liam home
Lauren Conrad welcomed her first son in July 2017. At the time, she took to her website to share that his name was Liam James Tell. It was a name packed with meaning for both her and William Tell. As an insider told E! News, Liam's first name was a shortening of Conrad's husband's name, while James was an homage to her father.
Familiarity of names aside, however, Conrad has been incredibly candid about just how many curveballs she and William dealt with after bringing their firstborn home. "I had no baby experience ... I had never held a newborn, and I just changed my first diaper the other day," she quipped to People (via Page Six). She also told the outlet that she and William had been blown away by just how much sway little Liam would have in their home. "This person is so little, but they run your household!" she smiled, thinking about a particularly intense search for Liam's favorite book. "It was like our house was on fire," she joked. 
As for Liam himself, Conrad has opened up about a number of his milestones over the years — such as learning to talk. Granted, in one interview with E! News, she joked that certain words were only put to use when he saw fit. "He says 'Mama' ... when he wants something." Smart kid!
... and she's joked about Charlie's name
Like his older brother, Charlie Wolf Tell's name is packed with meaning. That's not to say it's a unique name, though. In fact, she's joked in the past that she didn't even realize she'd given her youngest the exact same name Zooey Deschanel had given her own son two years prior. 
"They're just both family names. Charlie, or Charles, is a family name ... and then Wolf actually comes from his side. I found it on a really old trunk at his grandmother's house and she was like, 'Oh, yeah. We had a bunch of wolves in our family,' so it kind of stuck with me," Conrad explained to Us Weekly. However, she joked that the similarity was unfortunate, joking, "It sounds like I'm a follower." As for Deschanel, she wasn't phased. In fact, she laughed about it to Us Weekly, and pointed out that one of their mutual friends had told her, and she'd found it hilarious. 
During the pandemic, Conrad fans caught many a glimpse of both Charlie and Liam Tell via her Instagram — something she told E! News' "Daily Pop" could be attributed to them being "The only people I hang out with these days." However, post-pandemic and as the boys get older, don't expect to hear too much about their lives. "For me, I like to share bits of my life, but I'm definitely protective of my kids' privacy," she told Yahoo! Life. Mama knows best!