Behind The Drama Between Smash Mouth's Steve Harwell & His Ex-Fiancee Esther Campbell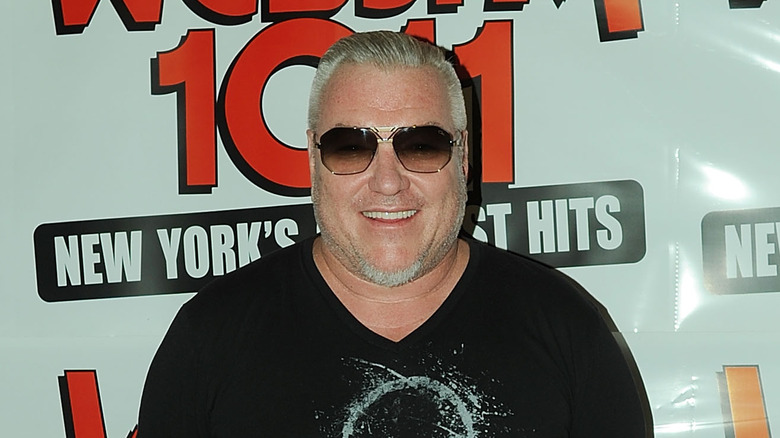 Bobby Bank/Getty Images
Steve Harwell, the former Smash Mouth member who passed away on September 4, had a heated relationship with his ex-fiancé Esther Campbell. 
Smash Mouth fans are facing a tragic reality. Days after TMZ reported that Harwell was on his deathbed, the former rock star died of late-stage liver failure. Following his death, Smash Mouth addressed Harwell's mourning fans. "Steve Harwell was a true American Original," read the Twitter statement. "A larger than life character who shot up into the sky like a Roman candle. Steve will be remembered for his unwavering focus and impassioned determination to reach the heights of pop stardom. Rest in peace knowing you aimed for the stars, and magically hit your target."
With that said, Harwell's personal relationships will also contribute to his memory. According to The U.S. Sun, Harwell left behind his one-time wife Michelle Laroque, with whom he shared his only child – a son who tragically died in infancy in 2001. Also close to Harwell at one time was his ex-fiancee, Esther Campbell, who multiple publications have noted was there with Harwell during his last days. Unfortunately, their relationship was not ideal, as their love story was spoiled with drama, alleged abuse, and a restraining order.
Esther Campbell asked for a restraining order against Steve Harwell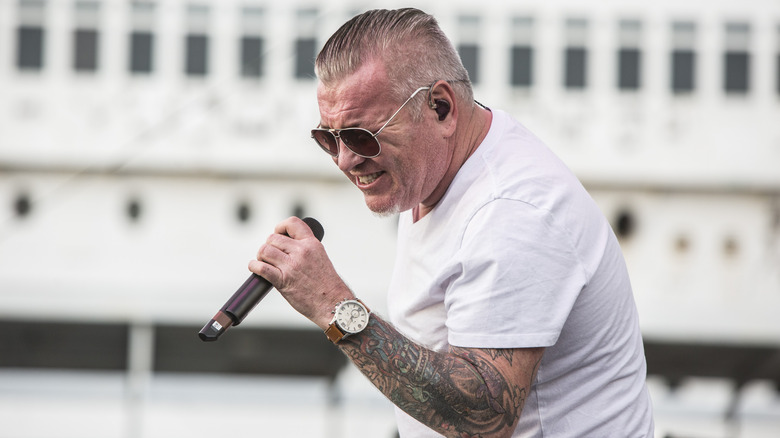 Harmony Gerber/Getty Images
In September 2019, Esther Campbell filed a restraining order against Steve Harwell. Within the filings, Campbell alleged that Harwell became irate after she rescinded an offer for him to move into her home amid growing relationship tension caused by his reported drinking problem. Then, Harwell — per Campbell's account — resorted to trying to force her to speak to him through text and phone conversations. Campbell also claimed that Harwell had broken a promise to follow through on septic tank repairs, amounting to $7,000.
According to Consequence, Campbell and Harwell's relationship had started just one year before she filed for the restraining order. The status of their relationship at the time of Harwell's death is unclear, as neither party had been active on social media in recent years. In fact, Campbell doesn't appear to have a notable public presence whatsoever. However, the outlet noted that Campbell had postponed their wedding plans at the time of her filing, and it doesn't seem as if those plans ever resumed.
Did Esther Campbell actually get a restraining order?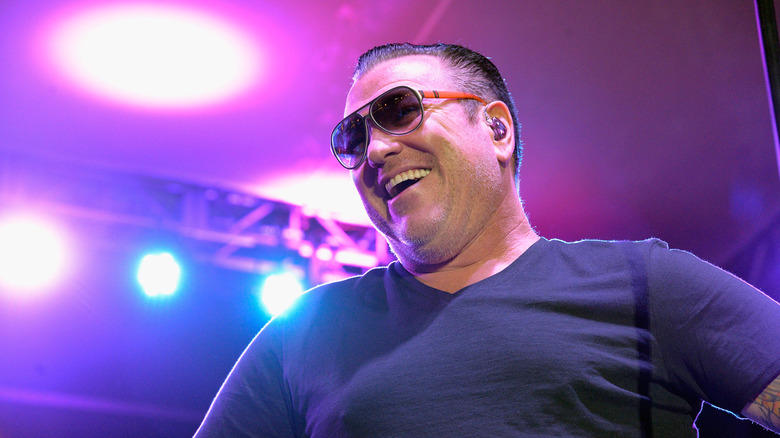 Michael Tullberg/Getty Images
Initially, Esther Campbell was unsuccessful in her attempt to get a restraining order against Steve Harwell. Campbell returned to court a second time in May 2020 with a new round of accusations against Harwell. This time, Campbell accused Harwell of verbal abuse, along with theft and vandalism. In the end, a judge sided with Campbell's second petition and ordered Harwell to not get closer than 200 feet to her. He was also forced to cease all communications with Campbell.
The publication also noted that Campbell referenced Harwell's recent rehab attempt, where she claimed he'd sought treatment for substance use. And though Harwell has never confirmed Campbell's claims, the statement from Harwell's team when he retired from Smash Mouth in 2021 due to his racially-charged onstage behavior mentioned his mental health. "Steve has been dealing with long-term medical issues over the last eight years and during his last performance at the Big Sip stage, he suffered numerous symptoms directly linked with his current medical situation," shared Harwell's team (via New York Post). "As of today, Steve will be retiring from Smash Mouth to focus on his physical and mental health."