Sarah Jessica Parker Has A Clear Stance On Plastic Surgery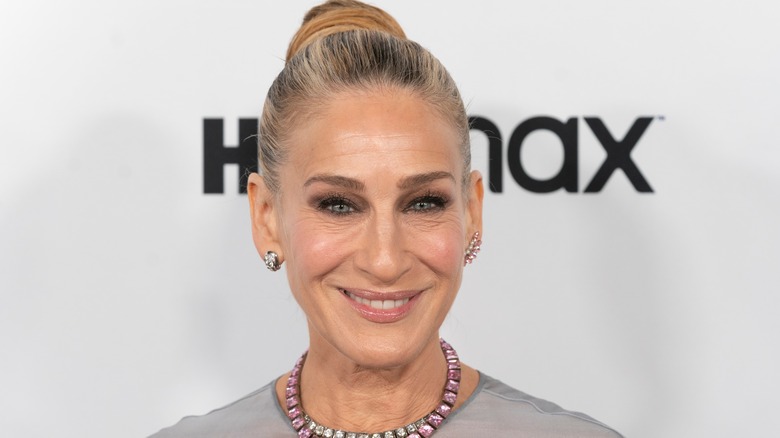 false/Shutterstock
Sarah Jessica Parker was the ultimate fashionista party girl in "Sex and The City." Her character, Carrie Bradshaw, had appalling taste in men. Still, her style aesthetic was on point as she sipped on cosmos and whined about Mr. Big to her long-suffering friends. But despite screaming hot young Manhattenite from the neck down, Carrie wasn't so phased about what went on above. The character had a no-Botox policy, and it transpires that Parker also has a clear stance on plastic surgery.
Parker starred in the romantic comedy-drama along with Kristin Davis, Cynthia Nixon, and Kim Cattrall from 1998 until 2004. The BFFs were crazy about fashion, gossip, sex, and, well, the city. However, Carrie, Charlotte, and Miranda managed not to cave to societal pressure; they swerved syringes and chose to age gracefully instead. Samantha? Not so much.
As The New York Times notes, in the "Sex and The City" sequel, "And Just Like That," Miranda, Carrie, and Charlotte have all aged; it is 17 years later, after all. Miranda sports gray hair and slams Charlotte for not going au natural, too. "There are more important issues in the world than trying to look young," she decrees. Meanwhile, poor Carrie is forced to suffer the indignity of wearing flats after undergoing hip surgery. The cruelty of age. Adding further to the brutality, a plastic surgeon tells Carrie she needs a facelift during a visit to his office while supporting a friend.
Too late for rested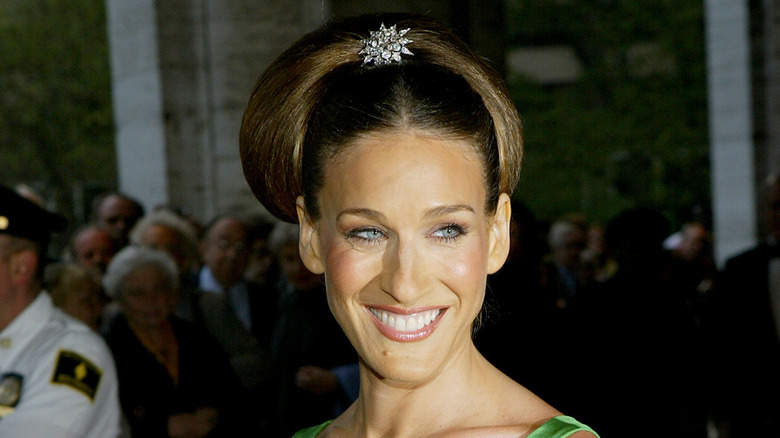 Paul Hawthorne/Getty Images
After the plastic surgeon tells Carrie Bradshaw's friend he doesn't need a facelift, she asks what he thinks about her. "I'm just curious, I mean, as long as I'm here," Carrie says. "You look a little tired," the doctor replies, suggesting a half facelift. "Unfortunately, Mother Nature and Instagram are much harsher on women," he opines.
Unlike her onscreen persona, Sarah Jessica Parker won't be venturing anywhere near a plastic surgeon's office. She's resigned to letting nature take its course. "I know what I look like. I have no choice. What am I going to do about it? Stop aging? Disappear?" Parker asked Vogue. Still, it doesn't mean she hasn't considered a little cosmetic intervention. During an appearance on "The Howard Stern Show," Parker admitted that she "thinks about all of it." However, she said that the ship had sailed, and she missed jumping onboard the facelift express.
"Now it's like, you don't only look a bit rested, you look like an entirely different human being," she said about how she'd be perceived if she had work done now. Parker explained that she has regular treatments at the dermatologist. And although she feels it's too late for her, she's not judging. "I do understand why people make the choice, because there is so much emphasis put on — especially women — primarily women, especially about looks." Parker said that after "And Just Like That" began airing, she was deluged by critiques of her appearance.
Misogyny and ageism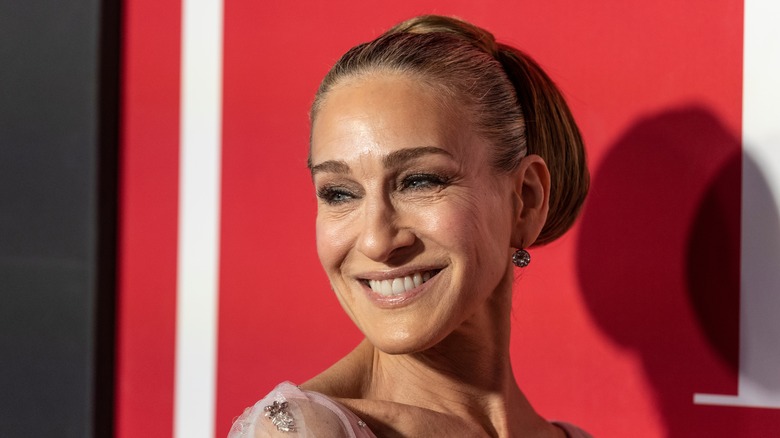 lev radin/Shutterstock
Sarah Jessica Parker works hard for her craft, even if it means making some very painful sacrifices. Playing Carrie Bradshaw for years in "Sex and The City" permanently damaged Parker's feet. But, hey, what price fashion? ($1,125 if you want the hottest new BIMIX Manolo Blahnik slingbacks). However, these days, given that Parker's now a mom to twin girls, Marion and Tabitha Broderick, she's more likely to wear a pair of Golden Gooses — albeit in a stylish manner.
"I dress based on what I have. I'm not a huge shopper, but I love beautiful things," she told In Style. "To be able to borrow them is ridiculously fortunate, and I enjoy every second of that." Meanwhile, working on "And Just Like" made Parker even more aware of ageism in the entertainment industry. She opened up to Vogue about the double standards and harsh criticism that's still rampant in Hollywood.
"There's so much misogynist chatter in response to us that would never happen about a man," she said of the female cast. "Everyone has something to say. 'She has too many wrinkles;' 'She doesn't have enough wrinkles.' It almost feels as if people don't want us to be perfectly okay with where we are, as if they almost enjoy us being pained by who we are today, whether we choose to age naturally and not look perfect or whether you do something if that makes you feel better."