Has Priscilla Presley Dated Anyone Since Her Split From Marco Garibaldi?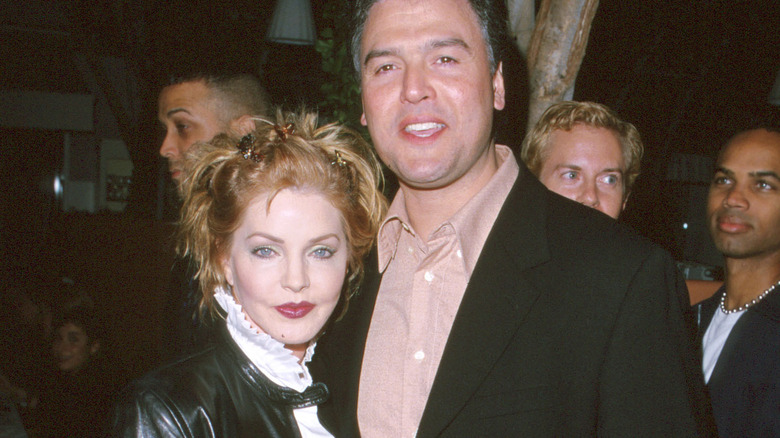 Steve Granitz/Getty Images
Priscilla Presley rose to prominence when she married one of the most legendary musical artists in history, Elvis Presley. While her marriage with the King of Rock 'n' Roll was short-lived, Priscilla never left the spotlight.
Priscilla and Elvis raised eyebrows when they first got together, primarily due to their 10-year age gap. Priscilla was only 14 when she was romanced by the "Hound Dog" crooner, but according to her, the start of their relationship was not sexual in nature. "Even though I was 14, I was older in life than in numbers," she shared at the debut screening of the "Priscilla" biopic, per Entertainment Weekly. "That was the attraction. And people think, 'Oh, it was sex, it was this.' Not at all. I never had sex with him. He was very kind, very soft, very loving. But he also respected the fact I was only 14 years old. We were more in mind and thought and that was our relationship." They didn't marry until seven years later, and in 1968, they welcomed their daughter, Lisa Marie Presley. By 1972, they already separated, but only because Priscilla couldn't get used to Elvis' way of life. "It wasn't because I didn't love him... It was the lifestyle that was so difficult for me."
Priscilla had been involved in various flings after their split, including a tryst with Robert Kardashian, but the only other long-term relationship she had was with Marco Garibaldi, with whom she shares a son, musician Navarone Garibaldi. But after parting ways with Marco, it doesn't look like Priscilla had a serious relationship again.
Priscilla had brief flings with three other men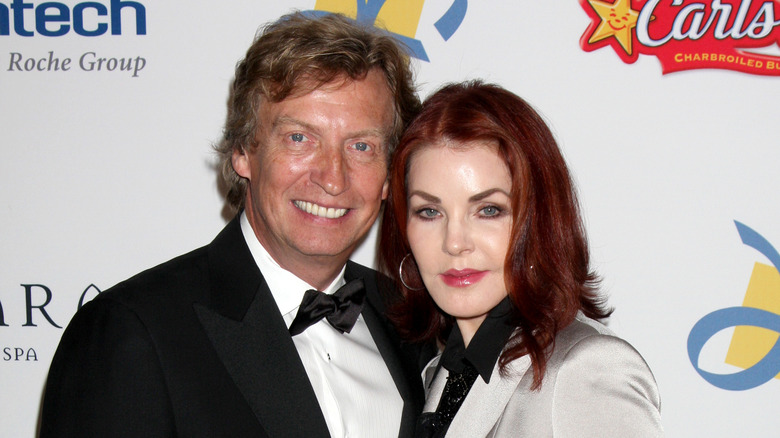 Kathy Hutchins/Shutterstock
Priscilla Presley and Marco Garibaldi were together for 20 years but never married. Not much is known about their two-decade relationship, but their son, Navarone Garibaldi, once dished that anything Elvis Presley was off-limits in their house growing up. "I think my dad had a bit of a complex about it," the Them Guns vocalist told People.
Priscilla separated from Marco in 2006. Later that year, she was linked to television director Nigel Lythgoe. However, Lythgoe told Mirror that their relationship was completely platonic. "I'm not sure what's meant by a romance. I don't really know the meaning of that word," he said before sharing that they were in constant communication at the time. "We text each other. We phone. We have dinner. But we're not about to set up home. I've grown fond of her family, of Lisa Marie and her children." He also referred to her as "the sweetest person you could ever hope to meet." 
Three years later, Priscilla reportedly started dating restaurateur Richie Palmer, though nothing came of it. Then, In 2013, she was photographed smooching radio DJ Toby Antsis in London, but like her other relationships, it was simply a fling. "We were chatting in her dressing-room for about 20 minutes when I suggested dinner and she said yes, and that was that," Antsis explained to the outlet. They apparently went on two more dates after that infamous night out, but it never progressed into a serious relationship. "She talked about him [Elvis] a lot and it's obvious she still misses him."
Will Priscilla Presley ever remarry?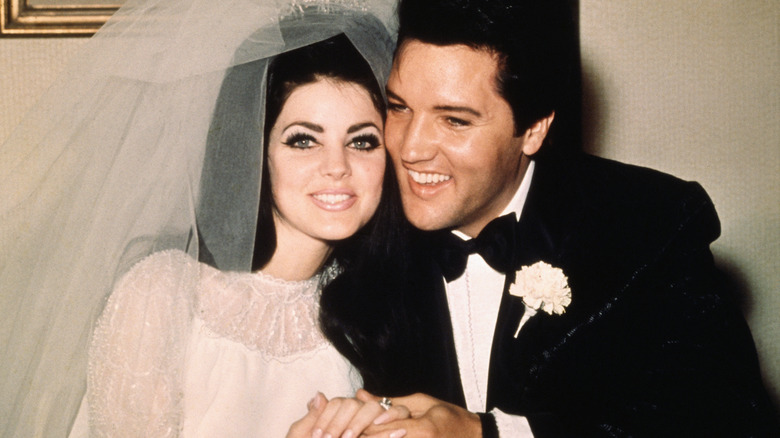 Bettmann/Getty Images
To this day, Elvis Presley remains Priscilla Presley's only husband. Even though she was involved in more than a handful of relationships after Elvis, Priscilla still considers the late singer as the greatest love of her life. "You have to remember, he was such an impact in my life, in every way," she once told ET. "He was my mentor, he was my confidant. I wrote this in my book. He was everything. In my book I wrote 'my God,' because I lived and breathed him."
Sources close to the actor also said that she's content being single. "She gets a kick out of the occasional gossip stories, the speculation out there about her dating life, but it's not true," they shared with Closer Weekly. And while she has forged close relationships with men over the years, she doesn't let them escalate to something more. "She loves her male friendships — Tom Jones being a very close one," they continued. "She was close to Tom [and] his late wife, Melinda, [and] he's a dear friend, nothing more. Tom does get naughty sometimes and jokes about romancing Priscilla, but she couldn't."