Is Singer Aaron Carter Going To Be A Dad?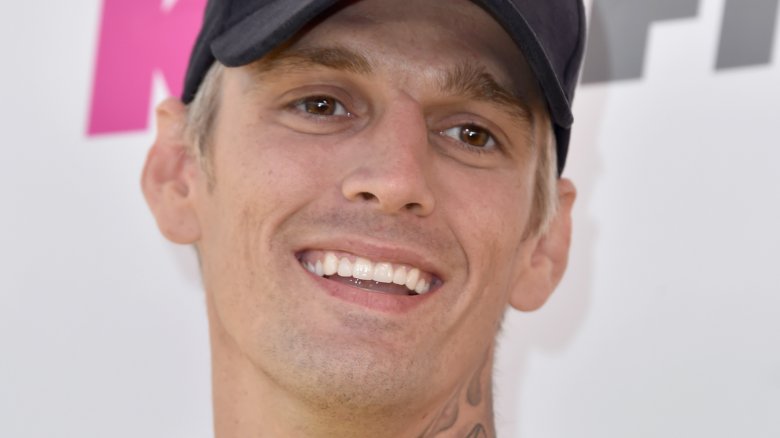 Getty Images
Pop singer Aaron Carter may be expecting his first child.
If his recent tweets are any indication, Carter may soon become both a fiancé and a father. Responding to a fan urging him not to let haters get him down, Carter revealed in a tweet on Wednesday, Nov. 20, 2018, that he and his girlfriend, Lina Valentina, have some big things on the horizon. "I'm in such an amazing place mentally, physically & emotionally," he wrote, adding, "I finally bought my first home and I'm going to be proposing soon to my gf and we might just be expecting..."
In a separate tweet, the 30-year-old shared, "I'm doing INCREDIBLE my LINA and I are so madly InLove that we can't keep our hands off each other, EVER!! We have a beautiful home and some VERY exciting news to share soon." He also hinted at an upcoming pregnancy announcement in a few other tweets, using baby emojis.
A source told E! News that Carter may propose to Valentina "within the next week."
Carter first opened up about dating Valentina, an artist from Russia, in September 2018. At the time, he posted a black-and-white photo of himself with Valentina on Instagram (via E! News), writing, "No one has understood me and shown the love this woman has for me EVER."
In the same post, he went on, "You have my heart for the rest of my life our relationship is new but we WILL grow old together and have our family and I will cherish honor respect and be the man I've always wanted to be because you've shown me you're the woman I've always dreamed of."
Carter had previously dated Madison Parker, but the two broke up in August 2017, after the "I Want Candy" singer came out as bisexual. "I had to discuss [being bisexual] with my ex-girlfriend, and she didn't really understand it and she didn't want [to]," Carter said of their split on The Bert Show shortly afterwards. "And that was it. So we left it mutual and parted ways."
We wish Carter and Valentina the best in their relationship!