Shaquille O'Neal Has A Complicated Relationship With His Son Shareef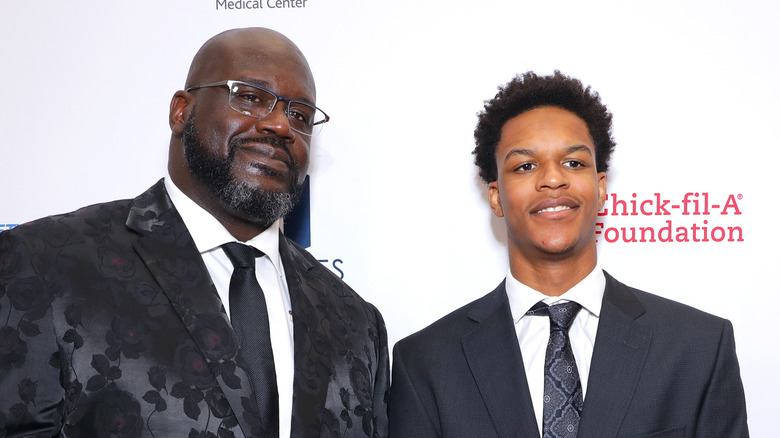 Tiffany Rose/Getty Images
NBA legend Shaquille "Shaq" O'Neal is widely recognized for his contributions to the world of sports, but what most people don't know is that off the court, he's a proud, doting dad to six kids: Shareef, Shaqir, Amirah, Me'arah, Taahirah, and Myles. Not only that, but he even considers himself a father figure to the children of some of the women he's been with. "I have six kids, but I've dated ladies with children and I'm still now today probably raising 15 children that I call my own," the basketball star told People.
Granted, Shaq was not the best partner to the mother of his kids. He shared on "Mo Talk Radio" that he "messed up" his relationship with his ex, Arnetta Yardbourgh, and in an episode of "The Big Podcast with Shaq," he admitted that he was a "serial cheater" when he was married to ex-wife Shaunie Nelson. "I did it. I was the best at it. I'm not proud of it," he confessed. "I lost my family doing it, and I lost valuable and important years with my children from doing it."
Because of his infidelity, he didn't get the chance to be present for much of his kids' formative years. According to his eldest son, Shareef, he and his siblings even had to hide the fact that Shaq was their father.
Shareef wasn't close to Shaq growing up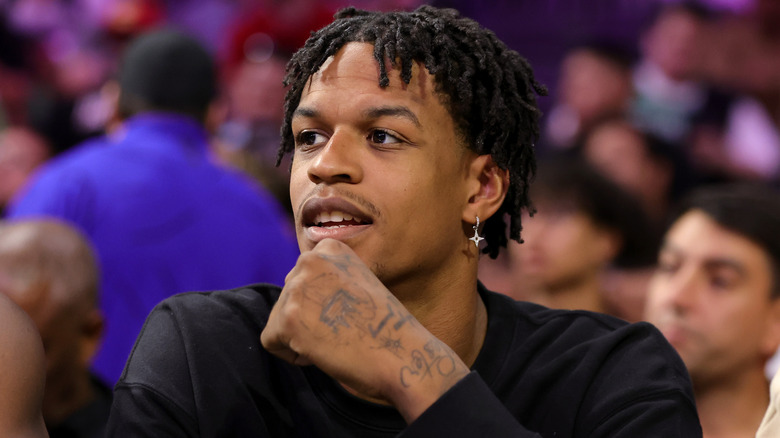 Ethan Miller/Getty Images
Shaquille O'Neal's divorce from Shaunie Nelson was marred with drama, with the two having split twice before parting ways for good. When they separated, Shareef explained that he had to walk on eggshells around his parents. He didn't want to upset Shaunie for talking to Shaq, but he didn't want to alienate his dad, either. As a result, he had no choice but to keep some distance between them. "There was [sic] times when I didn't know if I was supposed to talk to him because I didn't want to make my mom mad or I didn't want him to feel like we were abandoning him," he shared in HBO's "Shaq" docu-series.
It didn't help that Shaq was a sports legend. Speaking with Essence, Shareef divulged that he was careful not to disclose to his friends the fact that Shaq was indeed his dad. "The thing about me that not a lot of people know is nobody knew who my dad was at none [sic] of my schools until I was about 15 or 16 years old," he shared. "All the parent-teacher conferences, it was just my mom who came. It was a set plan." It wasn't until Shaq attended one of his basketball practices that everyone found out that he was a basketball scion. "There was a small game, 8 o'clock in the morning, my dad came and someone happened to film him. They posted it on YouTube and that was it after that."
Shareef and Shaq had a disagreement over going pro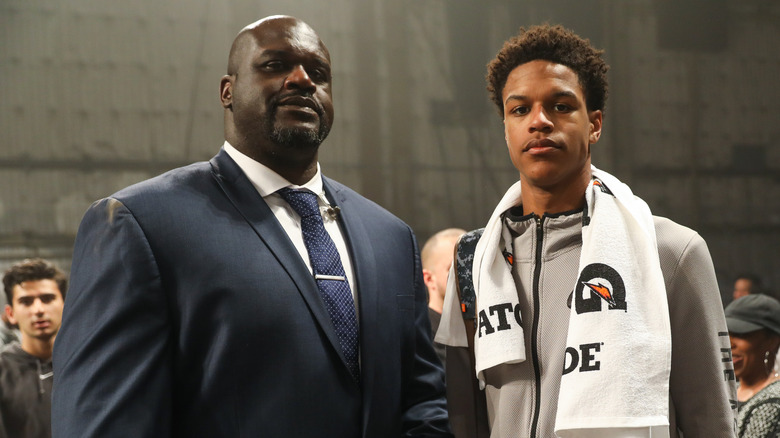 Cassy Athena/Getty Images
Shareef is Shaquille O'Neal's son indeed, with the former Bruin sharing the same passion for basketball as his dad. After playing for UCLA and LSU, Shareef embarked on a journey to the NBA by joining the draft, which Shaq apparently objected to in the beginning. "We kind of bump heads about this process. He wanted me to stay in school," he shared (via ESPN). "I wanted to better myself through this. He knows I'm working out with teams. But I'm not going to lie, we ain't talked about this. I'm kind of just going through it." But Shareef explained that his pro career was a stark contrast to his dad's, who was basically a shoo-in in the league way back when. "He didn't do any pre-draft workouts; he just got straight on the [Orlando Magic], so it's a different grind. ... He was the No. 1 pick in the draft. I kind of had to grind to get here."
The good news is Shaq eventually came on board with the idea of his son going pro early, and now, the legend is his no. 1 cheerleader. "Once we came to an agreement, he got on my side," Shareef explained, according to the outlet. "He was like, 'You're my son. I'm going to support you no matter what.' He's helped me a lot through these past few months. I think it made us closer than ever. I feel like my whole family got even closer."