Lil Wayne Opening For Olivia Rodrigo At The 2023 VMAs Is Seriously Weird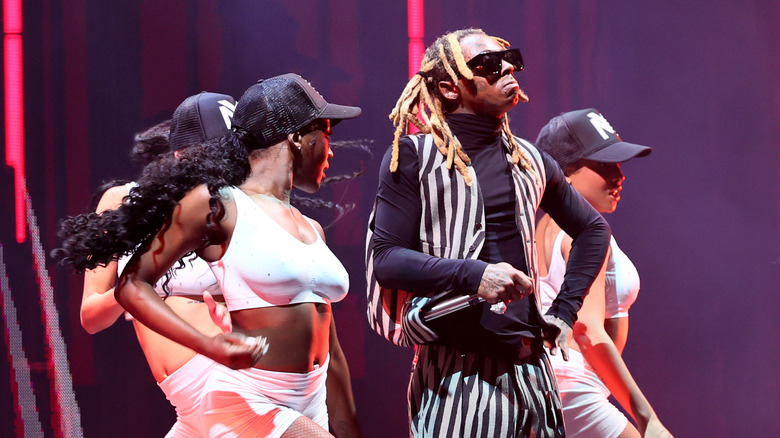 Theo Wargo/Getty Images
After months of an award show drought, the 2023 Video Music Awards are finally here to offer up the historic performances, celebrity interactions and feuds, and runway-worthy fashions for which the event has become known. However, the long-awaited VMAs kicked off not with a bang, but with an awkward musical transition featuring Lil Wayne to Olivia Rodrigo.
On the surface, choosing Lil Wayne to open up the VMAs with a two-song medley made sense. Not only is he a veteran rapper, but Lil Wayne's former mentee Nicki Minaj is chairing the entire event, proving that having friends in the right places pays even for celebs. However, the abrupt transition from Lil Wayne's energetic performances of his new single "Kat Food" paired with his 2018 hit "Uproar" to Rodrigo's pop performances of the revenge anthem "Get Him Back" and the biting "Vampire" felt disjointed, and ultimately, neutralized each musician's potential artistic impact.
The clashing performances from the rapper and the singer-songwriter could've easily electrified the crowds had they been better paced. Instead, they set the night off on an awkward note and have completely bewildered viewers, based on online reactions.
Lil Wayne's transition into Olivia Rodrigo didn't work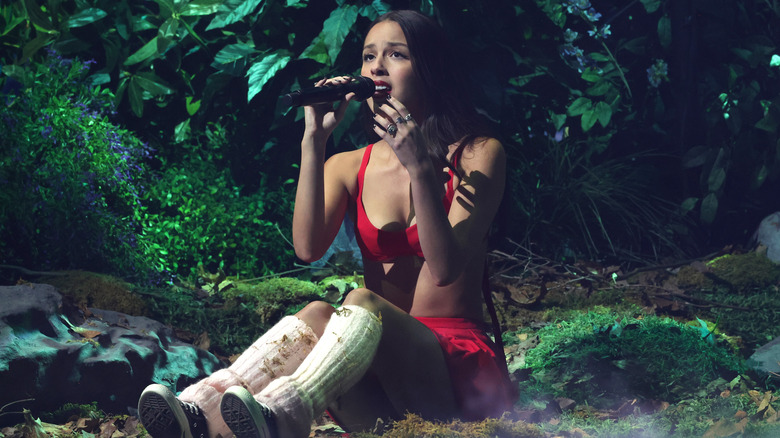 Kevin Mazur/Getty Images
Tonight marked Lil Wayne's first time gracing the Video Music Awards stage since 2012. But instead of celebrating what should've been a historic comeback, fans are questioning why the producers chose such a contrasting segue. 
Many noted the two performers had disparate vibes. "Lil Wayne to Olivia Rodrigo is crazy #VMAs," tweeted one fan, who illustrated their fact with a confused GIF of Nene Leakes. Another fan expressed similar frustration, saying, "This cut from Lil Wayne to Olivia Rodrigo is so jarring. I can already tell they're trying to stuff as much as they can in." Meanwhile, one made an unkind comparison, adding: "This is like when a DJ makes a horrible transition because from Lil' Wayne to Olivia Rodrigo is insane."
"Vampire" was also an intriguing choice for Rodrigo, as some internet denizens are convinced that "Vampire" is a Taylor Swift diss track. Swift was at the show as she was nominated for 11 awards, the most of anyone at the 2023 show.
Unfortunately, the botched VMA opening isn't the only aspect of the show's pacing that's been up for discussion. Some viewers weren't fans of Demi Lovato performing after Cardi B and Megan Thee Stallion's debut performance of "Bongos." "Now who put Demi in their rock era after BONGOS of all things???? #VMAs," tweeted another fan.