*NSYNC Embarrasses Themselves On 2023 VMAs Stage With Sleazy Car Salesman Suits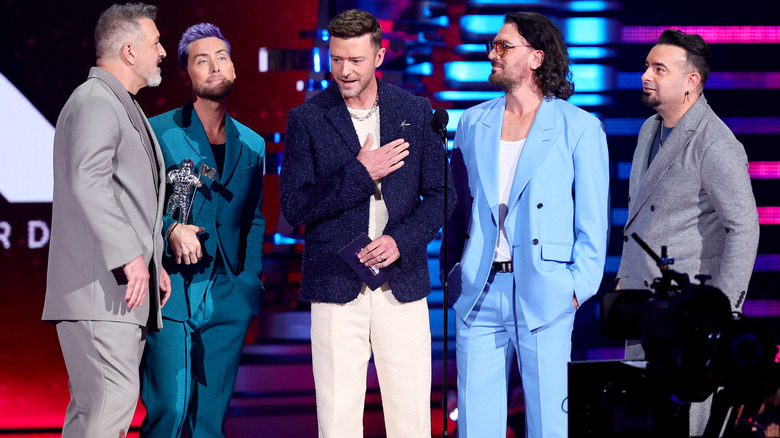 Theo Wargo/Getty Images
*NSYNC is back as a quintet after what seemed like forever, but the outfits they chose for their reunion? Let's just say that they were not living up to their name at the 2023 Video Music Awards, with their overall ensemble not being ... in sync.
After months of speculation, Justin Timberlake, JC Chasez, Lance Bass, Chris Kirkpatrick, and Joey Fatone reunited as a five-piece on stage, their first appearance at the award show since 2013. That's a whole decade! They performed together as part of Timberlake's Video Vanguard Award tribute then, but this time around, the band rolled up to present the Best Pop Award. The Moon Man they brought out went to Taylor Swift, which is quite ironic considering how none of the boys appeared to have had their suits tailored. 
The boy band members no longer look like direct descendants of Guy Fieri as they sometimes did in their heyday, but the suits — as Gen Z would say — are simply not giving. It's either they deliberately wanted to give off a car salesman vibe or leave the impression that they moonlight as public defenders. Whatever it was, it's time to say bye bye bye to those outfits.
However, if there's one person who had zero qualms about *NSYNC getting their outfits from Suit Supply (probably), it's Swift herself — and pretty much every boy band fan in the audience.
Taylor Swift didn't seem to mind *NSYNC's look
Taylor Swift keeps proving that she's one of us. The "Cruel Summer" singer just about lost her mind when *NSYNC appeared at the 2023 Video Music Awards, giving a reaction that's sure to be meme-fied for years to come.
Swift pulled up on the VMA stage to join her idols after winning the Best Pop Award, with Lance Bass even giving her a friendship bracelet as a true Swiftie would. "I'm not doing well pivoting from this to this [from being an NSYNC fangirl to accepting an award from them]," she exclaimed. "I had your dolls!" 
She tried to do us all a favor by using part of her thank-you speech to investigate what *NSYNC has been up to lately. "Are you doing something? What's going to happen now? They're going to do something and I need to know what it is! You guys are ... You're pop personified so to receive this from your golden pop hands is really ... It's too much!" Same, Taylor, same.
Not to disappoint fans, but the boyband isn't doing a world tour or anything of the sort. They're simply reuniting as part of the upcoming "Trolls" movie, which stars Justin Timberlake. But hey, they haven't released a song since the 2001 bop "Girlfriend," so we'll take whatever we can get!