Megan Thee Stallion Seemingly Tells Off Justin Timberlake At 2023 VMAs & The Clip Is SO Satisfying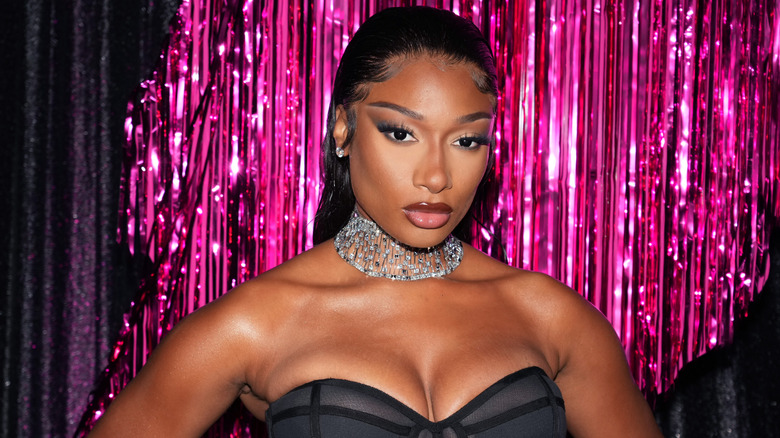 Jeff Kravitz/Getty Images
It's not the MTV Video Music Awards if there are no celebrities beefing backstage, and at the 2023 VMAs, it was Megan Thee Stallion and Justin Timberlake's turn to duke it out — sort of.
The annual awards show has had its fair share of celebrity-fueled scuffles over the years, with the Conor McGregor and Machine Gun Kelly fight being the most notable one in recent memory. The UCF star and "Bad Things" singer got into a brawl on the red carpet of the 2021 VMAs after MGK reportedly refused to take a photo with the athlete, but McGregor insisted that "absolutely nothing happened." He told Entertainment Tonight: "I certainly don't fight little vanilla boy rappers. I don't even know the guy. I don't know anything about him, except that he's with Megan Fox." Ouch, touché!
As for Megan and Timberlake, the "Sweetest Pie" rapper seemed to have verbally lashed out at the "Trolls" star backstage for unknown reasons. In the viral video going around on Twitter, Timberlake was seen walking past Megan and greeting her, only for Megan to come out swinging with her words, pointing fingers and all. But according to sources (or their PR teams, maybe), all is good between the two. Megan was simply excited to see the *NSYNC member.
There was 'zero fight' between Megan and Justin
To the fans crossing their fingers hoping that there was some kind of unresolved drama between the two (hey, who doesn't love a juicy beef between A-listers?), tough luck. It turns out that Megan Thee Stallion was just fangirling over Justin Timberlake, just like Taylor Swift did with the whole of *NSYNC. They weren't fighting at all, even though fans think that they were.
While it appeared as though Megan was giving Timberlake an earful, sources say that she was just excited over the prospect of seeing the boy band singer. "He said, 'It's so nice to meet you,' and she said 'No, no this don't count, this don't count. We gotta meet proper,'" the insider told Variety. "It was very cute." 
Another source told Entertainment Tonight that Megan is a longtime fan of Timberlake, and she didn't want to meet him while she was getting her hair done backstage. "Meg loves Justin. She was saying 'No, no, no, we've never met before,'" they explained. "It was their first time meeting and she was excited."
In short: Megan was yelling at Timberlake out of sheer excitement, and not because she had some beef with him or policing him over his car salesman suit. All is well!