Did Elon Musk Date Cameron Diaz? A Look At The Wild Romance Rumors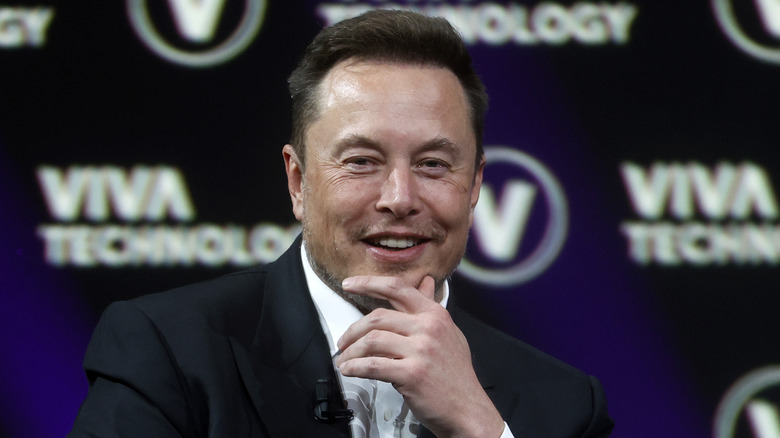 Chesnot/Getty Images
When it comes to Elon Musk, one thing you can guarantee is that you can't guarantee anything. There's many a shady side to Musk, from his questionable social media interactions to his burning desire to self-populate the world and then jet off and start his own mini-Musk colony to his surprise ex-girlfriends and his long list of baby mommas. Musk has even reportedly dated Cameron Diaz. Say what?! Now, that's what you call wild romance rumors.
When you think of a match made in heaven, the entrepreneur and the actor aren't the first couple that springs to mind. But then, in fairness, whoever envisioned Benji Madden's shock marriage to Diaz? Still, Musk would be taking it to a whole other stratosphere, quite literally, if he ever achieves his dream of life on Mars. However, the billionaire is a dark horse; take Musk's relationship with Amber Heard, which was center stage during her Johnny Depp trainwreck libel trial.
Musk told Rolling Stone that he was under a lot of emotional stress after Heard unceremoniously dumped him. "I was really in love, and it hurt bad," a tearful Musk admitted. So, we know he has a thing for beautiful blonde actors, but what about Diaz? Before marrying Madden, she'd always sworn she'd never have kids, which would have thrown a spanner in Musk's intergalactic domination plans. 
"To have lives besides your own that you are responsible for — I didn't take that on," Diaz told Esquire in 2014. Well, try 10 of them.
Cameron and Elon sitting in a tree ....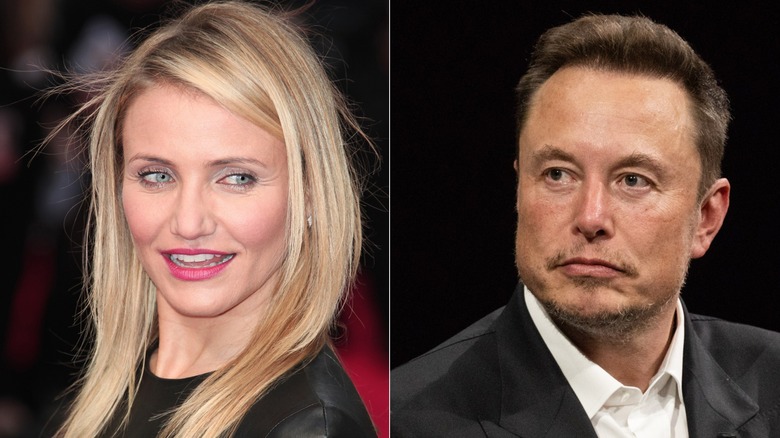 Bloomberg/Getty & BAKOUNINE/Shutterstock
So, was Cameron Diaz once in line to be step-mom supreme to Elon Musk's colony of kids? Page Six was the first to start all the wild romance rumors. They cited a source who claimed the couple was getting super cozy in 2013. Sparks allegedly flew after she purchased one of Musk's Tesla Model S EVs — presumably, he'd taken the day off from his usual line of business to sell cars for the day.
Things reportedly got hot and heavy fast, with Musk purportedly jetting down to Los Angeles to surprise Diaz with shocking regularity. Meanwhile, the source claimed that Diaz, whose last known relationship had been with Alex Rodriguez, was a massive admirer of the tech entrepreneur. Well, not so fast. It seems that the wild romance rumors were just that. Musk shot down the speculation in an interview with "Squawk on the Street" (via CNBC). "I don't know where people got that from," he said.
Sadly, for Diaz, Musk is more of a Princess Buttercup man than Princess Fiona. He evoked the children's adventure comedy when asked if his controversial tweets negatively impact his business during a different super awkward "Squawk on the Street" interview. "You know, I'm reminded of a scene in 'The Princess Bride,'" Musk replied following a near-unbearable period of silence. "Great movie," he opined. Musk shared that his favorite part is where Inigo Montoya (Mandy Patinkin) confronts his dad's killer and says, "I don't care." Watch out, Robin Wright.
It's Elon's world...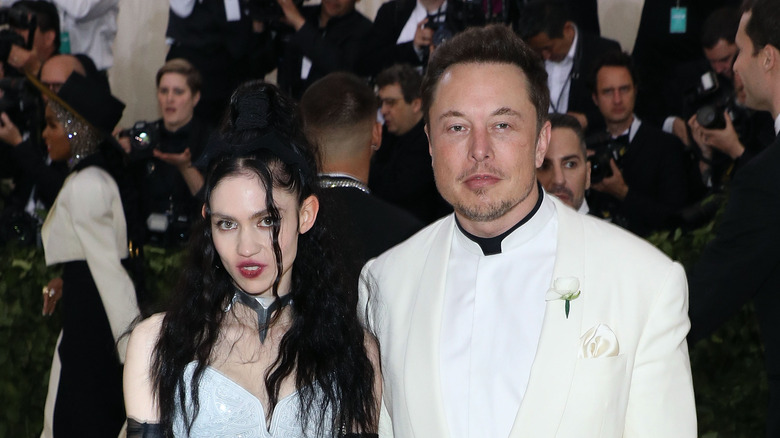 Taylor Hill/Getty Images
Meanwhile, you can forget the wild romance rumors with Cameron Diaz from years ago; Elon Musk is way too busy attempting to single-handedly fix what he believes to be a world population crisis to focus on relationships. At this point, everybody is starting to lose count of how many kids the billionaire has sired, and the tally reportedly keeps growing.
Until recently, it was believed that Musk has 10 kids, with nine surviving. Per Insider, he welcomed six with his first wife, Justine Wilson; this included son Nevada Alexander Musk, who died of sudden infant death syndrome (SIDS) at 10 weeks, twins Vivian and Griffin, and triplets Kai, Saxon, and Damian Musk. He also has X Æ A-Xii and Exa Dark Sideræl Musk with Canadian singer Grimes and unnamed twins with one of his work executives, Shivon Zilis.
Musk's kids with Zilis came as a total shock, especially as she gave birth just weeks before the surrogate who was expecting his and Grimes' second child. However, Grimes clearly isn't one to hold a grudge, as she and Musk have reportedly welcomed a third child, Techno Mechanicus, or "Tau" for short, per author Walter Isaacson, who recently released the biography imaginatively titled "Elon Musk." Tau is the Greek letter relating to pi x two, which equals 6.28 — Musk's birthday. It's confusing, but it's still preferable to naming him June 28th.