Steve Harvey Fiercely Backs Wife Marjorie After Homewrecker Accustions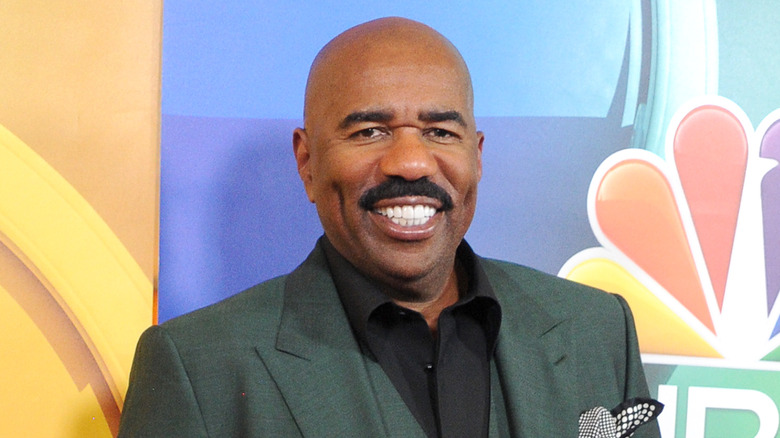 Gregg Deguire/Getty Images
Steve Harvey released a statement defending his wife Marjorie from recent infidelity rumors. Since tying the knot in 2007, their wholesome love story has become one for the ages. "Marjorie changed the way I existed. I'd never been in a healthy adult relationship. I'd never been loyal, I'd never been fully respected," Harvey admitted to People in 2012. In the same interview, Marjorie echoed similar sentiments, describing the comedian as one of her best friends and someone she could truly talk to.
While the lovebirds have presented a solid and romantic front over the years, Majorie's fidelity came into question on social media. In August, rumors circulated that Marjorie cheated on Harvey with their bodyguard and chef, per the Los Angeles Times. Shortly after the speculation made waves, the "Kings of Comedy" star shut the rumors down at Invest Fest 2023. "Before I get started, just let me say, I'm fine. Marriage is fine," he said in a TikTok video. "I don't know what y'all are doin' but find something else to do." Marjorie also released a statement, shutting down the baseless speculation. "My husband and I don't usually stop to address all the foolishness and lies that have been spread about us. However to whom much is given much is required," she wrote on Instagram. 
Despite the couple slamming said infidelity claims, the cheating narrative has continued to spread, so Harvey released another statement condemning the gossip.
Steve Harvey shuts down homewrecker rumors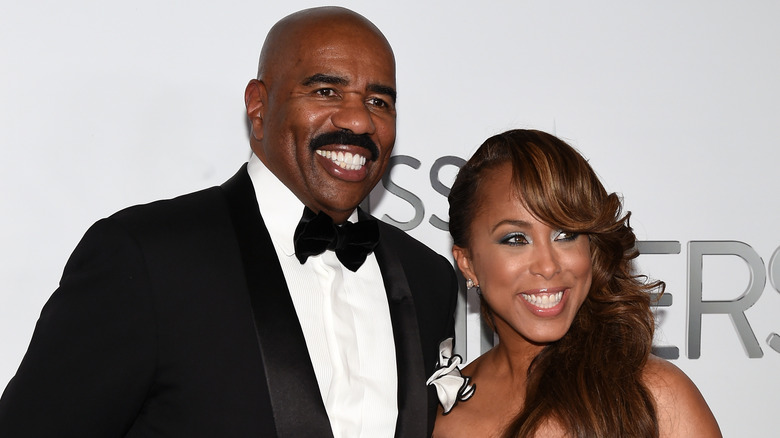 Ethan Miller/Getty Images
Since the Marjorie Harvey infidelity rumors made headlines, Steve Harvey has made a point to shut down all claims disparaging his wife and their relationship. During a recent appearance on his FM radio show, the "Think Like A Man" star slammed a new claim that Marjorie was the reason behind his second marriage ending. "Y'all quit talking about 'she was in my other marriage and ruined it.' She didn't," he exclaimed (via People). "She was nowhere around that. I got divorced in 2005." While Steve had to issue another statement defending his wife, he admitted that the toxic rumors had brought him and Majorie closer. "We're a tighter two hand circle now. So thank you for doing that," he said. "You're not gonna split us up, we're not going anywhere, and she is none of what you say she is, and she's the best chick I know."
Steve's recent admission comes a few months after the two celebrated their 16th wedding anniversary on Instagram. "Anniversary time with the Love of My Life," Marjorie wrote alongside a video of the two frolicking in Lake Como, Italy. Steve echoed similar sentiments in his own post, noting: "Still going strong." It's safe to say that these outlandish rumors have had no lasting effects on the couple's happy marriage.