The Shady Details Surrounding Josh Allen And Brittany Williams' Split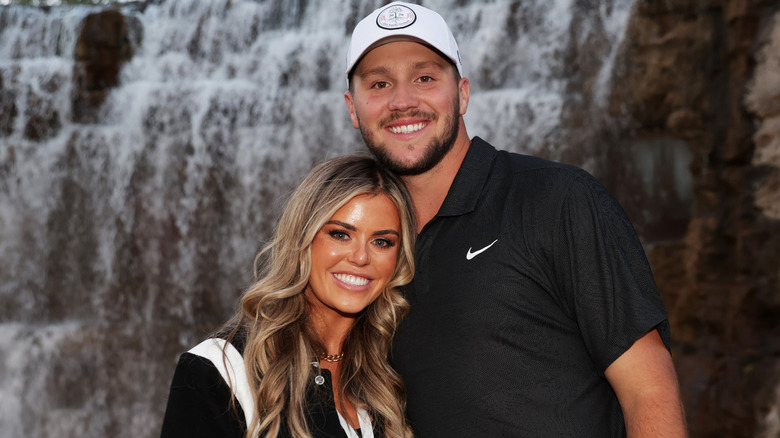 Carmen Mandato/Getty Images
The Buffalo Bills' starting quarterback, Josh Allen, is currently a free agent — in the game of love. The NFL star had been in a relationship with Brittany Williams for nearly six years when they split in 2023. In fact, the pair have known each other since they were young. During a 2022 appearance on Kelly Stafford's "The Morning After" podcast, Williams explained how she and Allen first connected at a birthday party for his brother, close to where a baseball game was taking place. As the story goes, Williams brought the baseball over to Allen after it landed near the party. "I just remember being so embarrassed like, 'Oh my gosh, cooties,'" Williams said. "And that was like our big first moment [that] we remember about each other."
Though they (briefly) hung out in high school, Allen and Williams didn't make their relationship official until college. That means they were together before the Bills drafted Allen, and Williams supported him throughout his NFL career.
Judging from Williams' (now defunct) #BillsMafia pictures, it seemed like all was well in Buffalo — but then Williams wiped all traces of Allen from her social platforms. The quick transition from loved-up to no-longer gave fans whiplash, and naturally, the Internet wanted to know what happened. To date, neither Williams nor Allen have commented publicly on their relationship status, but is that because the split was shady? Here's what we know.
Did Josh Allen cheat on Brittany Williams?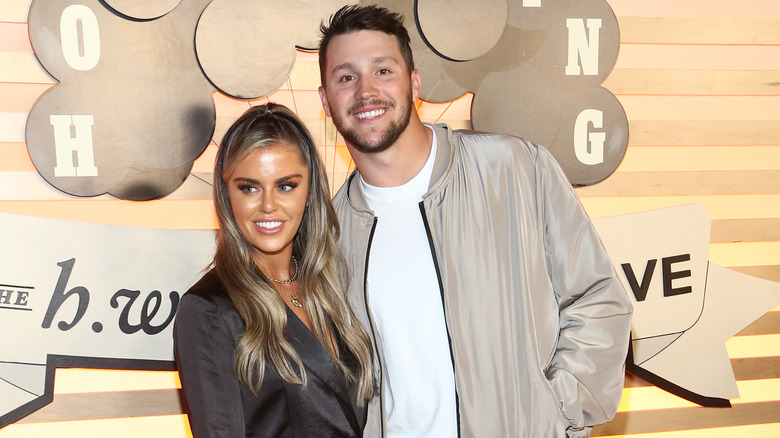 Tommaso Boddi/Getty Images
The sudden nature of Brittany Williams and Josh Allen's breakup, coupled with a lack of a statement from either party, has fans convinced that something shady went down. More specifically, some people think that the quarterback was unfaithful. According to Marca, the popular Instagram gossip account DeuxMoi allegedly received a tip that Allen cheated on Williams with a Buffalo-based bartender, getting her pregnant in the process. However, Deux Moi has since deleted that story.
Williams herself has subtly alluded to cheating rumors, as FirstSportz noted. Other versions of the same gossip story claim that Allen cheated on Williams with Hailee Steinfeld, as Allen and the "True Grit" actress were linked together shortly after he split from Williams. On May 20, a fan commented on William's Instagram, "As a [C]hiefs fan, it'd be really funny if you exposed your ex. We all know he cheated with the actress." At the time, Williams liked the comment. She's since removed the like, but you can peep the receipts for yourself.
Sometimes, Instagram posts speak louder than words. In April, Williams celebrated her birthday with friends, posting pictures of the festivities to her social platform. In particular, the birthday cake seemed to send a clear message to Allen — #MHWD, or in other words, "My Husband Would Never." Fans certainly seemed to get it. "Not Britt with more (potential) shade towards Josh Allen #MHWN," someone tweeted.
What's going on with Josh Allen's dating life?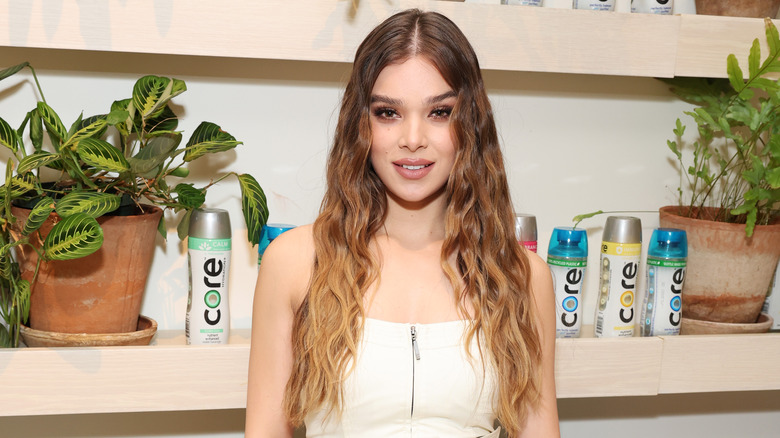 Cindy Ord/Getty Images
As of this writing, Josh Allen appears to still be linked to actress Hailee Steinfeld, whom some suspected of breaking up his relationship with Brittany Williams. That said, fans will be hard-pressed to find pictures of Allen and Steinfeld together, and that's on purpose. Though Allen is a household name, Steinfeld is a global superstar, and Allen seems to be uncomfortable with her level of fame. In August, the quarterback appeared on the "Pardon My Take" podcast, telling the hosts, "The fact that anybody cares [who I'm dating] blows my mind." He added that paparazzi had snapped him kissing Steinfeld while the pair was on vacation. "I just felt, like, this gross feeling. Insecurity. No privacy. [I was] like, 'What is wrong with people?'" he said.
That same month, Allen spoke with AP about fame in general. The NFL star hails from a small town and is perplexed about fans' interest in his private life. "The whole focus on [my] private life is so weird. ... I play football. I'm a football player. That's not what I do. It's who I am," he explained. In a separate story, a source dished to Life & Style that Steinfeld's fame may present challenges for the future of her relationship with Allen. "Hailee's accustomed to getting photographed wherever she goes, but it really upsets Josh. And that upsets her," they said. Translation: Don't expect any public displays of affection from this couple anytime soon.