Who Is Grey's Anatomy Star Kim Raver Married To In Real Life?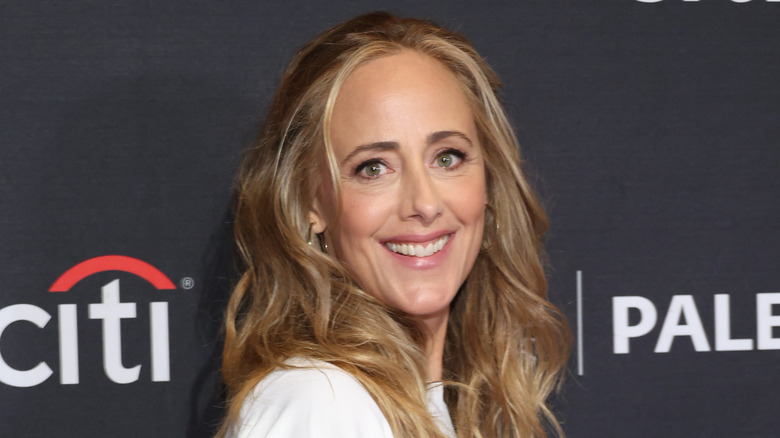 Monica Schipper/Getty Images
Kim Raver's "Grey's Anatomy" character, Teddy Altman, may have had a series of ups and downs before marrying Owen Hunt, but when it comes to her IRL love life, things couldn't be more steady. For more than two decades, she's been married to French director and former athlete Manu Boyer — and it seems they couldn't be happier. 
Raver and her husband tied the knot back in 2000. A few years later, she revealed to Women's Health that they'd met in a slightly unorthodox spot — a swimming pool in New York. However, that was all she was willing to share with the outlet. "That first meeting is kind of sacred, so I think I want to keep it to myself," she explained. That's not to say she keeps every part of their relationship super private, though. In fact, over the years, she's joked about many of the things they've gone through together – like Boyer reminding her that she wasn't a real doctor in a real-life in-flight emergency. Plus, they've both shared countless sweet Instagram posts in one another's honor. Oh, and they've also teamed up professionally in the past. 
That's right — as a director, Boyer has worked on a number of projects featuring several big names. One of them just so happened to be his wife. 
He's a director
Michael Kovac/Getty Images
As a TV star with countless credits to her name, Kim Raver is undoubtedly the more widely known personality in her relationship. That said, Manu Boyer has a pretty impressive career of his own behind the scenes. He worked with Kiefer Sutherland in the 2006 documentary, "I Trust You To Kill Me." He's also directed Wilmer Valderrama and Dawn Olivieri in "To Whom It May Concern." And, in 2019, he joined forces with Raver to co-direct the Alyssa Milano-starring Lifetime TV movie, "Tempting Fate."
Speaking to People about their experience working together, Raver joked that she had been impressed by her husband's professional abilities. "It was really sexy seeing my husband do what he does so well," she gushed, adding that they struggled, at times, to be too complimentary, lest anyone see them more like a couple than as co-directors. "You just want to be like, 'Good job, babe!' And then [you're] like, 'No!'" she joked. 
Even with their attempts at keeping things on the down low, the film's lead was not fooled. As Raver told People, right as the project ended and Milano was on her way out, she quipped, "Get a room!" Well, at least they came out smiling on the other side. As Boyer himself joked in an Instagram post, a number of people close to them had warned them against working together. 
... but he's also a former professional volleyball player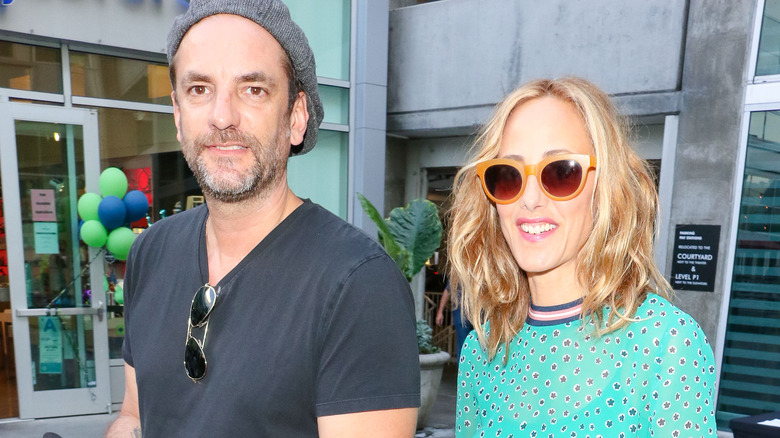 Gotpap/bauer-griffin/Getty Images
Kim Raver and Manu Boyer may be in the same industry now, but that hasn't always been the case. As noted on his LinkedIn page, prior to carving a career for himself as a director, Manu was a professional volleyball player. Granted, that seems to have been a bit of an understatement on his part. 
In an interview on "Live with Kelly and Ryan," Raver pointed out that Manu wasn't just a former professional volleyball player but that he'd represented his native France at one point, too. These days, he's not involved in the sport at quite the same level. That said, back in 2019, the athlete-turned-director took to Instagram to share that he'd been working with aspiring volleyball players with disabilities.
Outside of that, it appears that today, Manu is simply happy to cheer his and Raver's sons on as they make their own mark on the sport. Yup — his love for volleyball has trickled down to the next generation, with Raver confirming to Kelly Ripa and Ryan Seacrest that both Luke and Leo Boyer play competitively. However, even with all the men in her life fans of the sport, Raver joked that there are still times she needs to ask Manu to explain what's going on. That may be a ploy on her end, though. After all, we know how she feels about seeing her husband do what he does best.