Taylor Swift Steals Brittany Mahomes' Thunder At Chiefs Game (& Fans Are Cackling About It)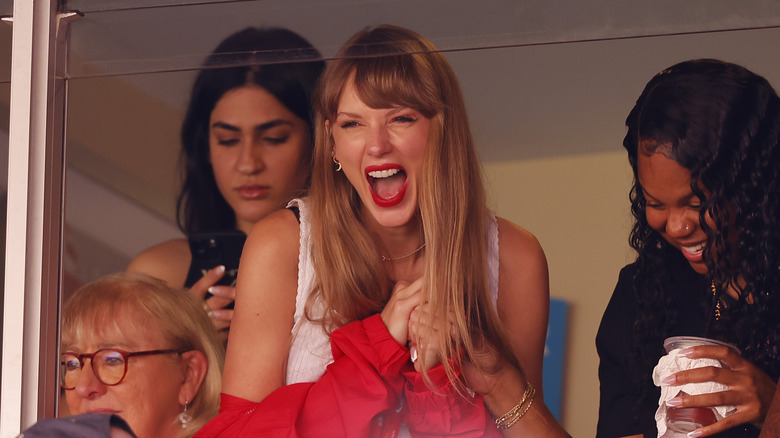 David Eulitt/Getty Images
Superstar Taylor Swift found herself at Arrowhead Stadium in Kansas City on Sunday night, and not to belt out a three-hour setlist for her iconic "Eras" Tour. As it turns out, the "Cruel Summer" singer was in the audience to witness rumored beau Travis Kelce score touchdowns, making her just about the most famous person in the box seats. No offense, Brittany Mahomes!
It's been months since rumors of Swift and Kelce dating made the rounds online. After all, the Kansas City Chiefs tight end wasn't shy about having the hots for the singer. In July 2023, the NFL star shared on the "New Heights" podcast that he made a friendship bracelet for Swift with his number on it with the intention of giving it to her at her Kansas City tour stop, but her pre and post-show routine made it impossible. "I was disappointed that she doesn't talk before or after her shows because she has to save her voice for the 44 songs that she sings," he said. "So I was a little butt-hurt I didn't get to hand her one of the bracelets I made for her."
Kelce decided to shoot his shot once more nonetheless, telling "The Pat McAfee Show" that he invited her to one of his team's games. "I threw the ball in her court," he said. And as luck would have it, Swift finally made it, much to the delight of not just Swifties but Chiefs fans who wanted the spotlight to be away from Brittany Mahomes for once.
Brittany Mahomes has been outshined for once, and by Taylor Swift, no less
Jason Hanna/Getty Images
Fans couldn't help but make quips about how Taylor Swift effectively stole the limelight from Brittany Mahomes, who usually makes headlines for giving good luck kisses to her husband, Kansas City Chiefs quarterback Patrick Mahomes. But all the attention on Sunday's game shifted to the "Lavender Haze" singer, and fans got the jokes!
"Taylor Swift replacing Brittany Mahomes as First Lady of the Chiefs is a major improvement," one fan tweeted. "Kinda crazy that Taylor Swift is the most famous person in the Chiefs locker room. Brittany Mahomes has to be punching air," said another. A fan joked: "Taylor Swift making sure we never see Brittany Mahomes again. Not all heroes wear capes."
Meanwhile, Patrick was the ultimate wingman for Travis Kelce, telling the media post-game that he made sure his teammate would score a touchdown to impress Swift. "I heard she was in the house ... I felt a little bit of pressure, and so I knew I had to get it to Trav," he told Fox Sports. "Of course, it was on a route. Travis — he does his own thing and just makes up a route, and I throw it to him... I think he wanted to get in the end zone just as much as all the Swifties wanted him to."
The Chiefs ended up clinching the victory against the Chicago Bears, of course. Perhaps Swift was the lucky charm?
Brittany Mahomes is a proud Swiftie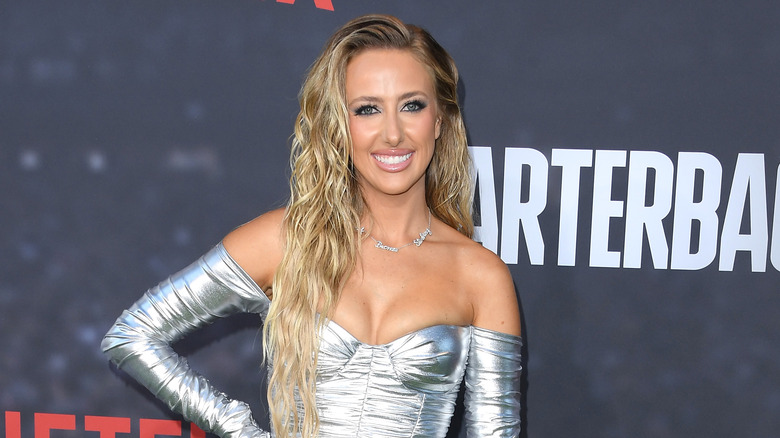 Steve Granitz/Getty Images
Taylor Swift might have been new to the stands, but she sure cheered like a pro. Maybe she got a few lessons from Brittany Mahomes, who is admittedly a pro on the Kansas City Chiefs stands. Brittany is well known for her attention-grabbing antics, which have often earned her backlash from fans and social media users. For instance, as part of a post-game victory celebration in January 2022, Brittany popped open a bottle of champagne in the stands, per Us Weekly. Because the bottle sprayed on other fans in the stands, Brittany was consequently criticized by a lot of social media users.
All thanks to the "Cruel Summer" singer, Mahomes caught a break from naysayers. And as much as she might like the constant attention she garners, Mahomes probably doesn't mind sharing the spotlight given that she is a self-acclaimed Swiftie. Amid the singer's "Eras Tour," Brittany and her husband Patrick Mahomes attended one of her concerts held in the Kansas City Chiefs' primary venue, Arrowhead Stadium. "Just being Swifties," Brittany wrote, via Yahoo! News. Patrick reportedly also received a Swiftie bracelet at the concert, further cementing the couple's status as Taylor Swift fans. 
Meanwhile, fans are rooting for a friendship between the two women. "I hope Taylor Swift and Brittany Mahomes become best friends and raise babies together just to piss people off," one person tweeted. "I hope that Brittany Mahomes and Taylor Swift—2 women who I almost never think about—become best friends just to spite everyone," another user wrote.