The Cosmetic Procedures Ariana Grande Admits To Getting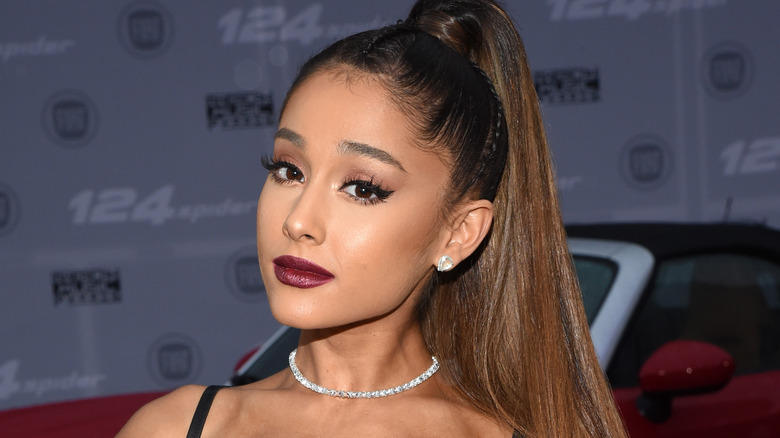 Michael Kovac/ama2016/Getty Images
One curious aspect of Hollywood is that, although it's widely known that many celebrities undergo cosmetic procedures, many of them make a concerted effort to deny doing so. Only a select few have had the audacity to 'fess up to their little cosmetic secrets — one of them being Ariana Grande.
In the past, the "Dangerous Woman" singer has often clapped back at those who insisted she had work done. In a video dating back to 2014, she called out a magazine that claimed that he had a boob job and cheek shaving, among other things. "I was like, 'You're comparing a picture of me from when I'm 14 years old to when I'm 21, and I'm wearing a push-up bra,'" she said. In 2019, she also responded to a fan who said that she underwent rhinoplasty. "hayyy this my birth nose what tf did i log onto today lemme have a cute nose damn," the singer wrote in a since-deleted tweet.
To be fair to Grande, she was telling the truth at the time. She never had a nose job, breast augmentation, or anything of the sort, but she had something else done. According to the star, she's gotten Botox and fillers way back when.
Ariana Grande used to be a fan of Botox and fillers
While it took years for Ariana Grande to get candid about what she does in the name of beauty, it was a move that many of her fans seemed to appreciate. In a video for Vogue's "Beauty Secret" series, Grande showed fans a play-by-play of how she usually dolls herself up (dramatic cat eye, anyone?) and then opened up about how she once used makeup to conceal her flaws. She also confessed to battling insecurities in the past, which led her to opt for lip fillers and Botox to hide her perceived imperfections.
"I've had a ton of lip filler over the years, Botox — I stopped in 2018 because I just felt so — too much," she said as she held back tears. "I just felt like hiding, you know? For a long time, beauty was about hiding for me, and now I feel like maybe it's not." She went on to share her newfound perspective, saying she has learned to appreciate her "well-earned cry lines and smile lines" because, for her, "aging is such a beautiful thing." She even revealed that she remains open to getting procedures again years down the line. "Now, might I get a facelift in 10 years? Might, yeah! But these are just thoughts that I feel like we should be able to discuss."
Grande's fans applauded her for her candor, as most celebrities aren't as open. "I've never heard any celeb talk about getting lip filler and Botox so freely and transparently and I love it!" one fan commented. 
But now, she's all about embracing her natural beauty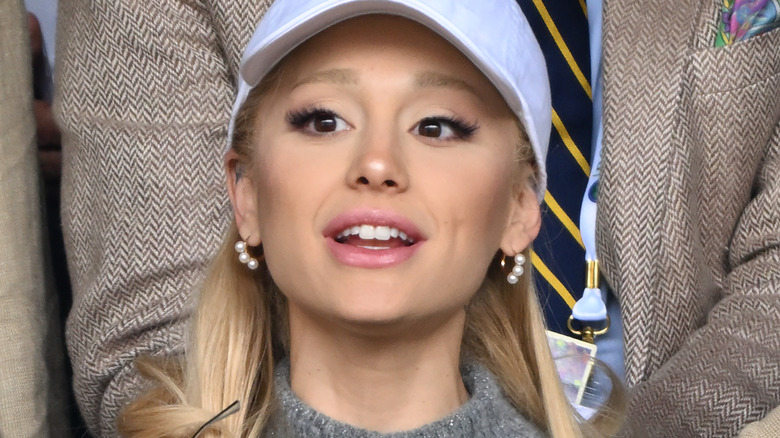 Karwai Tang/Getty Images
Apart from being a Grammy award-winning singer, Ariana Grande has also established herself as a prominent figure in the beauty industry with her very own bestselling makeup brand, R.E.M. Beauty. Launched in 2021, the brand is Grande's way of encouraging people to experiment with makeup to showcase who they truly are. "[I want people] to feel like their most beautiful, honest, and expressed self," she told Glamour. "I think makeup is about self-expression. It's not about following trends per se. The point of it is to express yourself and feel beautiful. It's personal."
Her beauty philosophy has also done a complete 180 from her younger years. She used to put a lot of weight on other people's opinions and follow whatever she deemed popular, but now she negates that idea. "Be yourself and don't listen to any trends," she shared with Byrdie. "If you happen to like something that is trendy, cool — but just because it's 'in' at the time doesn't mean that you have to jump on the bandwagon. Being yourself is one of the coolest things that you can do." She added, "As hard as it may be to get there, once you find that comfort, run with it."