Kourtney & Travis' Rumored Baby Name Proves They Are Indeed Trying To Rock Out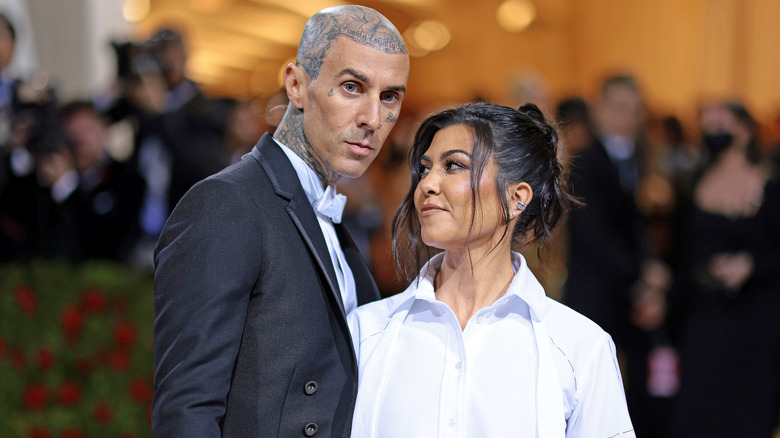 Dimitrios Kambouris/Getty Images
Kourtney Kardashian's leaked baby name seems to suggest that she is definitely trying to "rock out," no matter what Kim Kardashian thinks. 
If that phrasing doesn't ring a bell, do not worry, as the Kardashian shade is too entertaining for us to ignore. During an episode of "The Kardashians," Kourtney had a sit-down with Kim about being able to maintain her identity while discussing their never-ending feud over Kourtney's wedding. Kim hilariously replied, "But you definitely have your own identity. No one's trying to, like, to rock out."
If you've been following Kourtney's relationship with her husband and soon-to-be baby daddy, Travis Barker, then Kim was most certainly referencing the way Kourtney's fashion sense and personality seem to have been slowly and increasingly influenced by the Blink-182 rocker's edge. Kourtney was even able to find the humor in Benny Drama parodying her change in fashion in 2021, according to E! News.  So, what does any of this have to do with Kourtney and Travis' baby name? Well, although Kourtney, whose due date is rumored to be at the close of 2023 (via Capital FM), has not officially shared her baby boy's name in a manner befitting the Kardashian family, fans believe they have figured out what she's named her sweet little miracle. 
And it seems to be because of a poorly cropped Instagram photo!
Have Kourtney and Travis named their baby Rocky?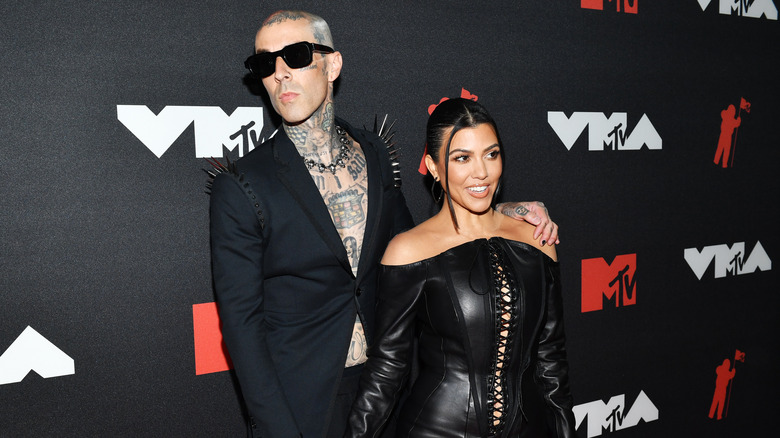 Noam Galai/Getty Images
Roughly three months after Kim Kardashian's lackluster reaction to Kourtney Kardashian's pregnancy announcement made fans wonder if the sisters were over their stale feud, Kourtney and Travis threw a Disneyland-inspired baby shower that made everyone forget about the family drama. According to Elle, which compiled Instagram Story screenshots from the event's lucky guests, Kourtney and Travis had every Disney-centric attraction imaginable, including Mickey Mouse-shaped foods, such as pancakes and ice cream sandwiches. However, onlookers on social media got way more than the chance to live out their Disneyland dreams. They may have also gotten a whiff of their baby's name. 
According to TMZ, one snapshot featured a sign that addressed their child as "Baby Rocky." Noting that the note was largely illegible, the pub pieced together, "May Baby Rocky have ... life filled with love." And while that adorable name would certainly suit the baby boy, given his father's profession, as Hollywood News Daily pointed out, Barker once revealed that he was considering the name "Rocky 13" for meaningful reasons. While speaking with Complex in July, Barker said, "Rocky George played guitar for Suicidal Tendencies, and 13 is just the greatest number of all time." He continued, "And Rocky, the greatest boxing movie of all time." According to People, Khloé Kardashian also called Kourtney and Travis' child "Baby Barker lucky number 13," though they credited it to the fact that this Baby Barker will be the 13th grandchild for their mom, Kris Jenner.