Fans Agree Taylor Swift Is Travis Kelce's Lucky Charm After Vikings Game Absence
Jamie Mccarthy/Getty Images
Taylor Swift missed the first of Travis Kelce's NFL games since they went public with their courtship — and some fans think it's proof she might be his good luck charm. 
Okay, so technically Swift has only attended two of Kelce's games (so far). Swift first touched down on September 24 when Kelce's Kansas City Chiefs played against the Chicago Bears. She also showed her face on October 1 when they played the New York Jets, per ESPN. Fortunately, the Kansas City Chiefs won both games, per CBS, but the real highlight was the intense fanfare surrounding Swift's attendance. Between the viral tweets displaying Swift's animated reaction to Kelce's on-field triumphs and the NFL embracing Swift-mania by briefly weaving "Taylor's version" into its X bio,it's clear that Swift stole the show both times she attended. 
This was especially true for the October 1 game, when Swift brought a squad of her famous friends, including Ryan Reynolds, Blake Lively, and Sophie Turner, to the game. Unfortunately for eager fans, Swift didn't attend Kelce's October 8 game against the Minnesota Vikings when he wound up injured, per Entertainment Tonight. Of course, Swift's absence didn't actually cause Kelce's injury — but try convincing some of their supporters who believe that had Swift attended, Kelce wouldn't have been injured. (Yes, some have even gone so far as to say Swift's absence had the underpinnings of a curse, per TMZ.) Kelce also fueled the speculation, though he reportedly called Swift his good luck charm, according to The Messenger. The Kansas City Chiefs still won, so that theory isn't conclusive yet. 
Either way, Swift was a no-show. Here are the possible reasons why.
Could Taylor Swift be over the hype?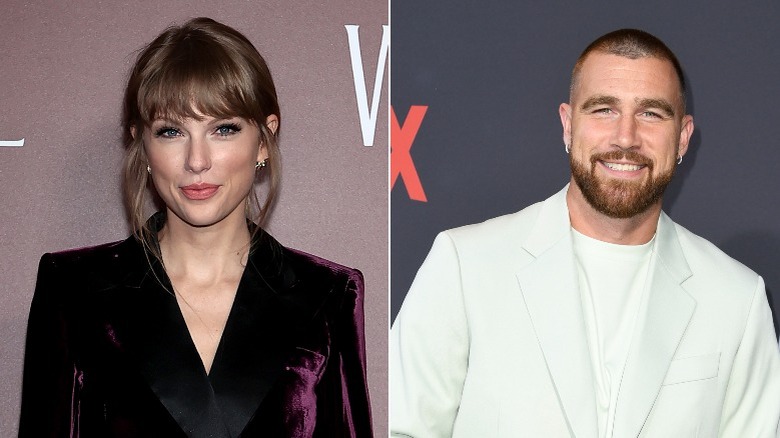 Dimitrios Kambouris/Getty & Jc Olivera/Getty Images
Although Taylor Swift's presence was missed at the October 8 game, there are many plausible reasons as to why she may have wanted to skip out on the big event. (Fair warning to fans of Swift and Travis Kelce's romance: all of the reasons are not favorable to this union, but let's start with the positive!) For starters, Swift could simply believe that her proximity to Kelce was siphoning attention away from the actual game. If so, Swift and Kelce are on a similar accord. In case you missed it, Kelce recently criticized the NFL for basically capitalizing on the fanfare surrounding their relationship. "They're overdoing it a little bit for sure, especially my situation. I think they're just trying to have fun with it," Kelce said on his "New Heights" podcast (via People). 
It's also possible that Swift, an astute businesswoman, grew tired of giving the NFL free, super valuable buzz. According to Yahoo Finance, the NFL saw between a 24-34% uptick in female viewers after Swift's arrival. Yet, as far as we know, the NFL has yet to cut Swift a check (although she's also seen an increased follower count across her social media accounts). Of course it's also possible that Swift and Kelce's relationship is simply a PR stunt. We can't fathom why Swift would need an ounce more publicity in this day and age, but anything is possible. Does anyone remember Tom Hiddleston's cringe "I [heart] T.S. shirt?" Yeah, the PR route is definitely plausible. 
Did Taylor Swift plan her absence ahead of time?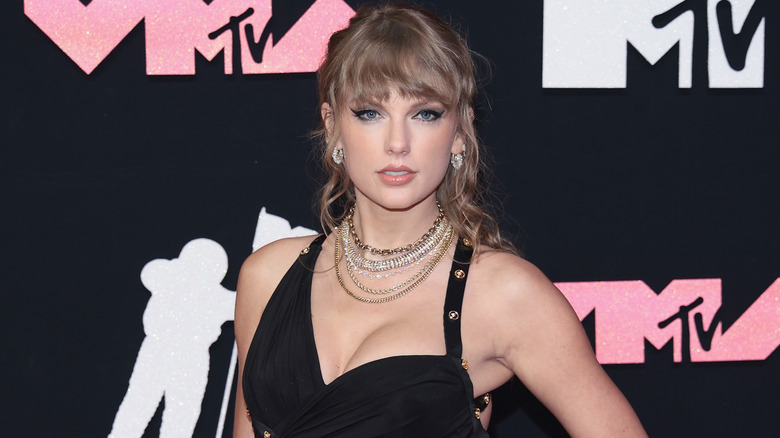 Dimitrios Kambouris/Getty Images
While it's fun to speculate all the reasons Taylor Swift may have missed Travis Kelce's latest game, it's also possible that it wasn't some calculated effort on Swift's part. Many outlets have hinted or implied that the "I Knew You Were Trouble" singer was actually supposed to pop up at the game. According to the Daily Mail, the NFL's TV producers labeled Swift's seat in the stands with a bright orange label that read "Tay," implying that they expected her to show up. As the outlet noted, this same sticker was used as a placeholder for Swift during the other two games she attended. Therefore, she may have canceled her appearance at the last minute, possibly due to an unforeseen scheduling conflict.
Amid the rampant theories, many people seem to be forgetting that Swift is currently at the end of her break from her "Eras" tour. And while she doesn't resume her shows until October 18, according to her website, it's likely that she's still conducting meetings, polishing playlists, and all of the other things that come with being an international pop star. Of course, her "Eras" tour film, "Taylor Swift: The Eras Tour" is mere days away from a theatrical release, which could possibly require an intense round of promo, as well. While it's nice that Swift has been supporting Kelce amid their blossoming bond, she's also super busy and probably has a ton of previous commitments to juggle.