Kendall Jenner's Years-Long Tiff With Corey Gamble Explained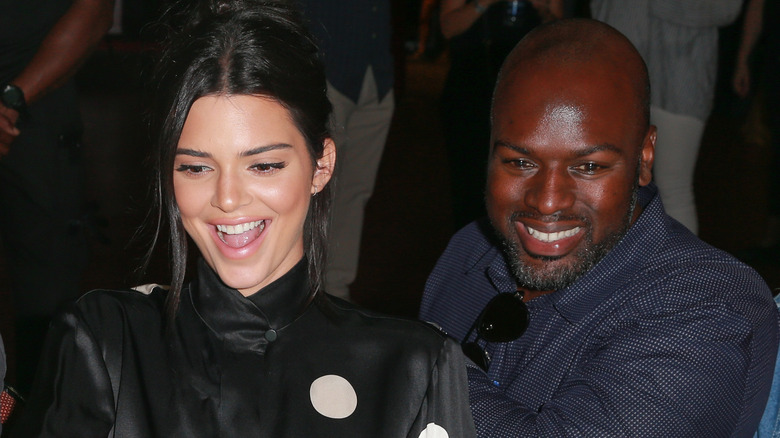 Rich Fury/Getty Images
For the most part, Kris Jenner's longtime lover, Corey Gamble, is chummy with her kids. Well, perhaps aside from Kendall Jenner, with whom he had a verbal altercation that resulted in the two falling out. To be fair, the famous clan treats Gamble like he's one of their own, and according to an insider who is close to the KarJenners, he has since become an "unofficial Kardashian-Jenner family member." Speaking with Life & Style, the source dished: "Corey has been a quiet, solid presence in their lives for years now. He's an ever-present uncle/father/grandpa figure. They confide in him about everything. Corey has everyone's back."
Gamble, for his part, initially admitted that it was tough for him to find his footing in the family, especially since they're such a tight-knit group. He even confessed that some members *cough* Kendall *cough* were particularly challenging to bond with. "It's a lot of girls in one group, so it's hard to be close to everybody," he said on an episode of "Keeping Up with the Kardashians," adding, "I'm not close to Kendall, but if she ever needed me, I'd be there."
But things between the two became tense when Kendall insinuated that Gamble definitely did not have her back. When she and her sister Kylie Jenner had their infamous fight in Palm Springs, Kendall claimed that Gamble took Kylie's side and even cussed her out. That prompted a rift between them and years of barely acknowledging one another.
It all started with Kylie and Kendall's fight
During a family trip to Palm Springs in 2020, Corey Gamble hoped to bond more with Kendall Jenner. However, the outcome was the complete opposite. At the time, Kylie Jenner and Kendall had a bit of a spat while prepping for a girls' night out. Kylie wore the dress that Kourtney Kardashian had loaned Kendall, irking the model. "You ruined my f***ing night," she told Kylie.
Kendall opted out of going to a drag show with her family and expressed interest in going home, but Kylie refused to drop her off. Meanwhile, Gamble, who was in the car with them, suggested she take a different vehicle. "Corey, I'm not getting in a f***king random SUV by myself," she responded. Kendall and Kylie's fight escalated into a full-on physical altercation, and according to Kendall, Gamble sided with Kylie and threw expletives at her.
When they got home, Kendall confronted Gamble over the phone, telling him he handled the situation poorly despite being an adult. He denied cursing at her and asserted that he wasn't taking sides, adding that Kendall had been rude to him from the get-go. "You don't even know me," Kendall fired back. "Just because I don't kiss your a** doesn't mean I'm an a**hole. I just don't f**k with you. The fact that I can't even get an apology." Kendall ended the conversation when Gamble still refused to say sorry.
But Kendall and Corey are now back to being friends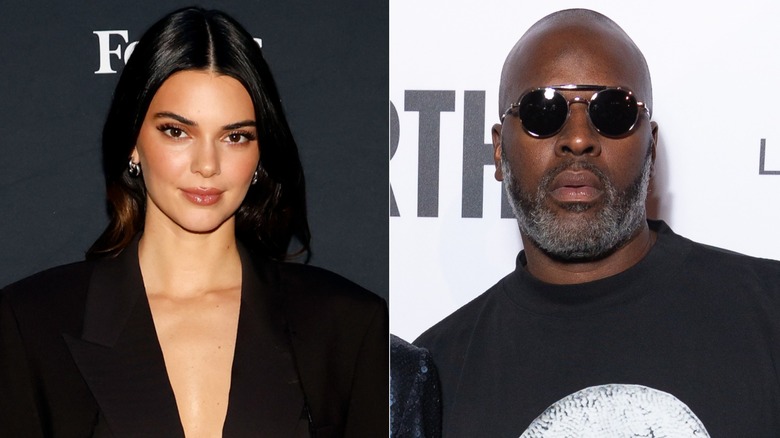 Rich Fury/Getty Images
For a while, it remained unclear whether Corey Gamble gave in to Kendall Jenner's wishes and issued an apology. It wasn't until 2023 (and an entirely new show later) that the truth was finally revealed. As shown in an episode of "The Kardashians," when the KarJenners went on a trip to Cabo, Kendall and Gamble were able to hash things out.
"I think hell froze over because Corey and Kendall are chatting," Kris Jenner pointed out, while Kim Kardashian noted that the two "haven't talked since Palm Springs." In a confessional, Kendall explained that her relationship with Gamble never recovered after they fought. "We apologized and we got over it but it never really — it just kind of stayed here," she said, noting that the trip helped ease the tension between the two. "I think sometimes that's what makes these family trips really important. It gives Corey and I the opportunity to slow down and actually spend some together," she added.
Hopefully, this puts an end to the years-long drama between the pair. But who knows? This is the Kardashians we're talking about. As we've all come to witness, they seem to never run out of surprises.