The Complete Transformation Of Flo From Progressive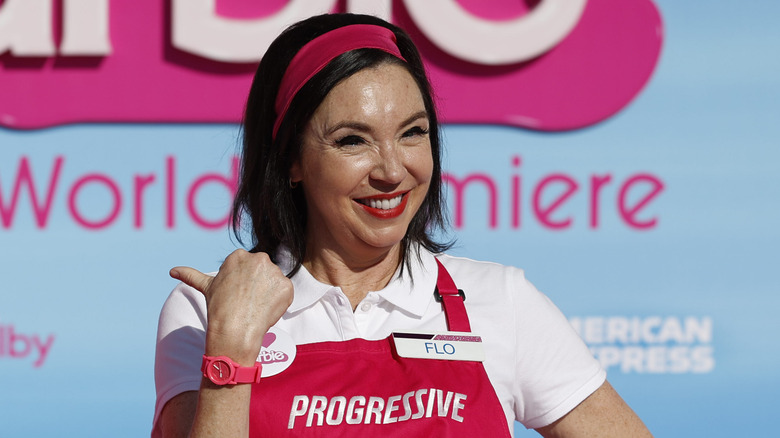 Frazer Harrison/Getty Images
Flo from Progressive has one of television's most recognizable faces — and voices — thanks to her spunky, sometimes over-the-top persona. The woman behind the character is a talented actor named Stephanie Courtney. Of course, Courtney wasn't always known as the quirky, red-lipped insurance agent. Prior to being hired by Progressive in 2007, Courtney did a few different things within the entertainment industry. From doing stand-up comedy to landing a recurring role on a popular television show, Courtney has established herself over the course of her career thanks, in part, to her versatility. For many, Courtney just has the "it" factor that so many casting agents look for. Yes, she's funny. But she's also relatable.
"Stephanie is a very gifted performer and she has a fundamental likability, vulnerability, and normalcy," Sean McBride, chief creative officer at Arnold Worldwide, told Fast Company in a 2018 interview. "Even when we ask her to be dry, she has a really nice way of making it feel like a human moment." Courtney continues to work on her craft, looking up to others in the industry, like Steve Carrel and Amy Adams, for inspiration. With that said, we're taking a look at Courtney's life from her time growing up in New York in the '70s to becoming a wife and a mom later on.
Stephanie Courtney was born in New York in 1970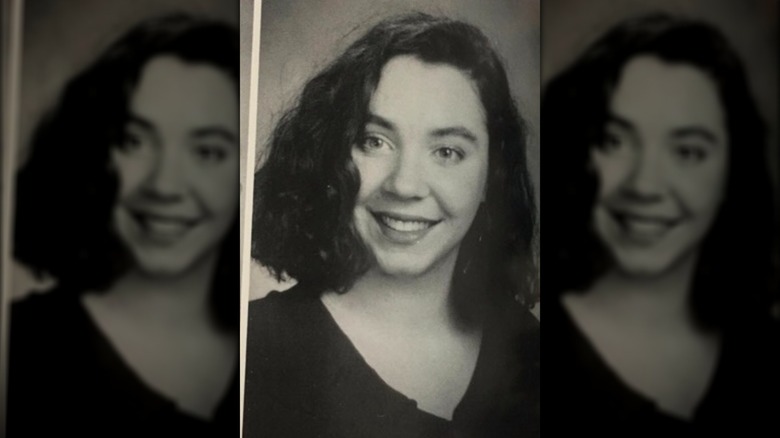 Binghamton University
Stephanie Courtney was born and raised in New York in 1970. Courtney was the youngest of three children, and she and her family lived 30 miles outside of Manhattan. Growing up, she was heavily influenced by her mother, who was a singer.
Her mom's love of the arts really helped shape Courtney's love for all things musical theater. "From an early age, I was influenced by the greats. My mom was a big fan of musicals, and my dad loved film noir and comedies. These amazing movies from the '30s to the '60s were always playing in our house, and I had heard every Broadway recording," Courtney told Cosmopolitan in 2015. 
All throughout her school years, Courtney would audition for various musicals and plays and really enjoyed theater. "I've been doing shows ever since I was a kid," she told The Washington Post. Thus, Courtney knew that she wanted to do something in the entertainment world when she got older, though her dad insisted that she go to college. Courtney obliged, though once she had the realization that she could have a career in the arts, that's exactly what she set her mind on.
Stephanie Courtney graduated from Binghamton University & started doing stand-up
Fulfilling her dad's wishes, Stephanie Courtney enrolled at Binghamton University and decided to major in English. During her time in college, Courtney kept on acting, auditioning for various productions at the school, even landing a lead role in "The Crucible." After her graduation in 1992, Courtney wanted to continue her studies, though she really wanted to turn her focus to theater. "I was never tortured over whether I wanted to become an actor. There was never another option in my mind," she said in a 2009 interview with Binghamton University Magazine. So she moved to the city and enrolled at The Neighborhood Playhouse School of Theater, where dozens of other well-known actors studied before her.
It was also around this time that Courtney started doing stand-up comedy — a different way to hone her skills and work on her stage presence. While chatting with Backstage, Courtney recalled a point in time when her manager suggested she move to Los Angeles — and so she did. Continuing on her journey to fame, Courtney joined The Groundlings and kept on doing comedy. When her manager suggested she start looking into booking commercials, she decided to give it a go. "She worked hard to get me a commercial agent. I booked a really good one early on," she told Backstage. That one just happened to be with a major beer brand.
Stephanie Courtney appeared in her first national commercial
Stephanie Courtney had a lot to celebrate when her very first national commercial for Bud Light ran during the Super Bowl in 1999. In the ad, a then 29-year-old Courtney played the role of an annoyed shopper who was waiting in line with her shopping cart when two guys approached the checkout line with a six-pack of Bud Light and one roll of toilet paper.
When they are told by the cashier that they don't have enough money to pay for both items, they're forced to make a decision (they go with the beer, of course). Courtney's role was extremely small, and she didn't speak. In fact, if you blink during the commercial, you may even miss seeing her. But she was there, wearing a blue shirt and doing her best impression of someone who was super annoyed.
"I had a little part in it, but when I got paid, I thought I had made it. I quit all my day jobs," Courtney told Cosmopolitan. As a starving actor living in Los Angeles, however, that money didn't go far, and Courtney was soon back to picking up gigs on the small stage in order to keep paying her bills.
Stephanie Courtney landed her first recurring TV role
Over the next several years, Stephanie Courtney auditioned for dozens of television and movie roles and landed some really small parts in shows like "Everybody Loves Raymond" and "ER." It wasn't until 2004 that she landed her first recurring role in an animated series called "Tom Goes to the Mayor," which aired on Adult Swim. Courtney lent her voice to the role of Joy Peters and even got her very own music video out of the deal.
In December 2004, she starred in the episode "Rats Off To Ya," which ended up being turned into a song, too. That song and music video studied none other than Courtney, who sang a catchy tune and danced — with backup dancers and a giant rat, because why wouldn't she?
Courtney starred in a total of 27 episodes of the show, which ended in 2006. From there, it was on to the next for Courtney. With a few more small roles under her belt, things really started to look up for the actor, who went on to star in more national commercial spots.
Stephanie Courtney appeared in a Skittles commercial
Years after having a non-speaking role in the Bud Light commercial, Stephanie Courtney landed a bigger role, this time in an ad for Skittles. Wearing a red polo shirt, Courtney was one of three people in the television spot — and this time? She even got to speak! Perhaps a bit of foreshadowing: Courtney played the role of a sales associate who wants to show a customer a cool trick that her co-worker can do.
"Hey, Tim? Show Joel how everything you touch turns into Skittles," Courtney says, picking up a stapler at the beginning of the ad. From there, Courtney didn't say anything more but just got to eat some of the popular candies as the rest of the commercial played out. The ad was released in 2007 and even won a creativity award, according to Ad Age.
Courtney has also appeared in ads for companies like McDonald's, Glade, and General Mills and was almost cast as Toyota Jan for the carmaker's ads, but the role was given to Laurel Coppock. However, Courtney's biggest break in her career would come in 2007 when she landed her most recognizable role as Flo in the Progressive commercials. 
Stephanie Courtney filmed her first ad with Progressive
The year was 2007 — and Stephanie Courtney's life was about to change forever. What started out like any other audition ended up being the pinnacle of Courtney's career. She went to the audition for Progressive, thinking that maybe she'd get a callback for a role in the ad, but it turned out to be something bigger. "I just channel the friendliest person I could imagine," Courtney told The Washington Post of her audition. "It's sort of like my mom to the 10th power. She's one of these ladies who is a perennial optimist." Sure enough, Courtney landed the gig — and Flo made her television debut about a year later.
Interestingly, the producers behind the commercial didn't actually think that Flo would become their official spokesperson. It was after Courtney filmed the first ad that they realized they had struck gold — and they wanted Flo to stick around. "That character was completely unplanned, but we saw it and we jumped on it. She became the center of this ad sitcom. It took us a couple of spots, but we started to move the focus on her," Progressive's CMO at the time, Jeff Charney, said (via Fast Company). In the time since, Courtney has starred in more than 100 television spots for the insurance giant.
Stephanie Courtney married Scott Kolanach & she's a mom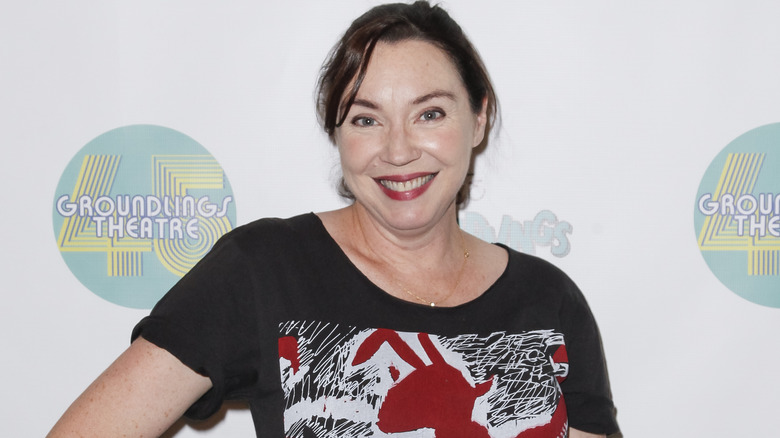 Tibrina Hobson/Getty Images
Stephanie Courtney is a fairly private person with no active official public-facing social media account to be found. However, she has previously shared a bit about her personal life. While working with The Groundlings in Los Angeles long before she joined forces with Progressive, Courtney met her now-husband, Scott Kolanach, who worked in lighting. "Every crazy old lady character I ever walked out as on that stage had beautiful, peachy gem lighting because he liked me," she told People magazine in 2009. The two started talking and dating, and they eventually fell in love. 
Courtney and Kolanach also have one child together, though Courtney admits that they waited a bit before starting a family. "I booked Flo when I was just about to turn 38. I got married at 35. I had my kid at 40. I'm a late bloomer. But it tastes just as sweet when it's late. I definitely was a calmer person getting these things later in life," she told Cosmopolitan.
What's next for Stephanie Courtney?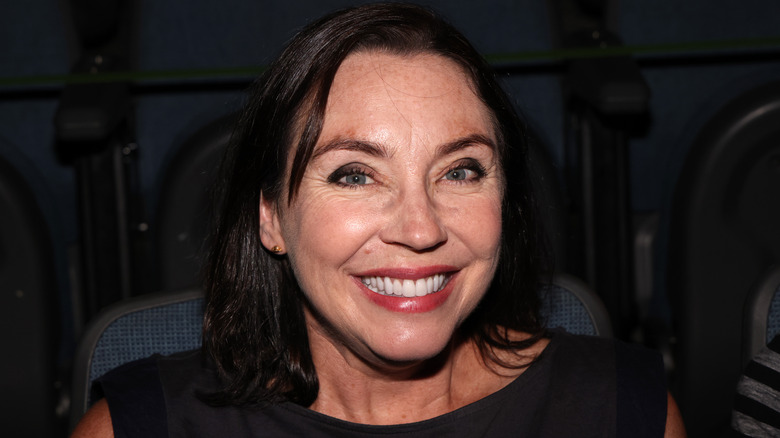 David Livingston/Getty Images
While Progressive definitely keeps Stephanie Courtney busy, she still makes time for other opportunities that come her way. For example, she played the role of Essie Karp on "The Goldbergs" from 2018 until the show was canceled in 2023. Although Courtney only starred in 30-something episodes, it was her longest recurring role to date. In February 2023, Entertainment Weekly confirmed that ABC would end the series after its 10th season, which wrapped in May 2023.
As far as what's next for Courtney, we're certain that we'll be seeing a lot more of her on television, if not in a Progressive commercial, than perhaps on another sitcom. Either way, Courtney has come a very long way from her time doing stand-up comedy on a small stage in Los Angeles. These days, Flo's estimated net worth is at $6 million — raking in about $2 million a year — with about half of that believed to come directly from Progressive.
And her role with the company goes far beyond memorizing a script. "The writers are very open to what I think; there may be some improv here now and then, that is encouraged, by the way," she said in a 2016 interview with Lohud. "All of us were working so hard to find out who this person was and what the boundaries were. With Flo, she was sort of originally this perfect little Number One employee, but the power has gotten to her," she says. And rightfully so. We can't wait to see what Courtney does next.