Lawyer Tells Us Melania Trump Is SMART To Renegotiate Her Prenup Amid Donald's Legal Woes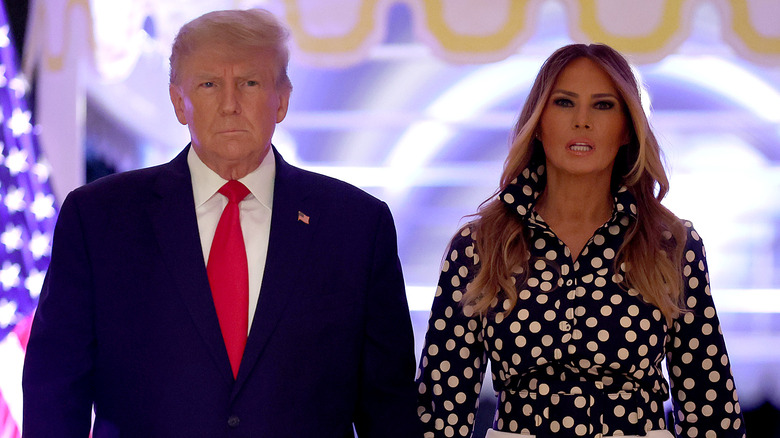 Joe Raedle/Getty Images
Melania Trump has renegotiated her prenup agreement with Donald Trump multiple times since they tied the knot — if rumors are to be believed. While some may side-eye her decision, legal experts think that it was actually a wise move on her part, especially if she wanted to have her bases covered.
It was in 2020 when reports first surfaced that the former First Lady had requested to work out the kinks in their prenup. In the book "The Art of Her Deal: The Untold Story of Melania Trump," released that year, author Mary Jordan claimed that Melania stalled her move to the White House when Donald won the presidency "to amend her financial arrangement," primarily to protect their son Barron Trump's interests. But Melania denied it at the time, with a rep telling People that the claims were BS. "This book belongs in the fiction genre," they said.
Rumors of prenup renegotiations swirled again in 2023 when an anonymous source told Page Six that Melania had once again asked to revisit their agreement in case Donald ended up at the Oval for the second term. "Melania is most concerned about maintaining and increasing a substantial trust for their son, Barron," they explained. While Melania might be motivated solely by financial gain if things take a turn for the worse, high-net-worth family law attorney Holly Davis of Austin-based Kirker Davis LLP exclusively told Nicki Swift that it was a clever decision, considering that Donald is also subject to various lawsuits.
The new prenup can protect Melania if Donald ends up in jail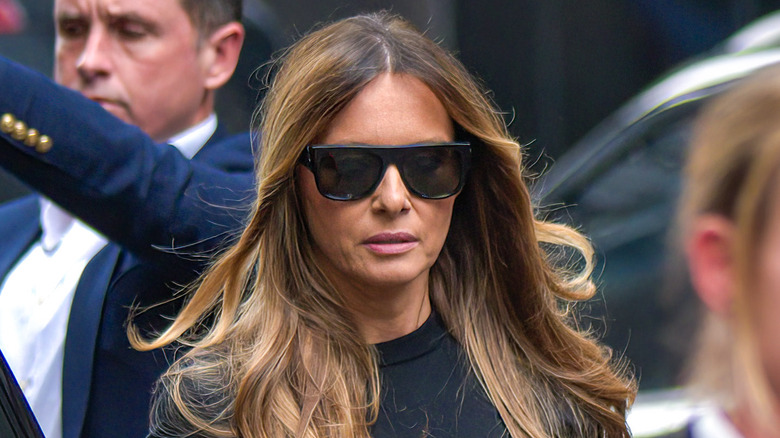 James Devaney/Getty Images
Donald Trump is in the middle of a huge legal storm, as evidenced by his involvement in four criminal cases. With the likelihood that he will end up behind bars, coupled with the fact that he's also running for the presidency, it might seem like now isn't the ideal moment for Melania Trump to revisit the prenup. However, family law attorney Holly Davis exclusively told Nicki Swift why this assumption is incorrect. 
"It is very smart to renegotiate the terms of a prenup to get more money from a person who is the subject of several different lawsuits, especially if he ends up losing these lawsuits," she shared. "As Donald's financial status changes depending on the results of the various lawsuits, Melania's chances of receiving more money from Donald become smaller as his liquidity lessens and lessens."
Davis also highlighted how Melania has the upper hand during this new round of negotiations and any renegotiations thereafter, as Donald's legal team is counting on her to back him up in court. "How frequently someone renegotiates a prenup depends on how much leverage the person requesting the revision has. We know that many prosecutors and lawyers would love cooperation from Melania on their cases against her current husband, especially if she plans on divorcing him in the near future," she added.
Continuous renegotiation can help strengthen the prenup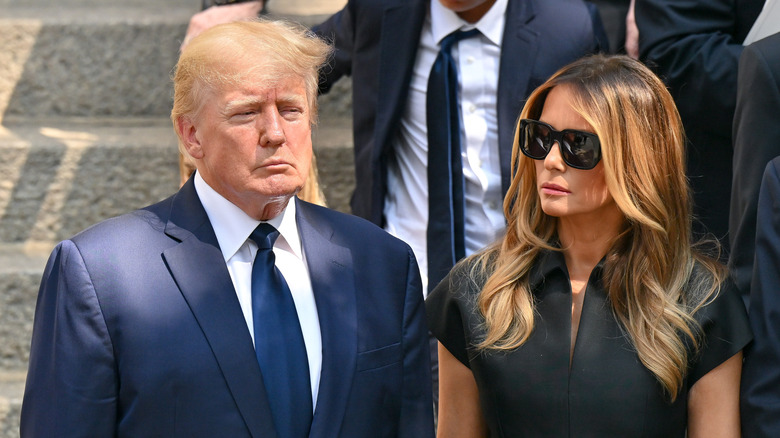 James Devaney/Getty Images
Those not well-versed in legal matters might think that repeatedly subjecting a prenup agreement to renegotiations may not paint a good look. However, attorney Holly Davis exclusively explained to Nicki Swift why this isn't the case. Prenups aren't ironclad, and continuous bargaining can bolster Melania Trump's case — should she ever decide to part ways with Donald Trump.
"Fraud is the biggest reason why prenuptial agreements are not held up in Court," Davis continued. "For something that continues to be re-negotiated by the parties, which gives them so many opportunities to analyze with the help of competent attorneys whether or not the terms are good for them it would take significant fraud by one of the parties to blow up the agreement."
But it's not like Melania and Donald are headed for divorce anyway, at least not for the time being. R. Couri Hay, a publicist who is part of Melania's social circle, told Insider that the former First Lady simply wanted assurance that she and her son would be looked after in case something happens. "There is no divorce talk, no talk of her leaving him, no talk of her running away," Hay said. "There is talk of wanting to make sure she and her son are stable and secure with all these lawsuits and judgements."