The Troubled Life Of Jamie Lynn Spears' Ex-Fiance Casey Aldridge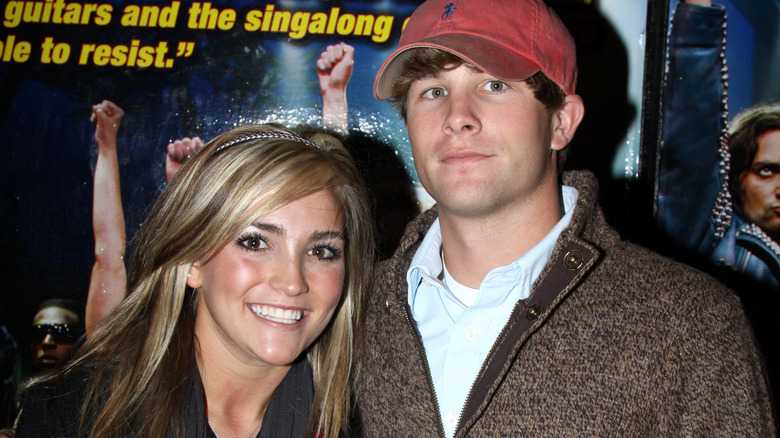 Bruce Glikas/Getty Images
Casey Aldridge used to be just a normal teenager from Mississippi — until he burst into public consciousness as the father of Jamie Lynn Spears' baby, circa 2007. At the time, Spears was 16 years old and news of the pregnancy came as a shock to pretty much everyone. "I can't say it was something I was planning to do right now," the "Zoey 101" actor told OK! Magazine. "But now that it's in my lap and that it's something I have to deal with, I'm looking forward to being the best mom I can be." Spears and Casey went on to welcome Maddie Briann Aldridge, Spear's oldest daughter, the following year — and though she thrived, her parents' relationship did not.
Since the split, both Spears and Casey found love with new partners. Spears married Jamie Watson and had her second daughter with him, while Casey married (and subsequently split from) a woman named April Watson. With Maddie now a teenager herself, Casey and Spears seem to maintain an amicable co-parenting relationship.
Unfortunately, Casey has had several run-ins with the law since he was last with Maddie's mom. In 2016, Radar Online reported that Spears' former fiancé was arrested on counts of "driving under the influence, possession of paraphernalia, and reckless driving" in the state of Mississippi. For Casey, whose divorce from Watson was finalized in 2018, it was only the beginning of his troubles.
If you or anyone you know needs help with addiction issues, help is available. Visit the Substance Abuse and Mental Health Services Administration website or contact SAMHSA's National Helpline at 1-800-662-HELP (4357).
Casey Aldridge was arrested on drug possession charges
After his 2016 arrest, Casey Aldridge received 12 months probation, per Radar Online. In 2017, when his separation from April Watson made headlines, it was revealed that substance abuse was a major factor in the split. This became clear when Aldridge was arrested in 2019, this time for drug possession. 
According to Us Weekly, law enforcement found Aldridge passed out in his car, with drugs including Xanax and lorazepam on his person. Admitting that he'd been struggling with substance abuse "for a while," Aldridge said, "I'm going to do everything in my power to better myself and not have to go through situations like this and make sure it never happens again. Whatever I need to do to do that — to not let it happen again."
Aldridge wasn't with Watson at this time, but his ex-wife jumped in to defend him. Arguing that the arrest didn't make him "a bad person," she told Radar Online, "It's easy to judge someone when you don't know what they have to deal with on a daily basis or you've never dealt with something like this personally." 
Amid the fallout of the arrest, Aldridge said he was worried that his reckless behavior might cause him to lose custody of his daughter Maddie. This thinking might have spurred him forward onto a healthier path, but Aldridge continued to struggle in the year following his drug bust-up.
Casey Aldridge could face years in prison if convicted on burglary charges
In 2020, another mugshot of Casey Aldridge made the rounds when he was arrested on six counts of burglary in the state of Mississippi. According to The Sun, Aldridge attempted to rob at least two separate locations and was linked to a larger wave of burglaries in the Louisiana-Mississippi area. TMZ clarified that Aldridge had actually been trying to steal a private citizen's rifles, and could face up to seven years in prison if convicted. That said, the outcome of the case isn't currently clear.
Since we haven't heard much from Aldridge since his 2020 arrest, does that mean Jamie Lynn Spears' ex is doing his best to lead a law-abiding life? Possibly, but we only have a little to go on. Aldridge's Instagram account is set to private and he refrains from making public statements. Despite his ties to the Spears family, he hasn't spoken to the press about Britney Spears' conservatorship, even as fans have dissected Britney's relationship with Jamie Lynn.
Instead, Aldridge's priority seems to be living a quiet life with his two daughters. He and his ex-wife April Watson welcomed Skylar Watson in 2014, and April previously noted how much Skylar loves Aldridge, per Radar Online. Aldridge's sister also told Perez Hilton of her belief that he is a "great dad" and "a great uncle," slamming Jamie Lynn in the process. At this point, no news (of Aldridge) is probably good news, right?