The Cosmetic Procedures RHOA's Shereé Whitfield Admits To Getting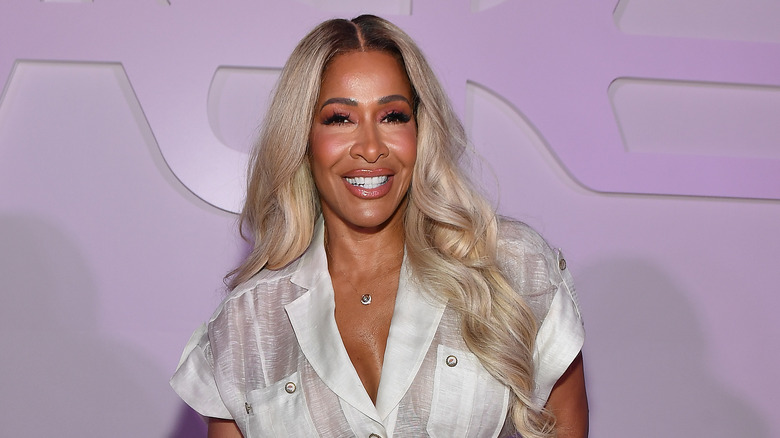 Paras Griffin/Getty Images
Sheree Whitfield's appearance was a huge talking point at the "Real Housewives of Atlanta" Season 15 reunion. Well, at least for Kandi Burrus, who took Whitfield to task over her rumored cosmetic procedures after Whitfield accused the songwriter of similar tweaks. "First of all, let's be clear: I have never denied getting plastic surgery," said Burrus during the spat. "You done had tummy tucks, you done had breast jobs, you got nose jobs multiple times. Before we even met you on this season, that was a nose job."
Burruss wasn't the only person who thought Whitfield had gone under the knife. According to Atlanta Black Star, "Real Housewives of Atlanta" fans reacted after Whitfield appeared on the internet looking considerably different over the summer. The publication pointed to one popular fan tweet discussing Whitfield's new look, which has since racked up over 2,000 likes. "Sheree has had another nose job and it makes me sad. She was so perfect before," they tweeted. In response, another fan tweeted, "Sheree doesn't look like Sheree anymore!" With that said, not every fan felt that Whitfield had spent a fortune on plastic surgery.
Here's what Whitfield has said about any possible cosmetic procedures.
Sheree Whitfield admitted to getting her nose and lips done
Sheree Whitfield eventually admitted to getting a nose job during the reunion. However, she claimed it was her first time touching her nose. "This is my first ever tweak," said Whitfield. When Burruss asked, "Are you saying this was your original nose," Whitfield said, "Absolutely." Whitfield inspired shocked responses from their fellow castmates. Later in the clip, Whitfield also responded to castmate Drew Sidora, who seemingly misunderstood the timeline of the argument and claimed that they noticed her new nose even though she hadn't admitted it. Perplexed, Whitfield leaned, asking if Sidora was "talking about right now." Once Sandra Richards-Ross spoke up and downplayed the relevance of Whitfield's nose job, the "She By Sheree" creator agreed. "Exactly," she said.
Over the Summer, when appearing on "Watch What Happens Live," Andy Cohen also brought up Whitfield's evolving appearance. "Tell me if something's different about you, Shereé," asked Cohen in June, according to Bravo. "What am I looking at? Have you had a little tune-up? Lips? Anything?" However, Sheree sang a different tune and denied having any recent work done. "No," said Whitfield. "Same lips. I mean, I have had lips [done] before, but nothing [recently]." To be fair, Whitfield taped the Season 15 reunion on July 27, 2023 — over a month after her June 11 "WWHL" appearance — so she may have been telling the truth.
Sheree had a non-surgical facial procedure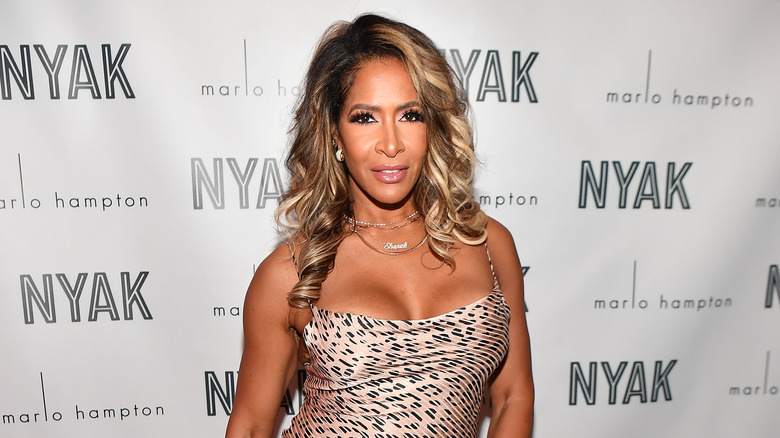 Paras Griffin/Getty Images
The debate about Sheree Whitfield's recent cosmetic work also happened outside Bravo's studios. According to Sandra Rose, Kandi Burruss also broached the topic during her "Speak On It" YouTube Series. Around that time, Whitfield addressed her own appearance during an interview with Angela Yee and Jasmine Brand, crediting her current glow to a facial.
With that said, Sheree Whitfield previously promoted getting a non-surgical face-lift in 2021. According to BET, Whitfield met with a plastic surgeon, Dr. Simon Ourian, who completed her procedure. "Ok yall, I have gotten sooooo many messages regarding my experience at #Epione," Whitfield shared in an Instagram video. "I am very happy with my results from @simonourianmd1." She continued. "The experience was the Best!! I've watched his work for years and finally decided to try him. I'm so happy I did!! He and his staff were so accommodating and amazing!" Given Whitfield's recent assertion about not altering her appearance through plastic surgery, it's possible that she didn't count this visit because it was a non-surgical procedure. 
Although Whitfield probably didn't enjoy the interrogation over her appearance, it couldn't have been as frustrating as when her ex, Bob Whitfield, introduced her to his secret child.