Taylor Swift & Brittany Mahomes' Touchdown Handshake Has Fans Seeing Red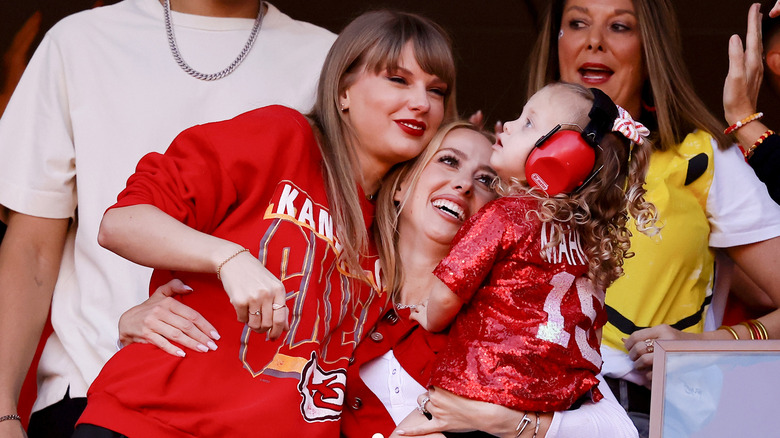 David Eulitt/Getty Images
Football fans are super peeved about how Taylor Swift and Brittany Mahomes celebrated a touchdown on October 22 when the Kansas City Chiefs played against the Los Angeles Chargers. Sidenote: the Chiefs — which includes Swift's current boo, Travis Kelce — won if that sort of thing is important to you. That was an important detail for Chiefs fans — including Swift and her new best friend, Brittany Mahomes, who indulged in a little post-touchdown handshake. In the viral NFL video, Swift and Mahomes — the wife of Kelce's teammate, Patrick Mahomes — jumped up and down, then turned to each other and did an adorable handshake. They completed the moment with a little hip bump.
If the new pals looked shaky in the beginning, you can probably chalk that up to excitement, adrenaline, and the fact that Swift and Mahomes had only recently created their now-infamous handshake. In a different video posted to X, formerly known as Twitter, an anonymous cameraman captured the moment that Swift and Mahomes worked out the details of their winning moves. Swift took the lead as she demonstrated the moves to Mahomes, who attempted to parrot them back to her. Interestingly, the clip of the practice footage didn't include an actual handshake between Swift and Mahomes. But it did include Swift's hilarious grunt and little side dance. "Is this the making of the handshake i'm [crying emoji]," tweeted the fan account.
Unfortunately, a pack of super bitter sports fans on social media have responded to their harmless interaction with anger.
Football fans aren't fond of Taylor and Brittany's friendship
The handshake between Taylor Swift and Brittany Mahomes has sent a large portion of football fans into distress — and that's not an exaggeration. The comment section under a Barstool Sports tweet is full of fans moping about Swift and Mahomes for harmlessly expressing their joy on Sunday. "Okay I'm sick of it already thanks," tweeted one fan. A second fan said, Make it stop already...for the love of everything holy." An especially bothered fan complained, "I wouldn't be mad if the NFL season ended after today and not come back until that relationship is over." Then there was the creative fan who responded by tweeting a GIF from "The Office," when Steve Carell's character said, "Kill me right now!"
Of course, negativity about Swift and Mahomes' super excited reaction was plentiful enough to find it all over X, formerly known as Twitter. For example, one fan seemed convinced that Swift isn't as fond of Mahomes as she seems. "Brittany Mahomes is so self conscious. Awkward. Guarantee, Taylor Swift is being attentive to her now, because of a certain exasperated eye roll in last video," tweeted the fan. Then there's the fan who's not here for Mahomes and Swift's friendship. "This is a BFF friendship I cannot endorse," they said. A third fan tweeted, Chief fans got it bad.. yall gotta deal with Taylor Swift now, Brittany Mahomes, and the worst of them all... Jackson Mahomes... Jesus Christ man."
Whew — who knew that a handshake could cause all of this commotion?
Taylor Swift and Travis Kelce are totally unbothered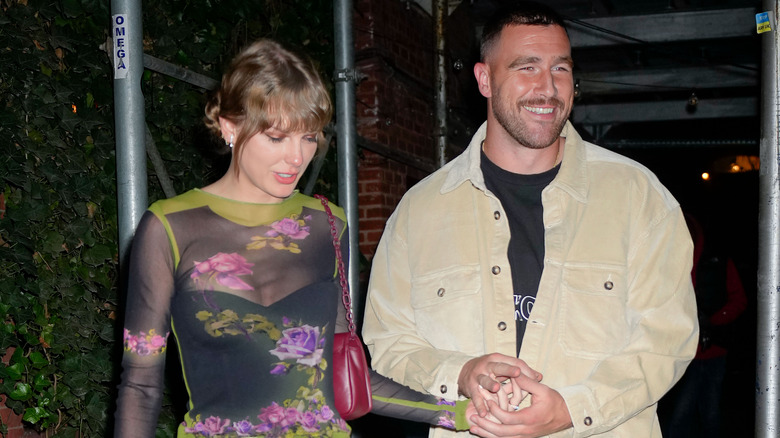 Gotham/Getty Images
Taylor Swift and Brittany Mahomes' interaction attracted haters from every corner of the internet. However, their negativity did nothing to halt Swift and Travis Kelce's after-game festivities. According to TMZ, the new couple looked happy (in like?) as they departed the stadium holding hands. As the publication reported, the couple also held hands during a previous outing. Shortly after, according to the Daily Mail, Swift and Kelce left the stadium in a golf cart. But that wasn't the most exciting part of the night! The couple then traveled to Kelce's mansion, where they gathered with their inner circle for a post-game party. According to the outlet, Kelce and Swift's guests arrived in a party bus while they traveled in a Rolls Royce. During the festivities, the couple and their guests feasted on food supplied by a local BBQ chain.
Given that Kelce and the Kansas City Chiefs haven't lost a single game since going public with Swift, it's possible that she really is his good luck charm. Either way, at least one person is happy with this new romance: Kelce's coach, Andy Reid. During an interview, Reid invited Swift to continue to make her presence known during the games. "Kelce keeps getting better with time, Taylor can stay around all she wants," said Reid (via CBS Sports). Reid also revealed in a recent interview that he'd met Swift years before she and Kelce ever met and joked about introducing them. Perhaps this relationship is fate, after all.