Tragic Details About Matthew Perry's Funeral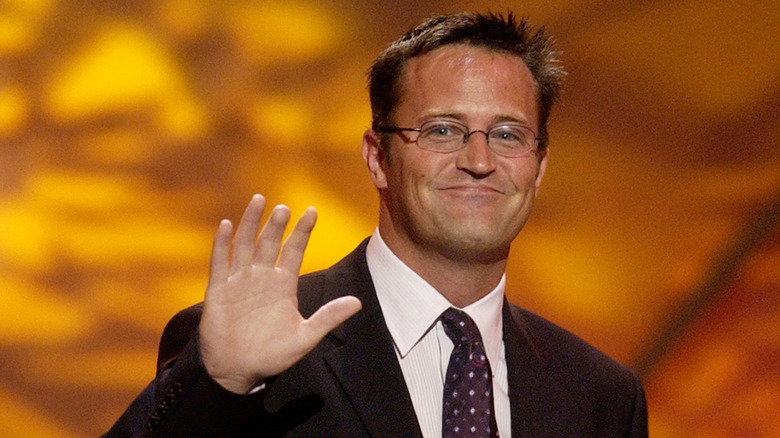 Michael Caulfield Archive/Getty Images
The following article includes mentions of addiction and substance abuse.
It was time to bid farewell to Matthew Perry on November 3. TMZ reports that Perry was laid to rest in Hollywood Hills' Forest Lawn Memorial Park, the famed cemetery that's the burial home of Michael Jackson, Elizabeth Taylor, and Brittany Murphy, among other entertainment industry greats.
Perry's tragic and untimely death rocked the showbiz world to its core. Per TMZ, an assistant discovered the star unresponsive in the hot tub at his Pacific Palisades home. Perry had been playing pickleball earlier in the day, and it is believed he suffered a cardiac arrest that led to his death by drowning. The full toxicology report will take 4-6 weeks to be completed. Still, despite speculation, the preliminary report found no trace of methamphetamine, fentanyl, or any other illegal substances in his system.
There was an outpouring of grief following the shocking news of the 54-year-old's death. "The View" panel's tribute to Perry was heartwrenching. Whoopi Goldberg said they were "beyond heartbroken" and praised Perry for helping others struggling with addiction and substance abuse. "He wanted the best for people, so let's hope for the best in his passing," she concluded. Meanwhile, the "Friends" cast broke hearts with their Perry tribute. Jennifer Aniston, Lisa Kudrow, Matt LeBlanc, David Schwimmer, and Courteney Cox released a joint statement. They called Perry "family" and said they were "utterly devastated" by their "unfathomable loss." The five actors were among the other Hollywood luminaries who gathered at Forest Lawn for Perry's funeral, which was both heartwrenching and poignant.
Final farewell
Matthew Perry's loved ones paid their final respects to the actor on November 3 during a private service at Forrest Lawn Memorial Park in Hollywood. Per People, the funeral started at 3 p.m. and finished at 5 p.m. The famous cemetery is located within spitting distance of the Warner Bros. studios lot where "Friends" was filmed for 10 years. In keeping with the nod to "Friends," Perry's five former co-stars from the popular sitcom — Lisa Kudrow, David Schwimmer, Courteney Cox, Jennifer Aniston, and Matt LeBlanc — were among the 20 or so guests in attendance.
TMZ reports that the actors were joined by Perry's closest friends and family, including his mother Suzanne Morrison, father John Bennett Perry, and stepfather Keith Morrison. Not surprisingly, the attendees were distraught, comforting each other with hugs outside the church as multiple paparazzi helicopters buzzed above in the sky, capturing the mourners on camera.
Given the intimacy of the funeral service, it's expected there will be a public celebration of life in the future so fans will have the opportunity to honor the actor. In the meantime, fans took to X to share thoughts on Perry's private service. One wrote that they'd been reduced to tears by a TikTok post noting that the funeral would be the last time all 6 "Friends" actors would ever be together again. Another thanked Perry for "all the wonderful laughs" and, in true "Friends" fashion, asked, "Could it BE any sadder?"
Lasting legacy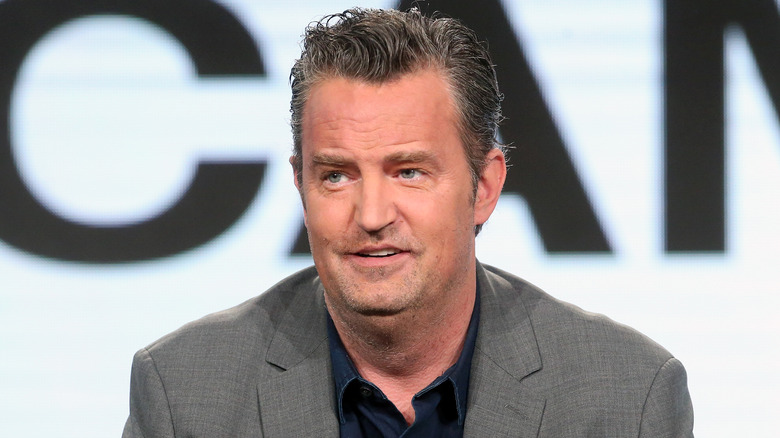 Frederick M. Brown/Getty Images
Matthew Perry was vocal about what he wanted his legacy to be. The actor said he wanted to be remembered for his work in helping people with a substance abuse disorder and those struggling with addiction and  sobriety rather than for playing Chandler Bing on the hit NBC sitcom "Friends."
"When I die, I don't want 'Friends' to be the first thing that's mentioned — I want helping others to be the first thing that's mentioned. And I'm going to live the rest of my life proving that," Perry told the"Q With Tom Power" podcast. Sadly, Perry's life was cut tragically short before he could fulfill his vow. Still, his wish has been respected with the creation of the Matthew Perry Foundation. The website's mission statement explains that the foundation is "the realization of Matthew's enduring commitment to helping others struggling with the disease of addiction." It shares that its aim is to "honor his legacy" and continue Perry's dedication to transforming "as many lives as possible."
In the meantime, Perry's good friend and "Friends" co-creator Marta Kauffman told "Today" host Hoda Kotb that he had been in high spirits when she last spoke to him only weeks before his death, making his sudden passing all the more tragic. "It was great. He was happy and chipper," she said. "He didn't seem weighed down by anything. He was in a really good place, which is why this seems so unfair." Kauffman admitted she had been floored by the news and struggled to believe it.
If you or anyone you know needs help with addiction issues, help is available. Visit the Substance Abuse and Mental Health Services Administration website or contact SAMHSA's National Helpline at 1-800-662-HELP (4357).